The morning on the day of my lunch at El Celler de Can Roca I woke up with a headache. I had suffered from food poisoning for 24 hours but was determined that if I could make the headache go away, then I would get out of bed and get ready to head it off towards Girona. I couldn't bear the thought of being just 1,5 hour's away from El Celler de Can Roca and missing the opportunity to dine at the restaurant. After all, I had been looking forward to this lunch for more than two months.
I took an aspirin and after an hour I felt like a new human being and so grateful that the pain in my head had passed. The weather was sunny, blue sky and warm – like Danish summer. The perfect day.
Driving through the Catalan landscape with good old pop music on the radio cleared my mind and provided me with plenty of time to feel totally excited of all the great food that was waiting for me. Three Michelin stars and the world's 4th best restaurant by Restaurant Magazine can't be a bad experience, can it? The few moments before actually entering a fine dining place like El Celler de Can Roca is almost the best part of it all and makes me feel like I need to pinch myself in the arm to ensure that I'm not just dreaming it.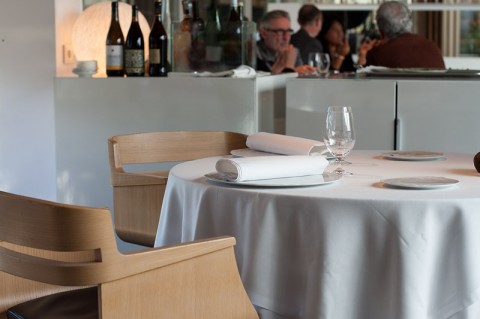 When my friends and I arrived, the restaurant was full except from two or three tables. The dining room – actually the entire restaurant – is amazing and absolutely beautiful. There's something very light and pure about the architecture and it had a calming and relaxing affect on me.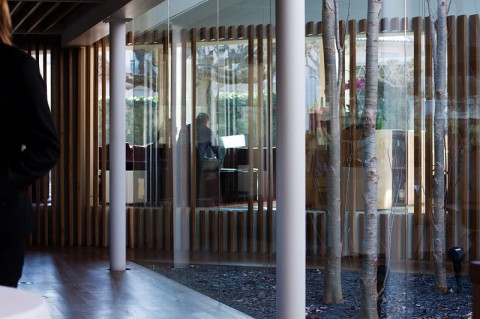 The view from my seat.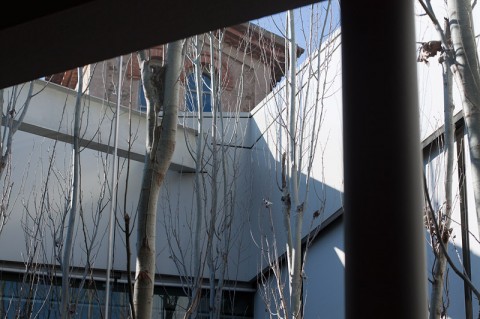 The dining room itself is a glass-wall triangle where all the tables have view to a courtyard without roof. I wonder what it feels like to dine there when it's pouring down outside.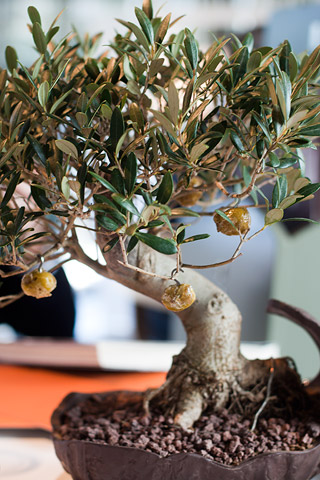 Caramelized Olives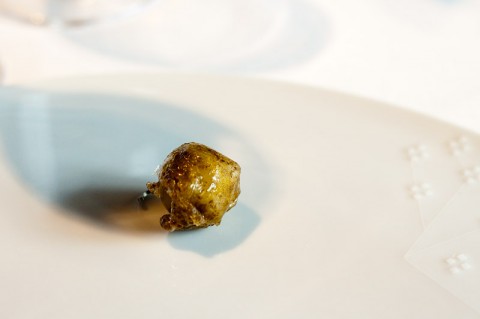 I accepted the offer of a glass of Cava and the waiter rolled in the wine library. Literally, the books for reds, whites and sweet wines are being transported on a wooden trolley. While I was browsing the white wines the nibbles came. They were excellent! But for the wine I ultimately asked the sommelier for a couple of wines by the glass as I was a little worried how my tummy and body would react after my sickness.
We all opted for the feast menu and in addition ordered the oyster dish because it wasn't part of the feast.
First nibble presented an olive tree of caramelized olives stuffed with anchovies inside and coated in a crispy sugar-layer. Then followed: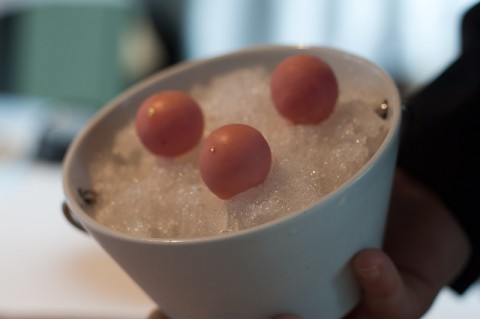 Bellini bonbon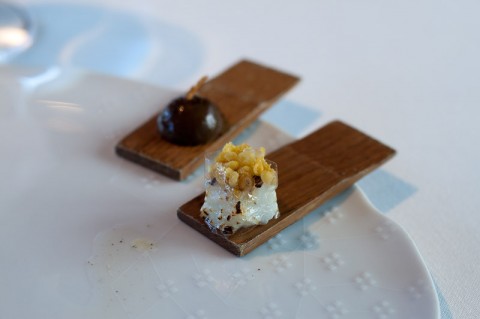 Ring calamar adaptation
Pigeon parfait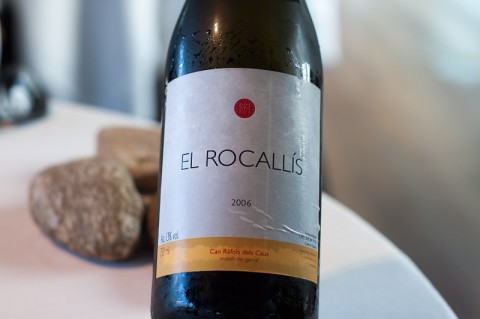 Rocallis 05 Can Ràfols del Caus D.O. Penedès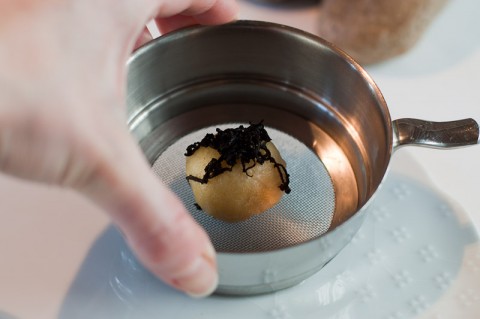 Truffled brioche…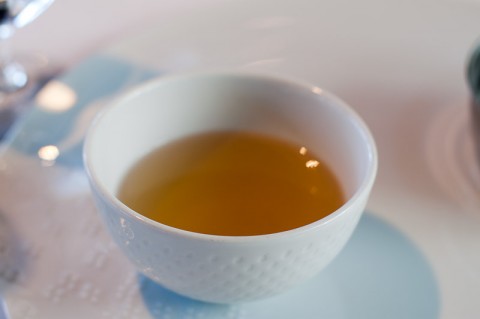 …and pot au feu broth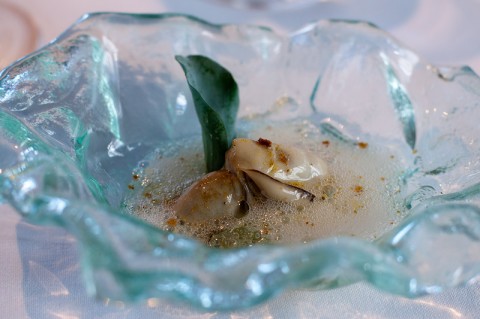 Oysters with Agusti Torello cava, apple compote, ginger, pineapple, lemon confit and spices
Cava was poured over it and added a nice sparkling sensation to it. We were told to first eat the oyster leaf and then the oyster. The oyster had this wonderful dry surface and absolutely perfect mellow texture and offered superb quality. The taste was excellent and delicate and the spices of ginger and pineapple were not dominating the delicious oyster. The whole thing reminded me of the shell fish I tried at the Flemish Primitives last year (where also the Can Roca brothers took part, by the way) and where I watched a presentation of a method of preserving food by a high pressure.
"Escalivada" with anchovies and smoke of ember

This looks like ravioli but were in reality small balls or bonbons. The outer skin had a great leathery texture and soft inside. They arrived under a bowl filled with smoke which infused the air around me when lifted. A nice dish playing with texture and taste.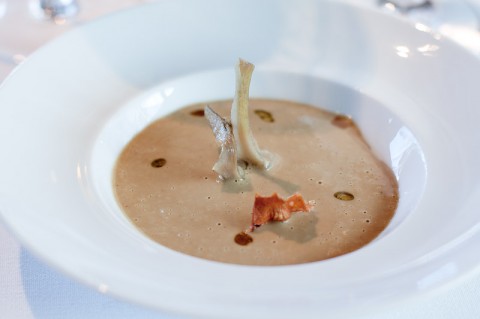 Artichoke, foie gras, orange and truffle oil
The foie gras was layered on top of the Jerusalem artichoke puree. The two full and rich flavours suited each other perfectly. I loved this dish.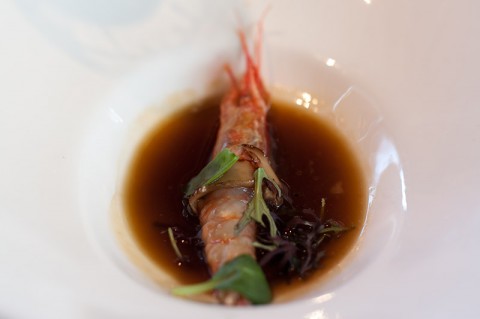 Charcoal-grilled king prawn with acidulated mushrooms juice

The prawn was tasty however I don't think this dish did stand out in any way. At El Poblet I got a very similar thing and this might be why it didn't impress me that much.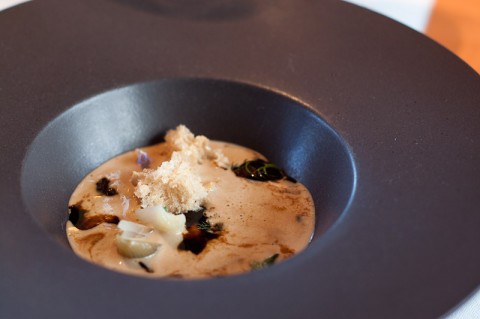 Onion soup, Crespià walnuts and Comté cheese
Next followed an excellent and intense onion soup. In the middle of the plate the Albert Adria-sponge was replacing the classic crouton. Nice touch.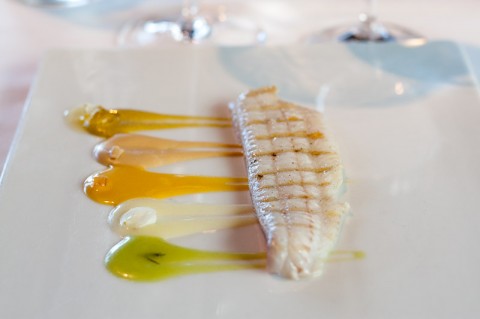 Sole, olive oil and Mediterranian flavours

While the sole represented beauty I would have like the dish to be more elaborate. The different sauces could to me have been more integrated with the grilled fish.
To my frustration I stated to feel full at this point, and my not liking the sole so much could very well be caused by it. It was way to early to loos appetite as 7 courses were still to come.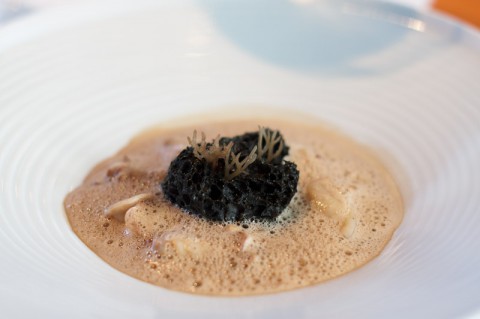 Baby squids with onion rocks

The sole was followed by the most astonishing and fantastic squid dish I have ever tried. The tiny baby squid pieces were so tender that they hardly resembled squid. The juice was delicate too and had a touch of langoustine note to it, as far as I recall.
Nelin 08 René Barbier D.O.Q.a Priorat
This white Priorat is one of my treasured memories of Spanish white wine. Even though the oak was a little too dominating to my typical taste, I still really liked this white Grenache-based wine. The palate offered a mineral note to it and was fruity and very powerful.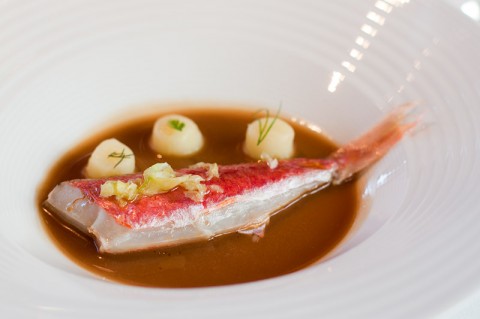 Red mullets with suquet (Catalan seafood stew) and lard
The fish was delicious and the small potato drops was extremely good, soft and creamy. But again like with the sole I missed something with this dish and wished that it had been more elaborate. Had I only got either the sole or this red mullet then perhaps I wouldn't have felt this way, but only welcomed a more simple serving for a change.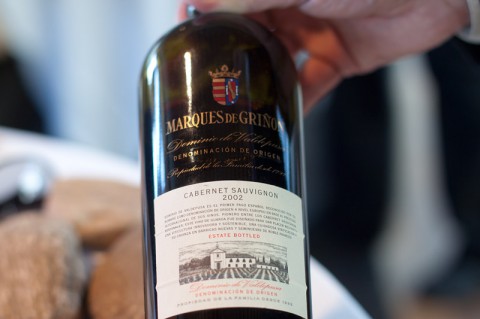 2002 Marques De Grinon, (Cabernet Sauvignon)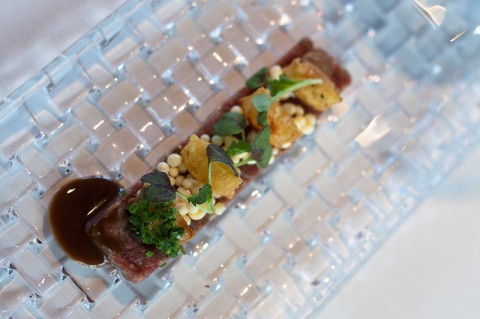 Steak tartar with mustard ice cream
Spiced tomato, caper compote, pickles and lemon, hazelnut praline, meat bearnaise sauce, Oloroso-sherry raisin, chives, Sichuan pepper, Pimentón de La Vera (D.O.) smoked paprika and curry, small scoops of mustard ice cream and mustard leaves
The tartar is one of the Roca's signature dishes. The tasty meat, the cool and delicate mustard drops and the crunchy yellow puffs with different spice topping made the perfect tartar.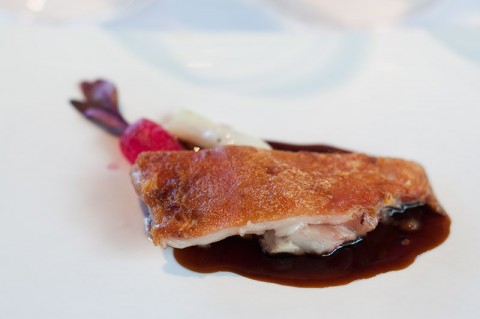 Sierra Mayor Iberian suckling pig, grilled baby onions, melon and beetroot
The feast menu presented lamb but I wasn't really in the mood for that and had asked for a replacement dish. I got a nicely juicy suckling pig. The skin on top was perfectly crispy – a giant crackling :-).
To my tummy's relief we now moved on to the desserts.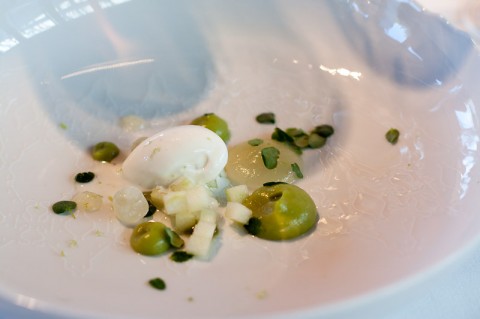 Green Colourology
The first dessert of this green colourology served as the perfect and refreshing cleanser and break between the savoury and the sweet courses.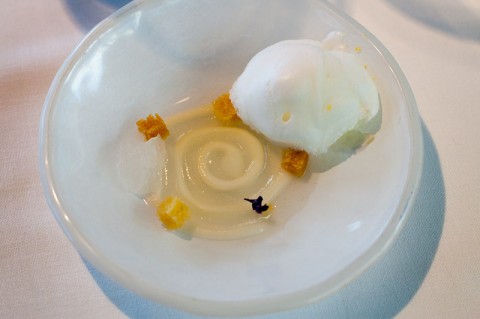 Lemon-distillate sorbet
Super-delicious and light lemon sorbet which had a texture like something in between of whipped egg-white or a foam. The dessert was accompanied my a small piece of paper with scents of all the elements of the lemon dessert and smelled like a very nice and floral perfume.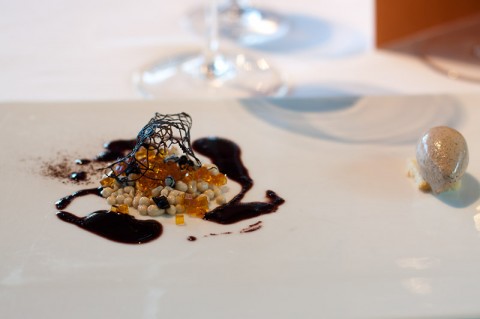 Vanilla, caramel, licorice, dried and caramelized black olives
The desserts were awesome. In fact they were so delicious that I suddenly had room in my tummy for all three of them.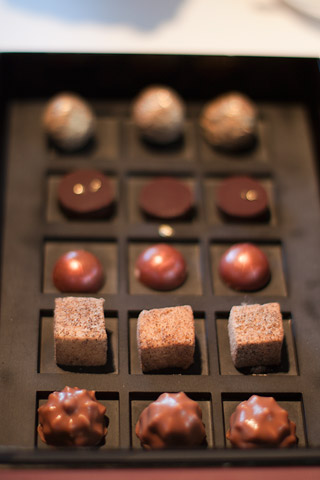 Palet d'or, Praline, Yuzu bonbon, Irish coffee Marshmallow, Mont blanc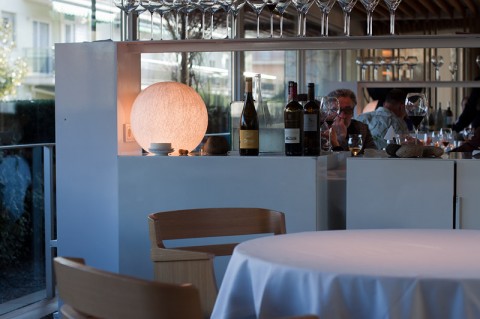 Time had passed so fast, the light in the restaurant was fading.
Despite the couple of dishes I didn't like so much, the lunch as a whole impressed. It wasn't only about the food, everything played very well together. The fact that Can Roca also stimulated my interest in and love for architecture is also an important factor here.
You know, I really felt seduced, sort-off, and all I can think off now is that I NEED to go back as soon as possible and enjoy one of my favourite white Burgundies with the meal. It's no wonder El Celler de Can Roca's reputation is highly esteemed.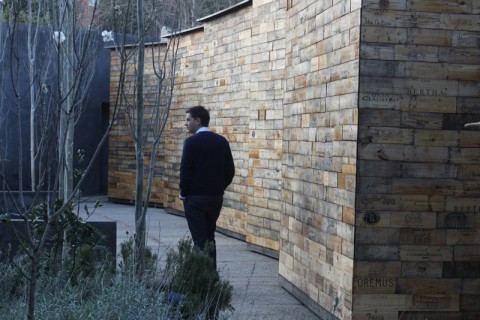 On our way out we sneaked into the giant wine cellar. Do take an opportunity to do that if you get a chance.
From the backseat of the car (full as hell) on the road back to Barcelona I enjoyed the view to the beautiful and colourful sunset feeling relieved and grateful for this experience.
Thank you all for a wonderful experience!