There are a huge number of reasons to visit Barcelona. But for a five days getaway in late February there were mainly two reasons for me above them all: 1) To get a glimpse of the sun after months of that terrible, Danish winter and 2) To visit El Celler de Can Roca. I got a little of the first one and a great deal of the latter.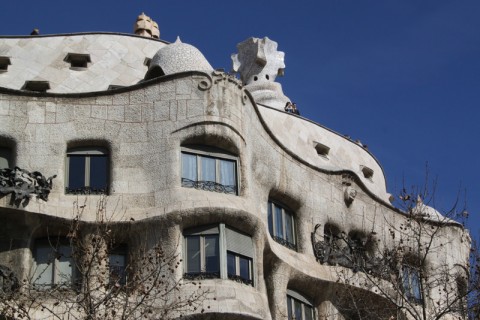 The top of Antoni Gaudí's facinating Casa Milà
I will describe two my Barcelona/Girona restaurant experience in more details later on, so this post is only to provide an overview of the highlights and eateries that I liked best.
Quimet y Quimet
We arrived early on the first day and went straight after arrival to get a quick lunch at Quimet y Quimet. It's a tiny family-business bar in Poeta Cabanyes, 25 (tel 34-93-442-31-42) famous for all the bottles and can decorating the walls from ground to ceiling and, of course, for the good tapas. I asked for the canapé kinds which are 4-bites sized toasts with different toppings. The guy behind the counter creatively mixed various ones for us, for example Camembert cheese with anchovies and grilled red pepper fruit and balsamic vinegar to add sweetness, or sardines and sea urchin. All of them were very tasty, balanced with sweetness and acidity and the products were of good quality. The staff was sweet and helpful and I really liked the place. If I lived in Barcelona I would stop by daily. Of course there were other tourists like me with their big SLR camera. I tried to look less touristy and also not to cause too much disturbance, because it was such a nice place.  Therefore I chose not to shoot any photos – but Quimet y Quimet is a pearl. Go.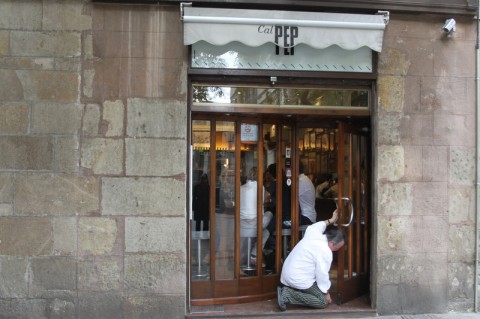 Señor Pep himself on his knees to fix the door of his restaurant
Cal Pep
Cal Pep is another well known place mentioned in several travel guides, but for a reason: It's simply great food made from great produce and a lively and authentic place. We went twice. Once for lunch and once for dinner at a table in the back of the restaurant that you can book for a minimum of 4. I loved the clams, the fried fish, the jamon, the grilled monkfish and sea bass that the staff fillets for you while you wait. However, I do recommend sitting at the bar counter where you have the view to the chefs cooking all kinds of seafood and to Señor Pep giving the staff a hand in between chatting with the regulars (yes, there was local people too). Here you get the true feeling of a few moments relaxation over some tapas.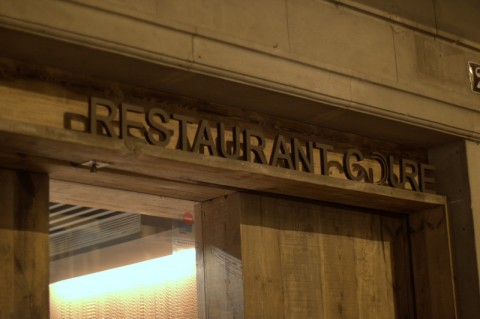 Coure
For our first dinner I had decided to try a restaurant that I found on the website 60by80. This site was a great source for information on Barcelona's dining scene, by the way. Anyway, Coure is one of those new bistronomics of the post-recession time like the Danish Relæ and the French Le Chateaubriand and they are becoming more and more common in Europe. I didn't know anything about Coure apart from what was described at the 60by80 website, but it turned out to be a fantastic surprise. I'll show the photos later as they deserve a separate post.
Dos Palillos
For a number of reasons my visit to Dos Palillos' Asian cuisine was only brief. I got to try a few of their specialties. Amongst them were snails, monk fish liver, barnacles, oyster in sake and, yep, chicken sushi. Which tasted great. The servings were very well executed, tasty and the desserts were great too. But recovering from a severe food poisoning incident the day before (not from any of the places mentioned here!), my palate was more sensitive than I imagined and therefore I could not fully appreciate the food and enjoy this visit. What I want to say is that Dos Palillos is a very special place and I would very much like to return to try more of the dishes I didn't get this time. A special thanks to the restaurant manager/head chef who treated us so kindly, despite our lack of appetite.
Unfortunately the same incident of food poisoning stopped me from trying other restaurants in Barcelona. So, I thanked our hotel for the room service availability and a well-equipped minibar. We stayed at the hotel Barceló Raval which was nice, also for its location on the Rambla del Raval square tucked away from La Rambla (no traffic noise), the view from our room at the 8th floor and for the free wi-fi.
Stay tuned for a post on El Celler de Can Roca…!