The month of February offered me a lot of lovely food experiences and this Geranium lunch was absolutely one that stood out as one of the best. For a very long time I have had the wish of sharing a meal at Geranium with a very dear friend of mine, who is not in town that often. So I was happy when she agreed to visit this place on 20 February.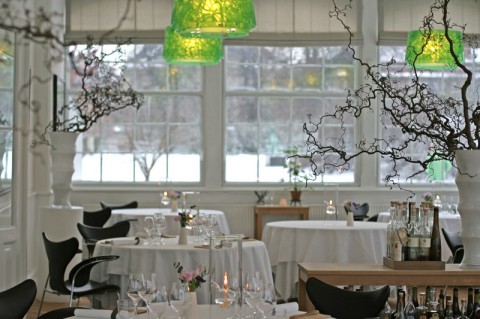 Actually, when I booked the table I figured that we would play it low and just enjoy a few nice dishes and then dash out again to explore the city and do some shopping. But restaurant manager, Anne, gave us an an offer we could not refuse. Rasmus Kofoed and Søren Ledet were in Germany, attending a conference for organic food and so we did not get to meet them. Too bad for my friend as I would really have liked her to meet these guys. Anyway, the three of them had prepared a nine courses meal for us with matching wines. Anne's question was:  Would we have room for all that?
So, there we were in the beautiful dining room lit up by the reflections of  the King's Garden prettily covered in white snow and, basically, spending the whole day at Geranium. Eating and drinking.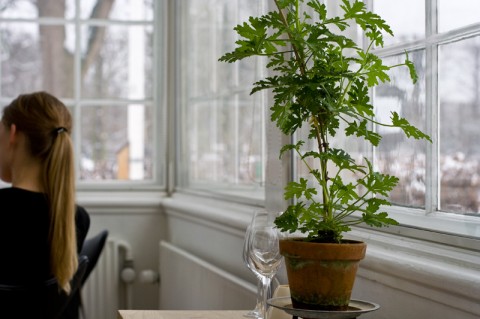 A geranium plant
Geranium has existed for only a year and 10 months, and I'm amazed how fast Søren and Rasmus have developed their very own way of style and expression. My first visit dates back to September 2007 and my second in March 2008. Read my reviews for a more detailed description of the room, the surroundings, and the warm and kind service which is still so present there.
As to the food, there is such a delighteness about their creations, such beauty and such refinement. Take a look at the post from my first visit and compare the dishes with the these. Rasmus and Søren do really have an eye for combining colours, which is something that absolutely woos me.
While nipping the snacks we enoyed a nice Rosé de Saignée Fleury, Champagne. Then followed: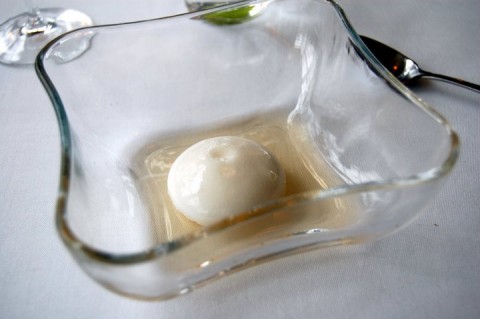 Apple & Geranium
(Image courtesy of Laurent/GoT)
If there were ever a cleanser to reset the palate in order to prepare it for the meal, then this Geranium chiffon(?) with the fresh, sweet and sour aromas surely is it.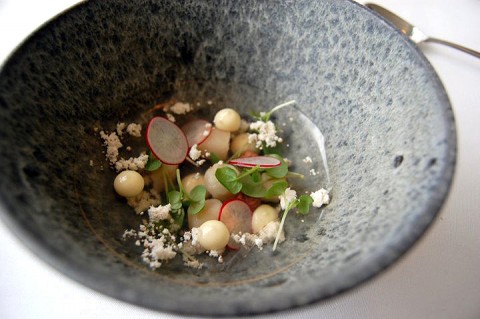 Smoked scallop, apple flower, horseradish & hazel nuts
(Image courtesy of Laurent/GoT)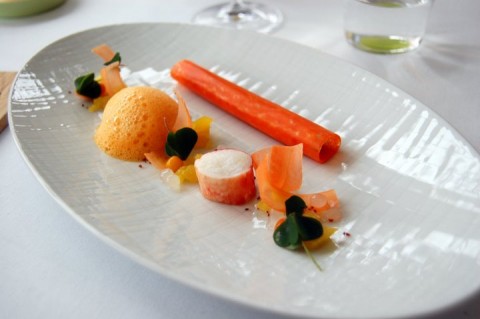 King Crab, roots and yellow berries
2006 Pierre Frick, Pinot Noir, Blanc de Noir, Alsace
(Image courtesy of Laurent/GoT)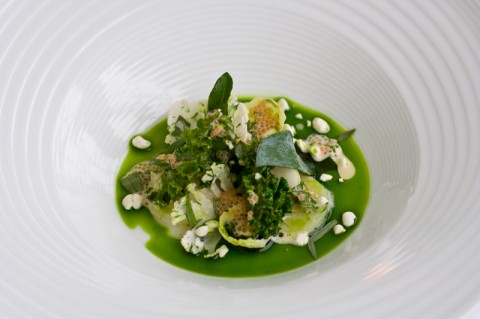 Cod jaws
Five types of cabbage, lumpfish roes & smoked cheese
De Sousa Brut Réserve, Blanc de Blanc, Champagne
This  dish is so gorgeous with the dominating colour of green and the pink roes sprinkled about. A vigorous smell flourishes from it and the taste was fantastic. The grey-ish and green leaf almost in the centre tastes like an oyster, and here it was a little hint of what was coming. The last moutful comprised  a lovely hidden surprise of a tasty and delectable oyster.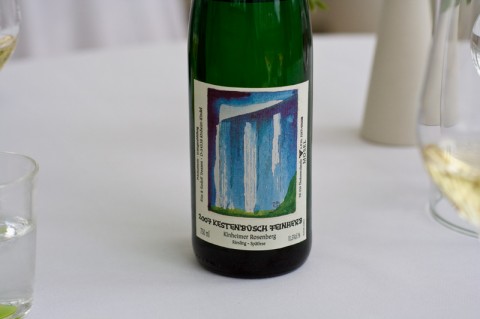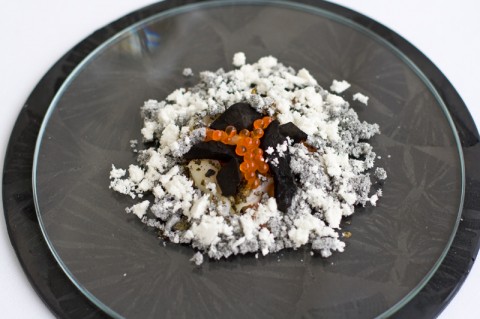 Signiture dish: Smoke, embers & ashes
Jerusaleme artichokes, monkfish(?)
2007 Trossen, Kerstenbush, Riesling Spätlese, Mosel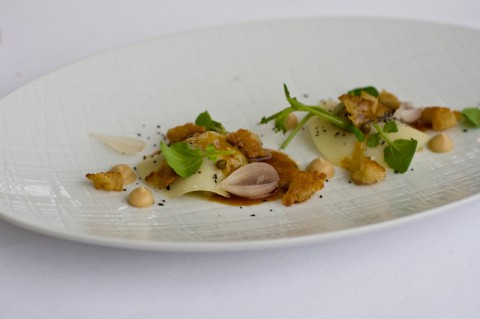 Fried Bread
Burnt onions & pickled green elderberries
2006 Pierre Overnoy, Arbois Pupillin, Jura
Again a marvellous scent hit my nose and the flavours were refined and delicate but at the same time creamy and very rich.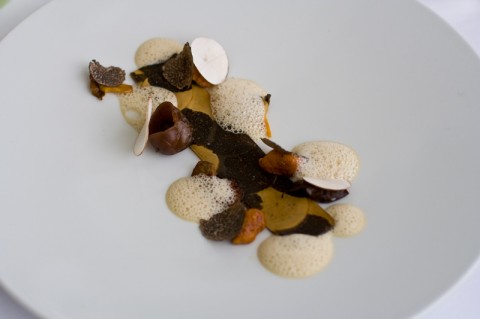 Mushrooms
Air of mushrooms
Mint soda Ørbæk Brewery, Funen Island
My goodness what an incredibly powerful scent of black truffles. It seemed like a warning for my palate, because the combination of the various mushrooms had such a full and mind-blowing intensity. I loved this dish. I didn't quite get the choice of mint soda drink with the mushrooms, though. The flavours were contradictory to me. But it was the only drink-food marriage that didn't work for me that day.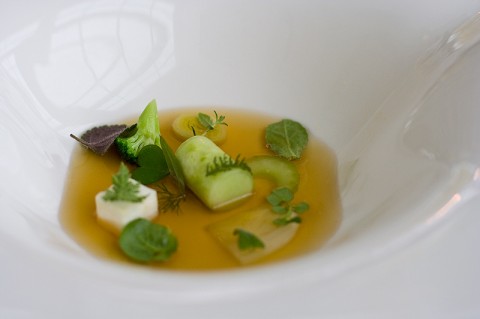 The King's Herb Garden
Piedra Luenga Fino, Montilla-Moriles, Andalusia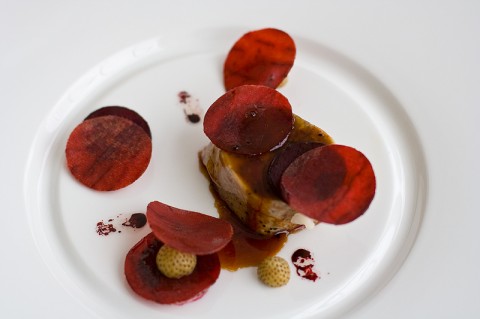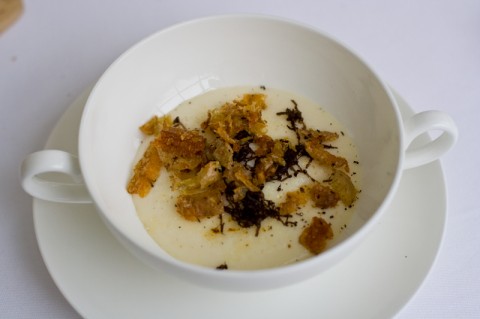 Young Ox
Beetroots, mushrooms, truffles & potato skin
2006 Domaine Prieuré Roch, Nuit "1", Côte de Nuits, Burgundy
It wasn't just the food, which had a powerful smell. It was also characteristic for this lovely Pinot Noir wine. Such pure cow shed, decay and soil notes in the nose and full-bodied palate that offered a lasting finish as well. What more could I wish for?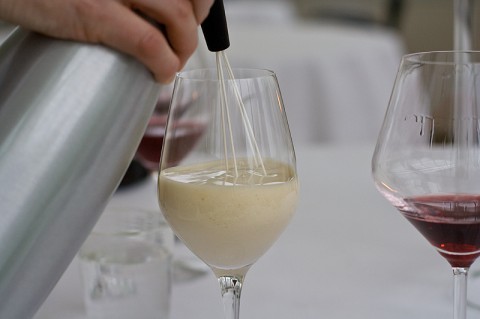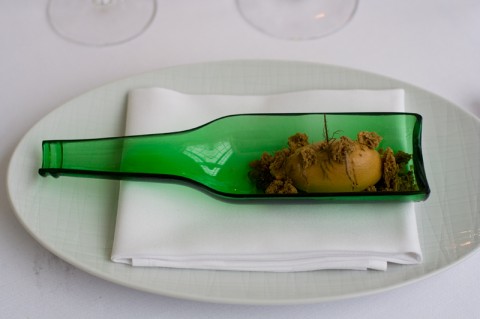 Ice-cream of Ørbæk beer
Malt rumble & liquorice
Geranium's beer-soda
I really liked the bitter-sweet taste and the caramelish-nutty flavours that had a touch of anis or liquorice. The home made drink of half beer and half lemonade was a great and perfect match for this nice novelty.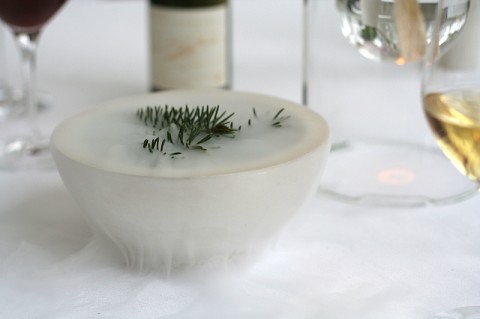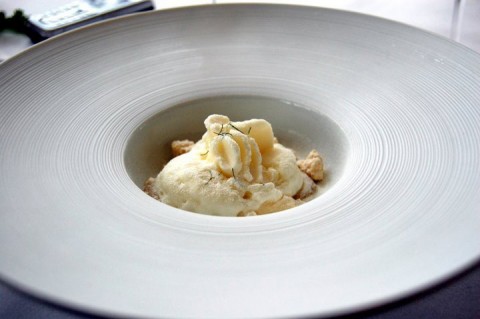 White Snow
Yoghurt, pear, scent and flavour of pine
2006 Peter Mentges, Riesling BA. Kronenberg, Mosel
(Image courtesy of Laurent/GoT)
While René Redzepi's and noma's obviously unique and curious style sometimes can have a slight roughness or rawness to it, Geranium is evidently elegance and pure pleasure.
Furthermore, with this meal each dish had its own mission, sort of; it had a story to tell and a message to convey and did it in a subtle way.  Very slowly and dish by dish delightness overpowered me and made it impossible for me not to yield. When food can evoke such emotions, it is proof that fine dining on this high level is a work of art. I love Geranium.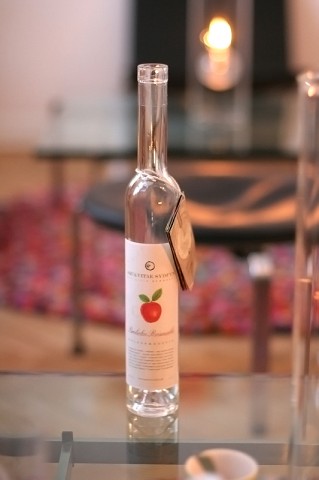 Coffee and Brosholm apple brandy
Rasmus and Søren have the gifts of being able to play with your senses. First the stunning and colourful look, then the powerful scent and finally the wonderful and intense taste. It is pure epicurean seduction! Geranium is a fairy tale and I cannot wait to go back for my next adventure.
All the dishes were flawless. They were sharp. The meal was completely delighting and it is – in my book – certainly worth a rising second star!
Bravo, and thank you all for such a lovely experience!