My recent Geranium experience on 12 March was wonderful. What stroke me this time was the combination of the extreme kindness from the staff in a very down to earth way and, of course, the quality and creativity of the food. It's my second time at Geranium and this time was even better, than my first back in September last year.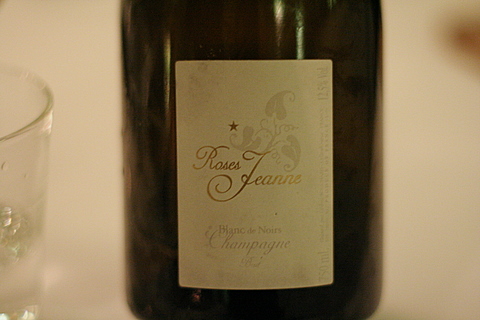 I didn't take notes this evening but believe it was a N.V. 2005 Roses de Jeanne, Celles-Sur-Ource, a pure Blanc de Noirs from Cédric Bouchard.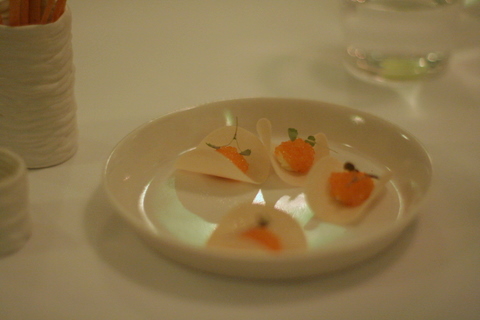 Snack of Löjrom as far as I recall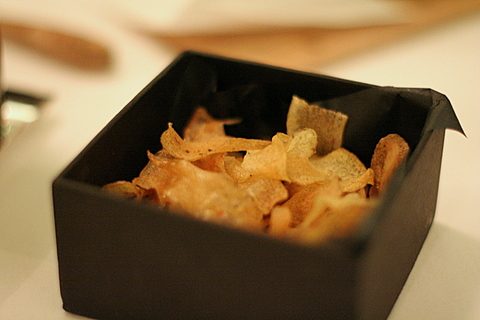 Very thin and very delicious potato crisps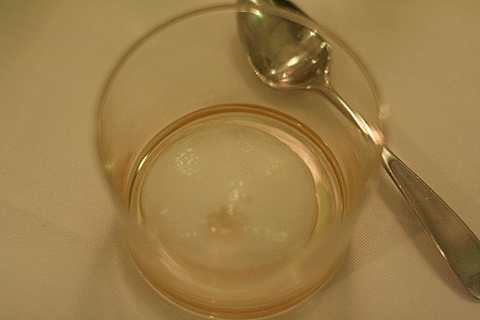 Apple jelly with Geranium appetizer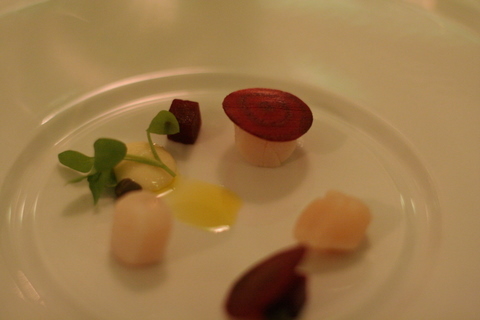 Scallops and beet roots appetizer
Now writing this review, I remember the repeated question from one of my companions: "Is this the starter?" and this completely made sense, as there were an uncountable numbers of little amusements prior to the first dish of the menu. There were even more than I have shown here.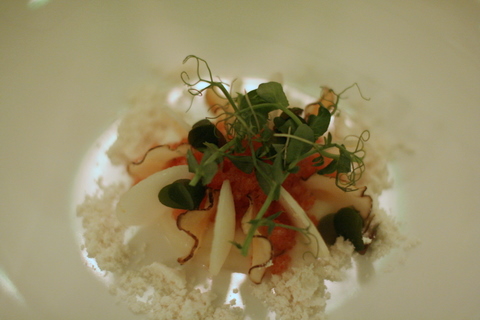 Lightly smoked lump fish roe
raw Jerusalem artichoke & powdered hazel nut oil
We had a 2005 Nerthus, Bligny-Les-Beaune, Puligny-Montrachet, which I LOVED. Amazing thing. The scent was so seducing and very complex with turpentine notes and minerals. The Meursault I originally asked for was out and Lasse, the sommelier, suggested this Puligny-Montrachet instead. Thank you, Lasse, I don't think the Meursault would have pleased me as much.
The 2005 Domaine Thibault Liger-Belair, Nuits-Saint-Georges, Burgundy was very delicate and balanced in both fruit and acidity and, too, the expressions of the nose and palate. What the smell promised was rewarded in the taste and I liked that very much.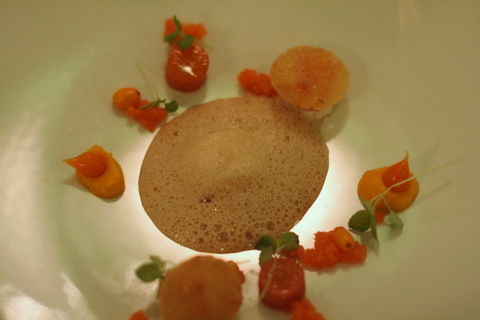 King crab roast on bread
carrots, sea buckhorn and lemon cress
The portions were nicely small but fulfilling, flawless and deliciously tasty above all. The food elements are beautifully arranged with colours that match each other and that's very important to me.
Geranium's dishes are remarkably well compound, and each dish is expressive and distinct with the highest quality products. This is art. It's clear that Rasmus and Søren know what they're doing and what they want, and this is admirable. Personality from a restaurant is always more attractive to me.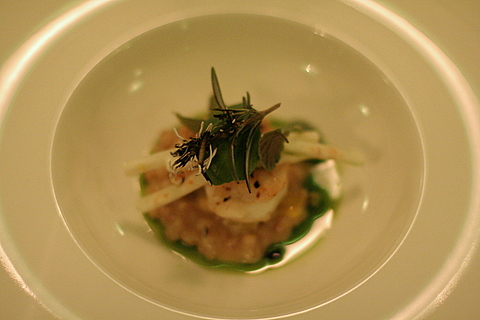 Scent of rosemary
monk fish, puffed spelt, celeriac
burned leek & herbs from the garden
Now, this dish was an entertaining feature. It arrived with a glass cover, and removing it the scents of rosemary and other herbs surprisingly breezed up and danced into my nostrils, sending me back to my late teens and the (very) few experiences with pot parties.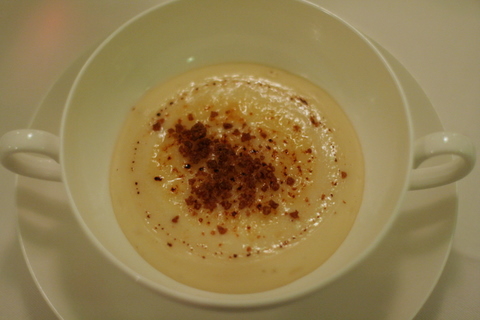 Foamy potato
cheese from Kristiansminde, rye bread & oxtail
Lasse, has a few times posted a comment on my blog, but we never met in real life before. It was so much fun to put a name to a face. Lasse is a kind and warm person, even more than I had expected. I of course congratulated the team with the new one Michelin star and in turn we got a lovely glass of white wine for a blind taste, which I failed in guessing, unfortunately: A delightful glass of 2006 La Ferme de la Sansonniére, Vielles Vignes Des Blanderies, Chinan Blanc grape and from the Angeli field.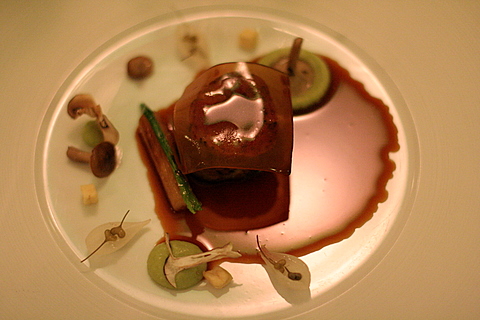 Happy veal
buds & sprouts of wild garlic, salsifies, mushrooms & apple vinegar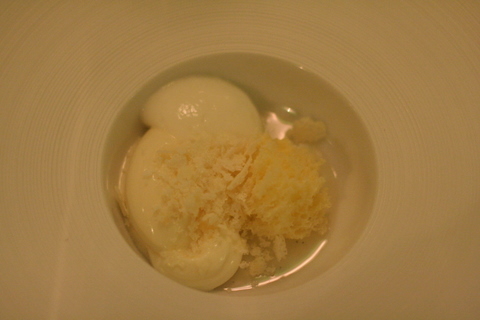 Milk
A word on the service. The staff was so easy and relaxed but still very professional, and I so liked that. They were very generous on the champagne, which was wonderful with mineral and a full flavour and vivid sparkles. The thing is, being known to the restaurant doesn't mean that I get a better treatment than other people do, at least I don't believe so. It means, however, that the staff possibly know me a little better, they know my preferences and thereby know better how to please me. This is what an excellent service is all about. Not to treat every customer in the same utmost manor, but to make every customer feel special. People have different needs and thus must be served independently.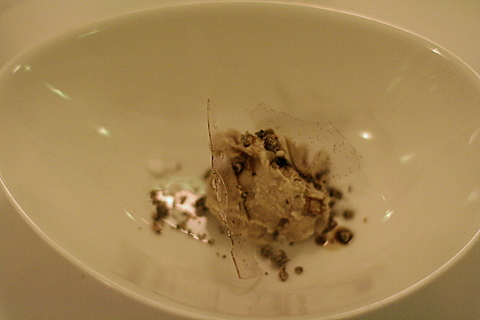 Pre-dessert of hazelnut ice cream (I think)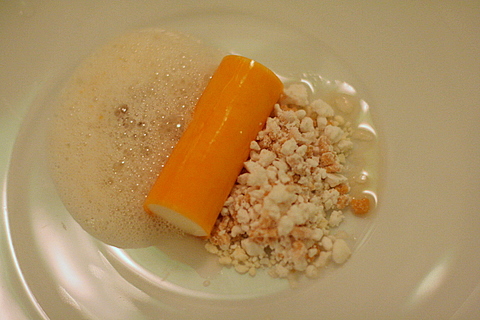 Pumpkin seeds
cloud berry juice & white chocolate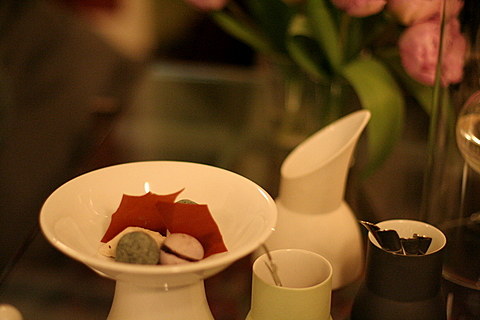 Petit Fours
Geranium is warm and lovable. I sensed this my first time there when I talked to Søren, but now this warm feeling is more outspoken. The food, the drink and the atmosphere tickle all my senses. I cannot ask for more.
Congratulations! And thank you all for a wonderful evening!