I discovered Chuck's blog through Luxeat, which I have mentioned here before. Chuck lives in California, is a sharp food critique and writes very thorough and honest reports about his eating experiences from all over the world. Read for example his El Poblet review from October 2007. In his descriptions he is very precise, and when discussing or arguing a place's quality or the lack of it, he almost always links to other food knowledgeable people's reports.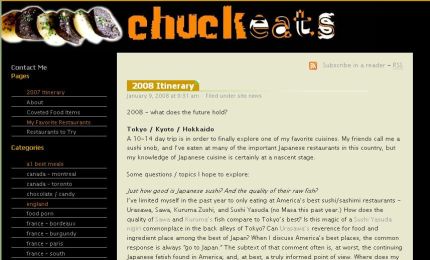 Now Chuck is planning a Copenhagen trip. At his blog people are discussing the fact that Chuck has chosen Copenhagen over Italy. I'm not sure, but it seems that Chuck has never reviewed any restaurants located in Italy. It might seem idiotic being Danish and saying this, but I fully understand Chuck's prioritising my city over some Italian place. The reason why I say so is that even though I've dined in Italy an uncountable number of times, no meal has ever been extraordinarily memorable. My dinners were all "only" really classical and lovely, but didn't require anything from me but enjoyment. This may be because of my own ignorance, but I have never ever eaten anything in Italy that challenged my eyes, nose and palate the same way that some Copenhagen restaurants are able to. If you search for innovation and ingenuity in eating out, Copenhagen/Denmark is the right choice over Italy.
Apart from his stunning food photos, I most admire Chuck for his way of conveying his messages on his blog as well as the way that he structures his content, his usability design and posts' titles. I like the way that Chuck summarizes the best meals or dishes of the year, the best meals ever or the perfect meal for 2007. He guides the user by the hand and introduces new categories and explains to the reader how and why he changes the look of his site. Despite the fact that Chuck has posts dating back to April 2005, it's fairly easy to get around his place and to overview whether or not he has written about any restaurant I was trying to track down. My new Epicure's Itinerary page, where I keep track of all the greatest dining places I visit, is a result of Chuck's affect on my blog.
Chuck is very fond of sushi. I wonder whether this passion of his includes Japanese food and what he would think of Umami in Copenhagen – Japanese with a French touch.
At an interview some weeks ago I was asked what other exemplary blogs I'm inspired by and I totally forgot to mention Chuckeats. I hope I have remedied that now.