Thursday 15 March 2007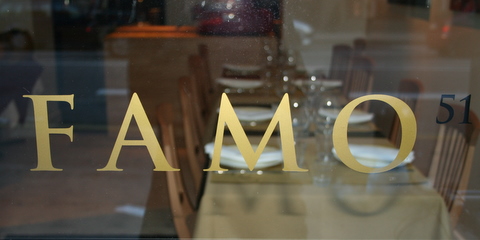 Entering the FAMO 51 and dropping our jackets in the cloakroom, I immediately noticed the grand slightly hollowed Parmigiano Reggiano cheese on the bar and the brass bowl cooling down the bottles of Prosecco di Valdobbiadene and Franciacorta Bellavista spumante. 'That looks like a really good start', I thought.
FAMO 51 is a rather new place, but the concept (one menu comprising 6 antipasti, 2 pasta, 1 secondo and a dessert) is known from the first FAMO restaurant in Saxogade 3 in the Vesterbro part of Copenhagen. Both restaurants are owned by the two chefs Fabbio Mazzon and Morten Kaltoft. In his past, Fabbio Mazzon has been conjuring recipes at Era Ora, amongst other places. To my surprise, I noticed only a couple of days ago that the original FAMO restaurant is actually mentioned as a 'Bib Gourmand' place – I'm not surprised.
We were welcomed by a young waitress who showed us to our table and shortly after we shook hands with the owner who presented himself as Fabbio and welcoming us to his restaurant in a way like we were invited to his home. I immediately felt welcome and felt that he really wanted me to have a good time at his place.
The wine. We started with a glass of Franciacorta, from the producer Bellaviasta – an Italian version of Champagne. Of all the spumante I have ever tried, this one is the best. I love the shape of the bottle and the way that the vivid bubbles sparkle in my mouth. The Franciacorta had a full-bodied taste, and I generally like it when the champagne and the spumante have a strong and powerful taste of grapes and oak. We had the cuvée brut, but of course you can get more exclusive stuff, like Satèn or Franciacorta Riserva Vittorio Moretti.
It was quite a challenge to select a wine to accompany all those dishes: Lots of antipasti, pasta, main course and dessert. It could either be a full-bodied white wine or a not too powerful red one. Fabbio explained the menu and recommended that we chose according to the main course, which was quail.
I love, love Brunello (especially from the producer Filippo Fanti), but unfortunately I don't get it very often, as it's too expensive. I don't mean not good value for money, though. I simply can afford the baby brother of this great wine better – the Rosso di Montalcino. Rosso di Montalcino became DOC in 1983 (three years after Bunello became DOCG, got the DOC in 1966). It's my impression that it's not so well-known outside the borders of Italy.
The funny thing was that Fabbio's suggestion for a suitable red wine for the poultry was the very same wine as the one that I was sweet on: The Rosso di Montalcino. This ruled out every question I had about that. An excellent choice.
First of all, the temperature of the wine was perfect. I always prefer the wine a few degrees too cold than too warm. Warm wine is awful, and a temperature to high kills all the flavour of the wine and, in my opinion, especially the tannin taste of it. This one had a rich taste of fruit, great tannin; enough to make the inner side of my cheeks suck to my gum. I like that. After a couple of minutes in the glass it opened up and turned into a rather powerful taste. A wonderful flavour matching my preferences and the poultry perfectly.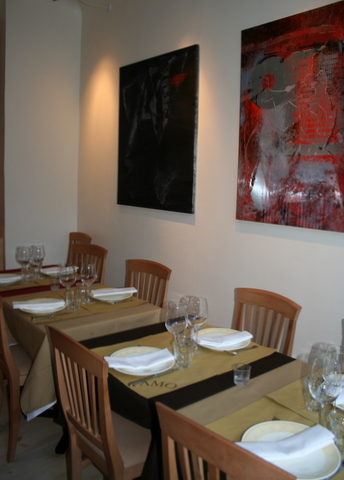 The food. Oh my. So tasty and prepared with the best ingredients, no question about that.
I confess it; I absolutely ate to my heart's content, stoked myself because of these dishes being so well cooked and all the memories of nice foodie experiences welled up in me. The bean soup set me right back to the hills around Zocca, where Olanda, the 70 year old cook of my au-pair grandmother prepared the most delicious Italian food of the Emilia-Romagna region, the part commonly known to be the place in Italy having the best food. Every day this extremely strong woman cooked a many course lunch and dinner for the members of the family and their guests. And while not preparing food, she spent time in the garden during the hot siesta on polishing the old brass kitchenware decorating the kitchen walls where we all ate. The look of the kitchen was just like taken out of an old Italian movie.
The amount of food, tasty salami, good cheese, crispy crostinis, turkey with the salted and dried pancetta wrapped around, stiff polenta and tender quail, the sweet delight of the jellyish panna cotta – cooked cream.
It' was over the top. I was busted. Two and a half hours for eating 11 dishes. Fabulous, but paralysing. I felt it like I had to lie down afterwards like the Romans did in ancient times. I now fully understand what other people have told about this place, the fact that they were so full after having dinner at this little Italian place.
But I admit, I do feel a little bit sorry now, because the speedof the dishes was too high. My problem is that I wasn't provided enough time to fully muse on every plate, every single detail of every piece of food. To just fully enjoy it.
What I recall best of what we got, is the taste of the chicory that was grilled and marinated with olive oil and vinegar (I think). I remember it so well, because of the fact that my companion said that he found the taste of it somewhat strange and salt demanding (neither salt nor pepper was on the table). To me it was just perfect with the bitter flavour, mild oil and sour vinegar, which all together are very characteristical for the Italian cucina I know. The elegance and the lightness of Italian food.
My musing over food when I eat it that's what eating good food is all about. It's where my mind is being stimulated. The eating good food is not just something that happens only in my mouth. It's a part of my brain, too. And my body, my whole being taking part in it, the dining. When I'm not given the time to carefully move the food round in my mouth to extract every element of the flavour, well then it's not a 100% good experience, for me. I lacked time here.
Most of all I question the speed because the restaurant didn't seem sold out on this Thursday evening. Did they just want to race home?
Anyways, FAMO 51 still qualifies for a post and a reference on my blog.
Leaving the place, we shook hands again with Fabbio and I expressed how nice this experience had been – in Italian (now after a couple of glasses of the splendid wine, I apparently felt courageous enough to switch to his original language) to which he asked how come I was able speak Italian. I explained. Then he turned and asked me who my companion was, actually asking 'Is this your fiancé?' What a compliment. My brother is more than 10 years younger than me.
Buon appetito!
The complete menu this evening:
A pre-starter of salame, thinly sliced coppa, Parmigiano Reggiano breakings and a pecorino toscano type cheese
6 Antipasti:
Grilled and marinated red peppers, a lettuce of chicory salad and a small onion
Spelt and vegetables salad (cooked like insalata di riso but the rice swapped with the spelt)
Crostino with a sausage of some sort
Stick darted toast cubes and turkey with a wrap of pancetta
Polenta (cold) with rabbit's ragout
2 Pasta:
Bean soup
Pappadelle with Tuscan cabbage
Secondo:
Grilled quail with polenta and red onions
Dolce:
Panna cotta with cherries sauce and a preserved pear
And the wine:
Franciacorta, Bellavista
2004 Rosso di Montalcino, Sesti, 100% sangiovese, 12 months in barrels, biodynamic