By a sudden impulse I had a nice late lunch yesterday at one of my favourite places on the north coast of Zealand about half hour's drive from Copenhagen. I've been coming here on and off for many years – more often obviously after I got a car and after my mum invited my grandma and me for lunch on the occasion of her birthday some years ago.
On the corner of Strandvejen and Mørdrupvej and on the opposite side of Espergærde Havn lies Il Divino, the Italian wine bar that serves not only good Italian wines but also sandwiches, bruschette, pasta dishes and their speciality PIATTO MISTO "DIVINO" composing a wide selection of Italian classics and new delicacies such as pepperoni, mozzarella di bufala (buffalo milk cheese), grilled omelette, marinated mushrooms, fresh white and red cabbage with an acidic vinegar, pork roast and every time the chef varies the content so even though I've had this dish for probably more than 15 times, it never bores me. The coffee is excellent, strong and very short, just the right way and to my taste.
Two elements are essential to my love for this place: The warm atmosphere and the high level of the food product's quality. It's clear that the people who owns the place and the staff there has a passion for food and for conveying what they think is very good food. At the lunch yesterday, I was served an extra little special something, which was le arancine and I never tried them before neither at Il Divino, nor elsewhere in Italy. Le arancine are fried and crumbled rice balls that kinda looks like an orange, thereby it's name, and with ham, cheese, peas and other variants inside. It's served warm and with the cheese inside melted. It's very delicious! The staff was having them for their (early) dinner, and I was invited to try it too. I've found an arancine recipe and with a couple of nice photos at Moscerino's Italian blog Brodo di Giuggiole to give you an impression of what the ones I got looked like.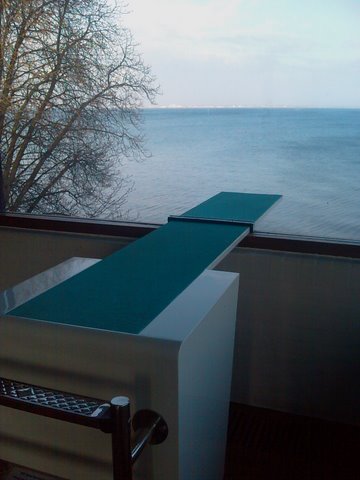 Michael Elmgreen & Ingar Dragset: Powerless Structures, Fig. 11 (1997)
The reason for going to Il Divino was the visit to the Louisiana Museum of Modern Art in Humlebæk and to experience the Giccometti and Cézanne exhibition that comes highly recommendable. It's lovely in the way that very good works of art can be in satisfying. It affected me totally, and I lack words to describe the feelings I experienced. It's a wonderful feeling, though, and I always feel very inspired after such a boom of creativity and beautiful input. Excellent food and art pieces go hand-in-hand in the way that both are able to move me. Actually, this goes for music too, by the way.
Anyway, I always make up excuses to justify a nice meal. I think it's my speciality. The trip to Louisiana is my classic cover of to have coffee at Il Divino, which in the end always turn out to be a lunch or a dinner. There is a café at the museum, but I would always prefer my Italian divinity. Next time I'll bring my camera and do a proper report!