During the last months I have discovered some fabulous blogs about good food and good restaurants. I'm feeding myself and my laptop with creations of these sources in between my excellent eats escapes. I'm highly inspired by them.
To credit these great writers and photographers I'm mentioning them here.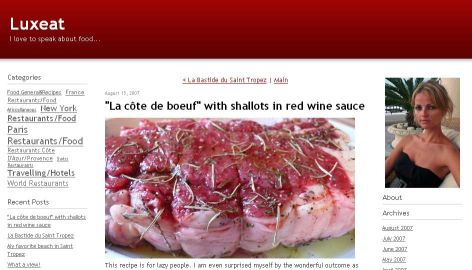 Luxeat (English) by Aiste, beautiful food lover covering fashionable dining mainly in Paris, Côte D'Azur, France, New York, Florence and more. I love Aiste's creativity, photos, videos, writing and the way that she compares restaurants in a few words.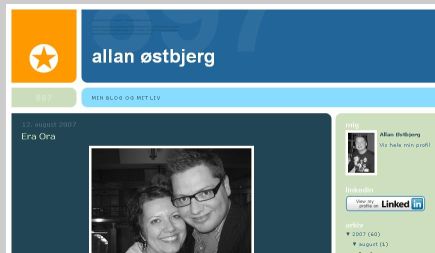 allan østbjerg (Danish) by Allan Østbjerg. Allan writes about his life. We share the interest of nice places and gourmet restaurants. Allan's blog is the most interesting Danish and well-written personal everyday life blog I've come across so far. Allan is rating the restaurants he's visiting.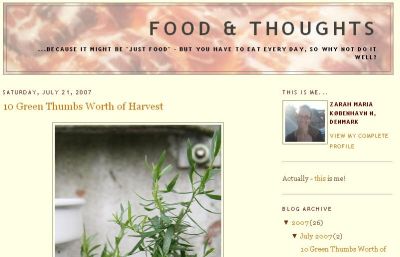 Food & Thoughts (English) by Zarah Maria. Being non-native English speaker Zarah writes brilliantly about food, recipes, crops – and her life. When I read Zarah's Me.Meme.MeMe.Mes I forget time and place. Her images are just beautiful.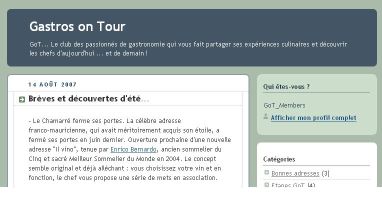 Gastros on Tour (French) by Laurent V and friends (I think because I don't really speak French. So, LV, please correct me if I'm mistaken!). I discovered this blog last Sunday, when Laurent posted a comment on my About page, and I have already become very keen on reading these great, Belgian and French mainly, gastronomical stories. Although some of the text translates in my head like a very primitive autotranslation program would do it word by word, taking me half hour because I look up every other word. Sometimes I'm lucky that the Danes stole some French words like 'overture' for example. Then I can do it in 20, perhaps. Good practice.
What all of the above have in common is a good sense of humour. Thanks guys!
Enjoy!