So, we arrived to the fourth restaurant visit this evening. Not that I was really hungry anymore, but I was still very excited and curious about what the second half of the crawl would bring us.
The agreement with Lau, restaurant manager, was that we would be sitting in he lounge. This explains the quality of these photos. The light was a challenge.
I could hardly wait for the food, when I first sat down. What would René be serving us?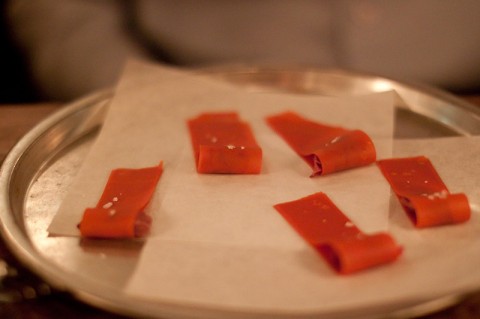 Sea buckthorn
We first got a snack kinda thing of sea buckthorn rubber. The texture was a bit chewy like chewing gum, only edible. I liked the taste of it, not too bitter or sour, but it wasn't something that I could eat a whole lot of.
I wanted to challenge the guys and had asked Lau to serve the wine blind. It was a test. I wanted to learned how my companions would describe a Danish wine, what grape they thought it would be, and what origin they would compare it to. Lau was serving them 2008 Arwen, named after René daughter, born the same year.
Arwen is made from the grapes Solaris (an early matured white wine grape), Sauvignon Blanc, Silvaner and Riesling. The guys guessed Riesling and Sauvignon Blanc and guessed Germany, not Denmark.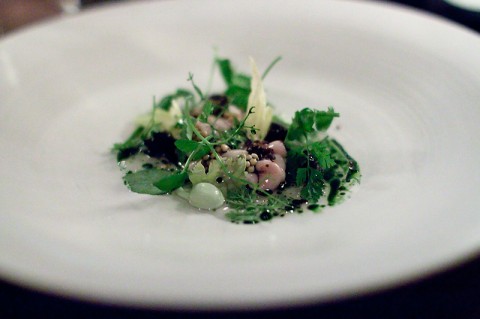 Cod milt, cucumber (I think), dill oil and herbs

The first dish was clearly inspired by René Redzepi's trip to Japan where cod milt is a delicacy. It's the first time I try cod milt, or cod sperm to be frank. (I will spare you for all the jokes the boys made and couldn't stop making them laugh). To me it looked like brain, because of the winding intestine-like appearance. It is the rosa-coloured thing in the middle of the plate. The texture was soft and almost liquid, very creamy. It didn't comprise much taste, though sea water with some creaminess to it was most dominant. Above all it reminded me of the first time I tried oysters. I wasn't sure how I liked it. I don't think, however, that I will be as fond of cod milt as I am of oysters.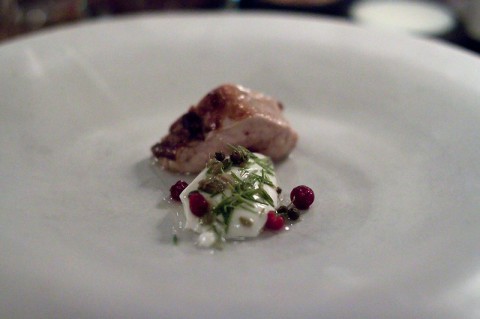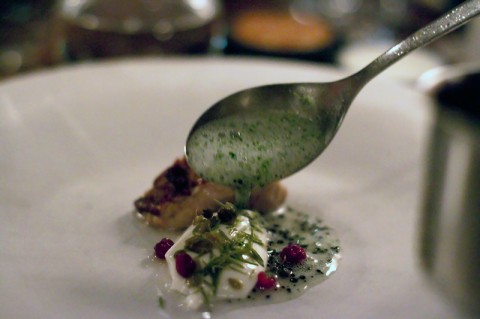 Cod liver
The second serving was cod liver. The texture of it was very fragile and fatty, and the taste was quite fishy. A bit too much, I thought. The berries added some acidity and flavour-wise the dish was balanced.
Was I disappointed? Not really. I mean, with so many noma visits in my dining history I'm not sure yet another musk ox tartar or a langoustine on a stone would make this visit memorable. I was surprised and that's a very important factor. The fact that I didn't appreciate the food much was secondary to me.
We still had two more restaurants to go and needed to hurry up. But when I called the cap he was having a break. OK. Two taxis therefore took us back to the city centre and to MR.
Thank you Lau, René and every one for a great experience!