The month of September offered me a visit to eminent Edinburgh. It was my first trip to Scotland ever and the hilly beauty, the exciting history, the medieval architecture, the dark and Gothic look, the views to the sea, the impressive castle and the whisky completely overwhelmed me, and I couldn't help myself falling for the Scotch capital. Surprisingly the food was very good and lovingly dominated by fish and sea food.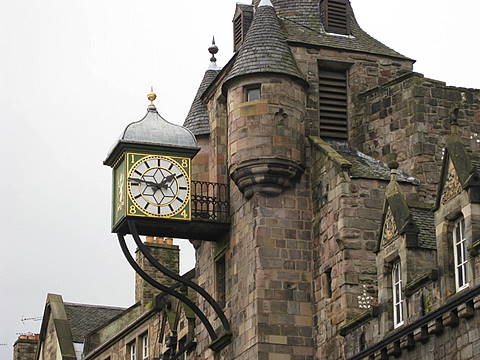 Canongate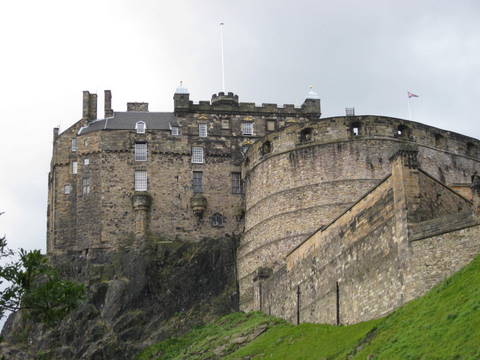 Edinburgh Castle
[youtube]http://www.youtube.com/watch?v=cZUHPxK33kE[/youtube]
The One'o'clock canon being fired from the castle.
The best dining experience in Edinburgh was by far The Kitchin. What I really liked about this place and what is still very present with me after more than two months, is the sincere desire to please and create marvellous and beautiful dishes and to present the Scotch origin in an utmost way. Look at these beautiful plates further below.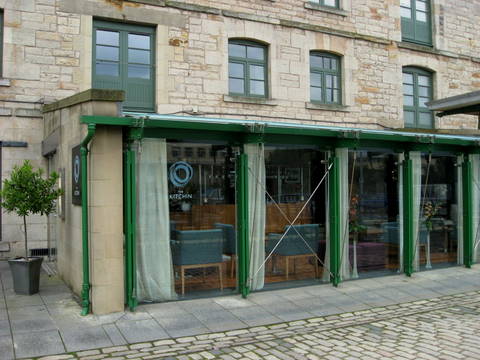 Exterior of The Kitchin
The restaurant is situated on Leith's waterfront and opened in June 2006. The Kitchin is owned and managed by Tom and Michaela Kitchin. Head chef Tom is the youngest ever Scottish Chef proprietor to receive the Michelin star! He is from Edinburgh and has experience from fine and famous restaurants such as La Tante Claire in London, Guy Savoy in Paris and Alain Ducasse's Louis XV restaurant in Monte Carlo.
The Entrance
My hotel was at the Grassmarket, once a famous setting for public executions, and The Kitchin is a 15 minutes' taxi drive away. There was a bit of waiting before we were offered drinks and puff pastes, which another fine dining place still insist to serve although they will always be dry and friable immensely tedious trivialities. We  opted for the Chef's Land & Sea Surprise Tasting Menu and the complimenting wines by the glass.
The first glass of white wine arrived and the French-accent English speaking sommelier asked if we wanted to blind taste the wines and have a guess, and I of course approved. This is the first time any server has asked me that. I LOVE blind tastings!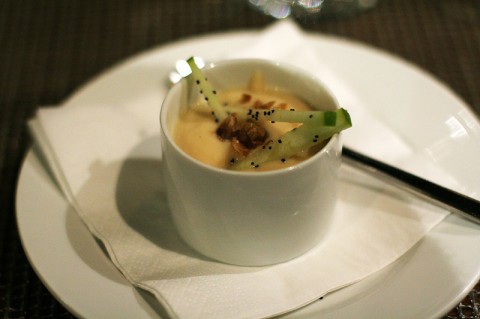 Appetiser
Celeriac soup served with chestnuts and
NV Dampierre Brut Champagne
Awesome appetizer, and so simple. It was creamy with a delicate flavour and with a good acidity from the apple.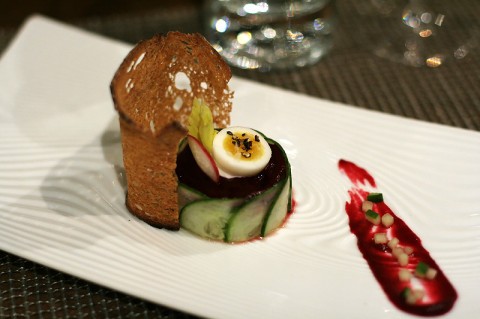 Mackerel
Tartare of mackerel with quail egg, cucumber and beetroot dressing, served with curly Melba toast
2007 Donnhof, German Riesling
First of all excellent match of wine offering pureness and freshness and with the mackerel it is perfect. Fabulous acidity with the cucumber and so right for the fatty and intense mackerel. I guessed that this wine was a Riesling and got copmpliments from the sommelier. Unfortunately, I couldn't keep up that level throughout the dinner.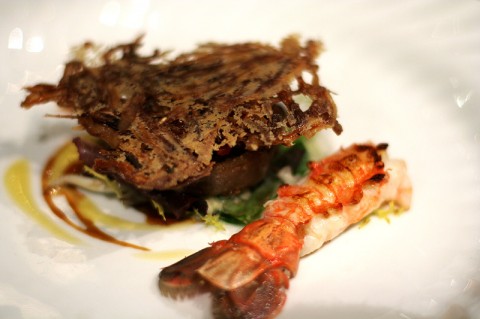 Langoustine & Pig's Head: Roasted langoustine tail from Anstruther with boned and rolled pig's head served with a crispy ear salad
2007 Vina Leyda, Fallaris Hill Chardonnay, Chile
Top dollar on product quality and taste, and the langoustine was a huge example and cooked to perfection. The pig's head was a fine match for the well-savoured shellfish and bridged nicely to the following aromatic course.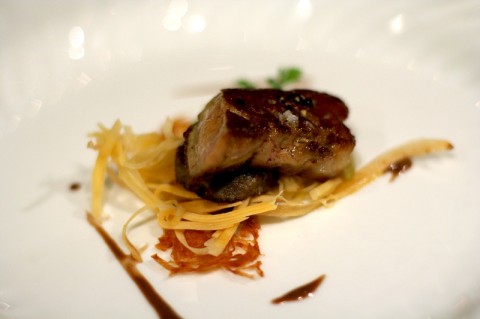 Foie Gras: Pan fried foie gras with haggis, neeps and tatties 'A'la Kitchin
2006 Domaine Berthoumier, Gers Pacherenc Du Vic Bilh
Nice foie gras and haggis. I liked the foie gras, and I liked this the first haggis I ever tasted. But there was something about the flavour combination about them that in a mouthful did not compliment each other well, in my opinion. I believe that they were too powerful and in different ways, so I just ate them one at the time, which worked for me.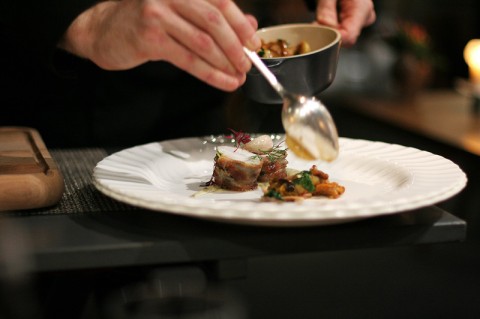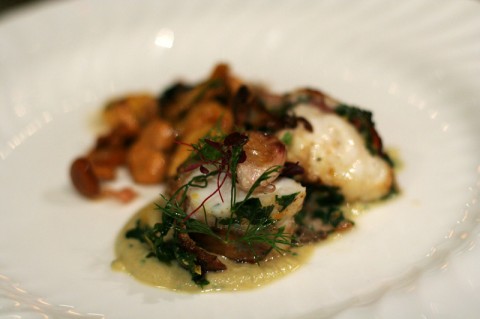 Monkfish: Monkfish tail seasoned with olives, lemon zest and herbs,
wrapped in pancetta and carved at the table
2006 Delagrange, Pinot Noir Hautes Côtes de Beaune, Burgundy
Need I say that quality of the monkfish dish was outstanding? I suggested the wine to be Pinot Noir and to originate from Burgundy, which was correct. It was light in colour and taste with a slight seasoned flavour to it and not as pure as I prefer it, but a good match for the monkfish.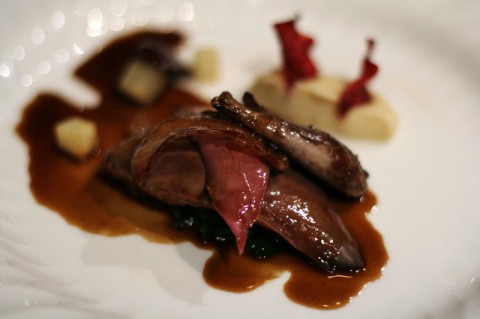 Grouse: Roasted young grouse from the borders served with local sautéed mushrooms
2003 Valpolicella Ripasso Classico, Veneto
I have never eaten grouse ever before and I cannot say that it's my favourite kind of game. I liked the dish, nevertheless and it had a sense of Christmas to it with the intense sauce. I think also because my family usually have duck for dinner at Christmas' eve. The accompanying celery in two different textures was great and added a balancing sweetness to it.
For the wine, I was correct about Italy but have forgotten what region or grape I suggested. The Ripasso with it's rich fruit and the tannic after-taste complimented the poultry well.
Cheese: A selection of Scottish and French cheeses from the trolley
2004 La Preceptoire de Centernach Maury
A plate of cheese is generally not a very interesting photo, but sinse this course was part of my meal, I decided to include it anyway. The cheeses were fantastic and it was hard to choose from the big trolley offering only Scottish and French cheeses which I find an excellent idea.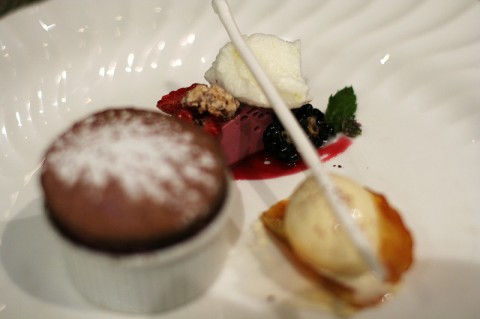 Dessert: An assiette of desserts 'A'la Kitchin
2004 Stellenbosch Kanu Kia-ora Late harvest, South Africa
The dessert was very nice and offered chocolate, caramel and berries in different textures and was very tasty. But from a craftsman's point of view I found that the creativity was a step-down from the level of the salty dishes. Furthermore, I didn't find anything particularly Scottish about them and I missed that.
The wine pairings were fabulous, intriguing – and very hard to guess. The service was young, attentive and with the right balance of friendliness and humour. I really had a great time.
After a visit to the kitchen and a chat with the Kind Mr. Kitchin, coffee and sweets in the lounge afterwards, the dinner ended with a whisky, the very peaty and smoky Islay one from Ardbeg.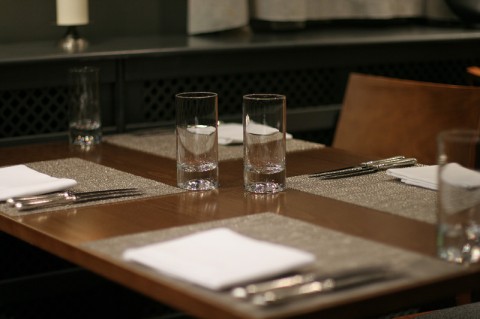 The best dining experiences are always those, where the kitchens are on the up and up. The most exciting meals happen when everyone in the kitchen and on the front are there just because they really like it and want the restaurant to succeed.
This was exactly what I felt at The Kitchin: a smitten enthusiasm spiced up with an attitude to products, quality, origin and taste. That's always far more interesting, especially when you're from overseas and visit local gourmet restaurants.
I have not much knowledge about the Scottish gastronomy but the meal showed a great deal of creativity, innovation and technically a very high level of cooking skills. There's no doubt that Tom Kitchin is very talented.
I must admit that not only did I fall in love with Edinburgh, I fell in love with The Kitchin as well.
Thank you Tom & Co.!