It wasn't a recommendation but the need for an overnight accommodation that made me select this place after reading about it in the L'Arte de Vivre and Michelin guides. I simply was in the neighbourhood.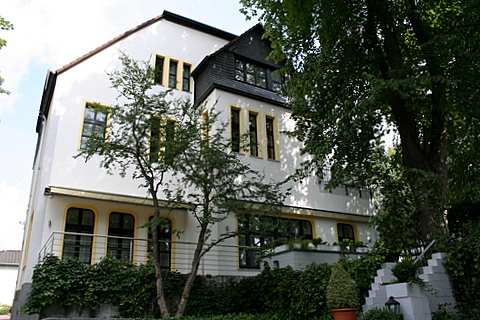 I selected this hotel because of Restaurant Résidence. The restaurant is part of the hotel villa and situated in the middle of a residential neighbourhood about 10 Km from Essen city.
Let me first say that as far the service goes, I was happy. The staff was formal, as are Germans, but helpful and offered to carry our luggage to the room, popped out of nowhere to escort me to the dining room and, as the evening went on and I had swelled the usual big amount of water, to the loo.
I have stayed in a fancy hotel/gourmet restaurant before, but this is the first time I have found a welcome card with a personal, hand-written greeting in my room upon arrival, and a menu card reading my name and the seven courses selected 'just for me'! I admit it, I totally fell for it and ordered the full set even though I had imagined that mere two courses could justify my epicurious craving easily.
The small but stylish dining room doesn't allow much space between the tables, which are all placed to the wall sides. As usual I had brought the camera with me and kindly asked if they would mind my shooting photos of the food. The waiter was young-ish, seemed a bit surprised and replied that she would check with the kitchen. But she never came back. So because of that and because of the intimate feeling of the the room, I decided that the sound of my SLR would disturb the other guest and I have thus no pictures of the food or from the inside of the villa.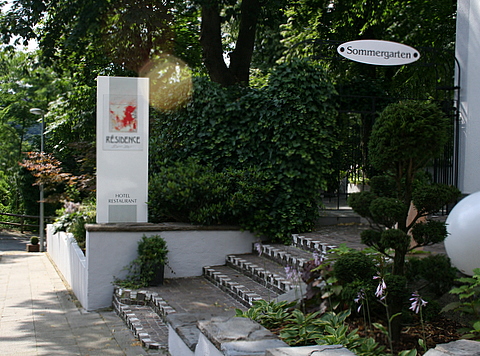 Food wise, my tummy proved too small for the full and generous German servings. It wasn't pure flattering that made me opt for the whole set, I was also very curious about the signature and presentation of the cooking. Henri Bach is the head chef of Restaurant Résidence and he is honoured with two Michelin stars and 17 Gault Millau points. The restaurant is said to be one of the best restaurants of Germany.
I got a number of appetizers that didn't impress much. They seemed like they had been waiting too long in the kitchen. The last of the amuse geulles, however, offered a delicious fried scallop darted on a stick and balanced on the top of a little cup with a rich and very good cauliflower soup.
Trine's Menu 12 July 2008:
Délice of goose liver
& Charentais melon with ginger
Pot au feu of anglerfish,
broad beans & passe Pierre with rouille tortellini
Carabinero shrimp with mousse
& soup of cherry tomatoes on a little artichokes salad
Braised cheek Angus beef
with spinach polenta & green almonds
Saddle of venison with medlar chutney, Chantarelles & Savoy cabbage
Jellied woodruff punch
with peach sherbet
Mille feuille of pineapple & mascarpone
& raspberry ice-cream
The sommelier Alfred Voight approved my choice of wine. It took me close to half an hour to decide what to settle for. The wine list is a big beguiling book. I like to drink local wines whenever it's possible and this evening selected a 2005 G. Breuer Pinot Grit "B" for the lighter courses. Breuer makes some fabulous Rieslings, and I was an interested in trying his Pinot Gris which is less known. It was a great wine, very aromatic and dominated by the characteristic and bitter shaddock fruit. It was semi fat in texture and obviously lacked a little bit of sweetness to perfectly match the goose liver. But that didn't matter – the wine was exactly what I was hoping for.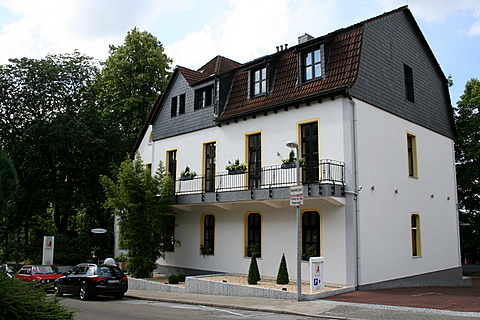 To accompany the heavier dishes I had picked the 2001 Conti Sertoli Salis, Canua Sforzato Valtellina (Nebbiolo grape) as I longed for power, tannin and elegance. Hugh Johnson claims in his Pocket Wine Book 2008 that the Sforzato should resemble the Amarone wine. I completely disagree with that. The aromas of the Nebbiolo grape are more pure and delicate than the Corvina- Rondinella-Molinara composition. I furthermore find the Sforzato less jam-like and offering much more complexity as well as tannins, even though its orange edge proved some age. Perhaps you can read between the lines that I don't fancy Amarone very much.
Alfred had decanted the wine and when it was poured into my glas it had breathed for about 1-1½ hour. A very nice and enjoyable wine with a full and long finish.
The goose liver dish offered foie gras in three different forms presenting terrine, paco-jetted and fried foie gras and they were all very delicious and nicely matched with the melon and ginger that provided some freshness to the intense liver flavour.
Broad beans seem to be in season at the moment and unlike the Ensemble starter last month they were right in this picture of anglerfish and a superb black al-dente cooked tortellini.
I didn't find the amazingly large Carabinero shrimp as intriguing in comparison with the rest of the starters. Both the beef and the venison dishes however were excellent.
The desserts arrived, and they were, in fact, shockingly bad. My menu read mille feuille which is something I normally love. Unfortunately, the thin leaves were here replaced by clumsily thick, bitsquit-like pastry layered with hardly any cream in between them (actually, the filling was more jam than cream) and the raspberry ice-cream marriage was dreary and made it even worse. This creation was far from the level of the prior courses and not worthy of any stars.
So, the first five dishes were very good, classic but sharp indeed. Despite the intensity of each of dish they never offered innovation or creativity in the way that really seduces me. In fact, Restaurant Résidence made me realize that the dining experiences I find most entertaining is where the classic-ness has a twist. It's just more challenging.
Is this one of the best restaurants in Germany, you may ask? Well, although I have tried several I don't feel that I know enough about German fine dining yet to make that desicion.
If you fancy fine service, an interesting wine cllar, classic, elegant and tasty dishes in portions big enough to satisfy the appetite of a Bibendum-sized person, then this is the perfect place for you. Guten appetit!