NOTE: This restaurant has close down!
Actually it's the third time I visit MR. First time was in 2006, the most recent was in 2007 and so now on 25 August was my third visit, this time having the whole restaurant to myself. Well, not entirely to myself. I had the pleasure of being the guest of Wandering Epicures' Linda and Michael. I originally thought of suggesting Herman at Tivoli's old Nimb palace serving new interpretations of classical, or old-fashioned if you want, Danish dishes and I figured that would be interesting for Linda and Michael. Also, I knew that the two already had bookings at Geranium and noma.
But unfortunately Herman was unavailable that night, so I suggested MR because of Mads Refslund's clever and creative cuisine and the style of his somewhat Victorian style restaurant.
My intention was to arrive early and in time to calm down after my cycling to the restaurant, pause for a little while and mentally prepare myself for the gastonomical adventure and for meeting new friends. But because of a long day at work I only got a couple of minutes and a sip of mineral water before Linda and Michael entered the door to the lounge room precisely on time. It's always a special moment when meeting foodie friends from the blogging world in real life.
We went upstairs and enjoyed a lovely glass of champagne. I've had this a few times before: Pascal Doquet Grand Cru, Blanc de Blanc from Le Mesnil sur Oger which was very delicious and full in flavour.

Radishes with dip and…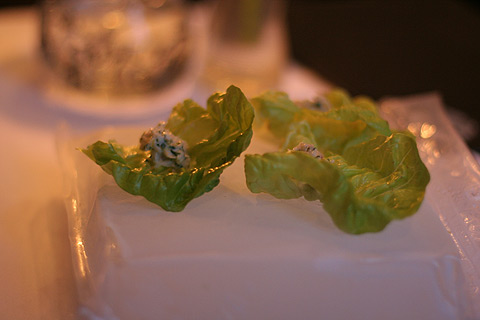 Heart salad and crab snack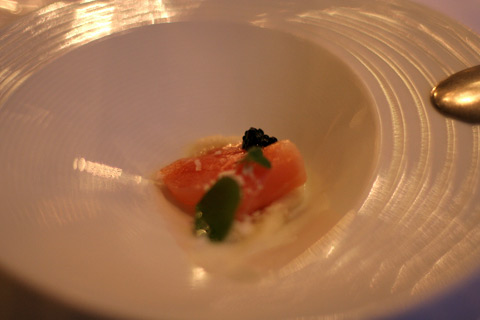 Salmon and caviare
The amuse of delicately smoked salmon was better than the salmon-appetizer I got last year. The fish had a dry-ish surface, which I liked a lot and the black caviare on the top gave a sophistcated touch and more flavour to the high-quality salmon.
We all opted for the seasonal menu offering seven courses. Michael chose the wines, a Condrieu (100% Viognier) and a Spinetta Bionzo Barbera d'Asti Superiore. The Condrieu was very flowery and sweet on the nose and very fruity in taste and very nice overall. The Spinetta was great. It was decanted, quite cold but I like that. It had a fantasic tannin that was powerful but not too much compared to the amount of fruit. After some air it evolved with a warmness and a more full palate with a long finish. I loved this wine.
At the Copenhagen Cooking event Mads Refslund had the day before scored first prize for his starter of Burnt Field, and of course I was dying to try it. So I was thrilled that the kitchen was kind enough to swap it with mais and foie gras which was the intended first dish of the menu.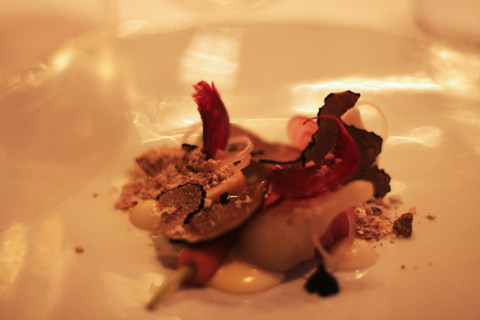 Burnt Field
It arrived with a glass cover and when removing it a wonderful smell of smoke infused the room. I must say that this truffle and smoke marriage was new to me but it was indeed good as well as suprising. The vegetables were cooked al-dente but a bit too raw to my taste, and they requirred too much cheewing. But the flavours were lovely and the summer truffle had a fine taste and dry texture that proves quality. I understood why this dish had won first place.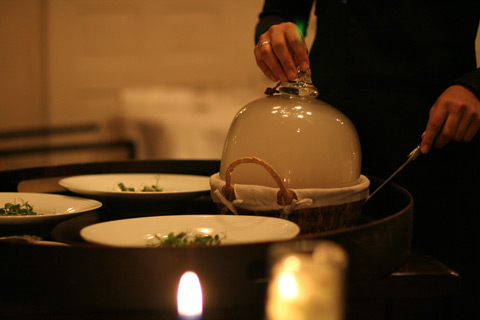 Smoked hen's egg and asparagus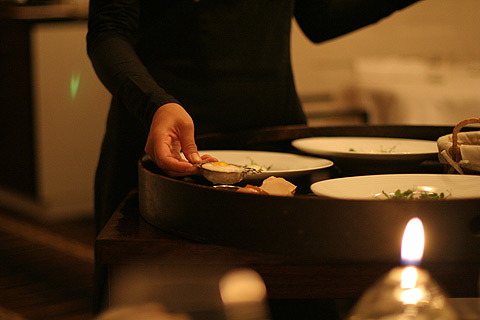 The dish being prepared at our table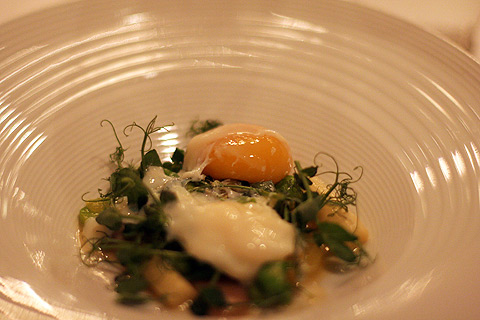 Smoked hen's egg and the last asparagus of the season with portatoes and peas
I don't know why but this thing puzzled me a bit. Like the first dish the smoke became the vegetables in a nice way and eggs hardly ever do harm. As far as I remember these eggs had been smoked for something like two days. The asparagus were very good and the sweet peas matched the slight bitterness of the asparagus. But the dish seemed somehow incomplete to me. It lacked sharpness and distinction.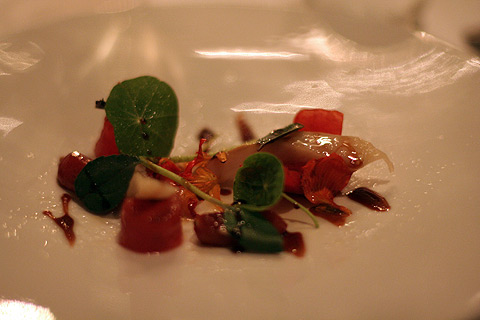 Pickled mackerel, water melon and small tomatoes
Ah, this was the highlight for me. I'm quite fond of water melon, love the taste but hate the seeds and I've never (as far as I remember) really had water melon at any fancy restaurante before. And in combination with this gorgeous quality mackerel it was fabulous and surprising and a match I'd never think of.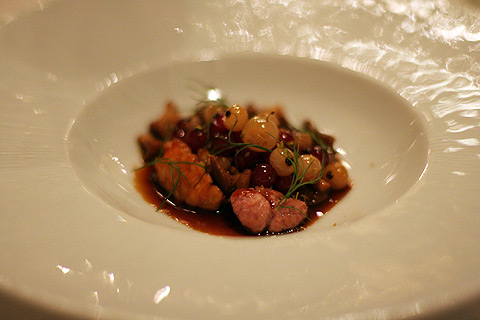 Crayfish and sweetbreads, Red currants with dill and fava beans
This dish wasn't completely balanced unfortunately. I found the berries a bit too sourish for the sweetbreads and crayfish. I wasn't crazy about the fava beans either so this dish was the least interesting one for me of this meal.
Chicken with lettuce, parsley and arugula
Next was the main course of chicken with coxcomb. It wasn't as innovative or daring as the previous dishes but in fact it was nice and the ingredients were balanced and harmonious as well as tasty. That however didn't count for the coxcomb. Apart from the sauce and the marinade it didn't offer any flavour and the texture was like that of squid. I liked it, though, for the fun of it.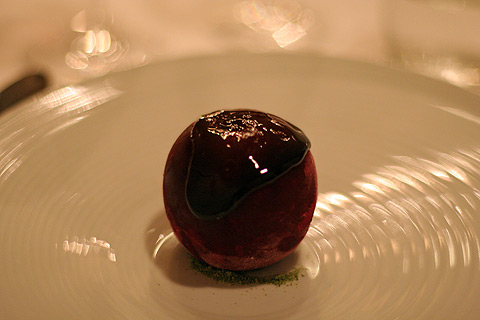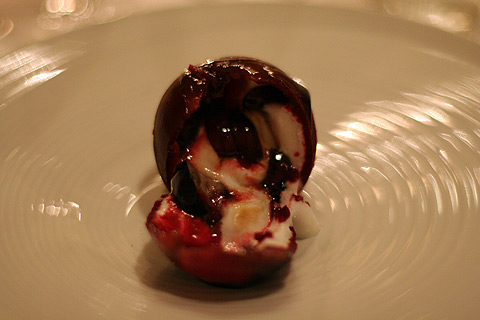 Beets & Yoghurt, Cherries and woodruff
The outer shell was made of beet's ice without any milk or cream, and the inside was the yogurt with the aromatic cherries that matched the companions very well. A refreshing and beatiful cleanser.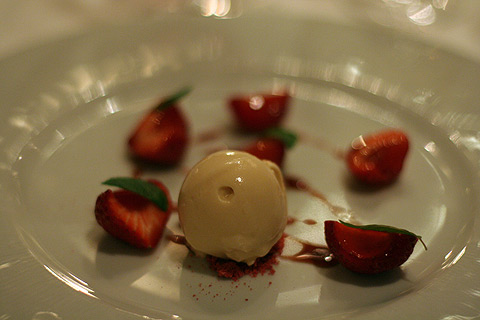 Strawberries, Goat's milk and Martini rosso
The Martini Rosso of the second dessert wasn't very pronouced. Actually, I wasn't able to identify the flavour but the strawberries were wondeful and the Martini had in my opinion the same affect as salt – it pulled out more of the delicious fruit flavour. Goat's milk is not my favourite thing, in fact I'm not really able to eat it anymore. I did taste it though and apart from the goat's taste it was delicate.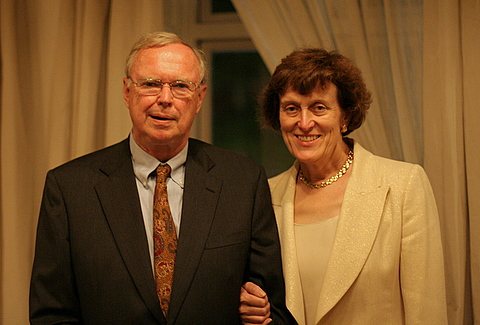 Linda and Michael
After my cup of espresso we were kindly guided to see the other dining rooms as well as the kitchen and that's always a great thing to me.
This was a fine dinner and offering gorgeous products such as caviare and truffles – even without adding extra cost. When I compare this meal with my previous visits this one wasn't as surprising as the past ones.
Somehow meeting Linda and Michael overshadowed the food this evening. But I think that's the way it should be.
Thank you, Linda and Michael – hope to see you again!