Can you bear another noma post?
Mum and me like to meet for a mother-daughter day once or twice a year, and for our date set to 13 March 2008 I had decided that I would invite my mum to noma for lunch. Not the biggest surprise, I know, but anyway. My first revisit to noma was actually with my baby brother and my mum, where she tried the small menu. The day's agenda was therefore to spoil my mum, as she really deserved it. I knew that it would be possible at noma. What I didn't realise though, was that the lunch would turn out much more different from what I expected and from what I had planned.
Grey skies covered Copenhagen, sadly. It was raining several kinds of domestic animals and my mum hadn't thought of bringing an umbrella, so the two of us clung on to mine and a rough storm made it hard even to hold the umbrella and not to let it slip out of my hands and fly away with the inside out.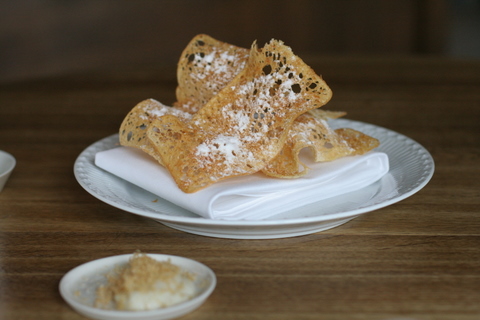 Bread crust to dip in Jerusalem artichokes cream with dried cod roes
A very nice and delicate first snack, where the sweetness of the Jerusalem artichokes cream matched the salty granules.
After the sightseeing and on our way to the restaurant my mum told me that my dad had suggested to join the lunch, but that he couldn't be there until an hour later, and so she thought it was a bad idea and had told him not to come.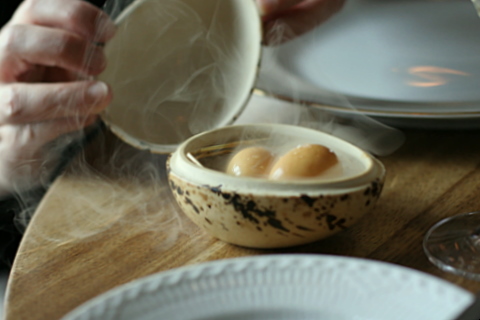 Snack of Smoked and pickled quails egg
Anyway, after the tour that was more like an autumn day than spring, we arrived wet and messy to noma and was welcomed by Pontus, the sommelier and one of the owners of the establishment.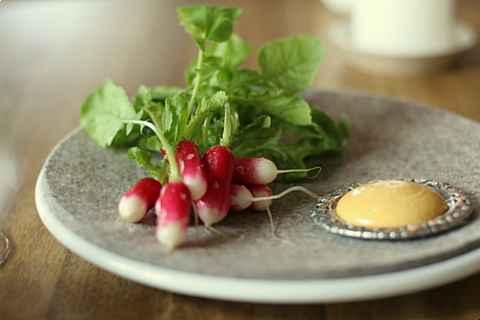 Radishes with a cream of… something

It was great to eat fresh, new, crunchy and lovely radishes and to be reminded of the forth coming spring.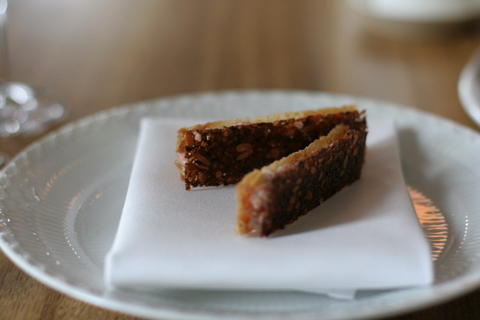 Lump fish roes sandwiches
These little sandwiches were a whole new thing to me. The taste was creamy and slightly salty from the lump fish roes and the paper-thin bread slices. I enjoyed the popping and crunchy feeling of this mini packed lunch.
We got seated and my mum marvelled at all the snacks we were spoilt with and that I have described above. We were also offered birch wine. In the early spring the birch trees absorb a lot of water and the birch wine is quite simply the juice extract from the tree. Danish water contains a very high amount of chalk. I don't usually think about it, until I sense the water from other sources that's much softer. The birch wine had such a soft feeling to it and drinking it was a like the feeling of velour. I wasn't able to taste any flavour with it at all.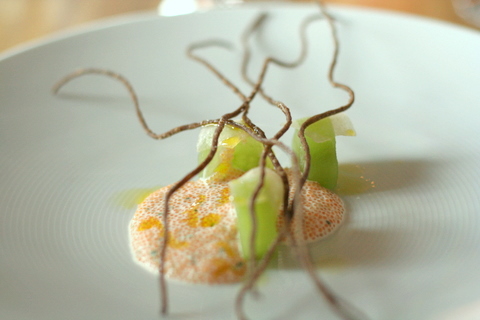 Amuse of Löjrom, cucumber and grain sticks
I didn't mind at all that this was the second roe experience, because I love fish roes when they are of the high quality that noma provides. In this amuse the flavour of the little balls were subdued by the white cream. The cucumber added some acidity, which gave the dish more character and balance.
Anyway, back to the story. We had just taken our first bite of this course and then all of a sudden my dad entered the restaurant! Oh my goodness!
The background story is that I have wished to bring him to noma for a very long time, but there hasn't been a good occasion yet. He's not able to join for lunch on weekdays (or so I thought) and my weekends have been packed. I therefore didn't think of offering him to accompany us.
My dad is very food savy (he's in the fine food business), quality-conscious, and EXTREMELY critical about almost anything and especially about food. He also enjoys to state his opinions without considering what other people may think of it. But he is always honest, and I actually admire him for that.
I had speculated about brining him to noma, and the risk for me would be if he would not appreciate or comprehend the Nordic 'Nouvelle Cuisine' that noma serves and is the founder of, in my opinion. I was willing to take that risk though – I would invite him when I would feel that the right moment had come. So, was this the right moment then?
Rene had planned a set menu for me and my mum and hadn't budget for my dad also. My table was booked and confirmed for two people and that a third person should join us wasn't at all what I had planned – and certainly not my dad, the master critic!
Now there I was, and in between my parents and felt like a teenager again, grumping over their behaviour and feeling embarrassed, because he jumped in just like that and without providing noma (or me) with an opportunity to be prepared. I like to be on top of things and feeling in control, so I guess that my grumpiness was more about that, and it really tells you a lot more about me than my parents. Of course the staff was surprised too, but they handled it totally professionally.
Okay, that was a digression.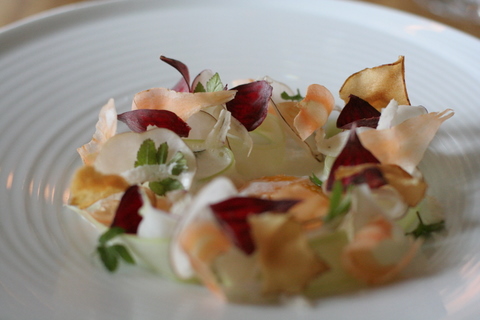 Crudité
Is this really eatable? I am asking because the beauty of it is so evident that it hardly looks like food. What I mean is, it doesn't get any better for me, when a dish is pleasuring my eye the minute before I get to entertain my palate. Very thin cut and crunchy vegetables and a poached egg in the middle. I liked the taste of this dish a lot, but comparing it to the other courses I got that day, this was the least interesting for me, taste-wise that is.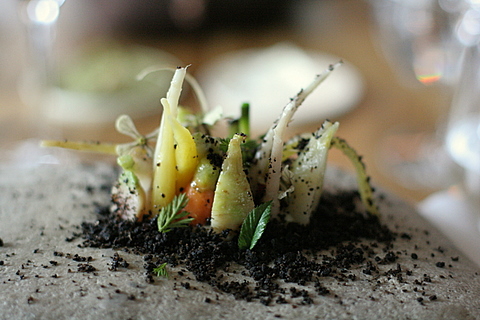 "Vegetable field" from Lammefjorden
This one, however, is one of my favourites dishes of all time. The mashed potatoes underneath made it gentle, and the malt crumble added salt and a bit of character to the pure taste of the lovely and softly cooked vegetables and herbs like new beautiful rucola flowers. I loved the look of it, which seemed to me a wonderful landscape with hills and valleys I could easily dig into.
Enjoying this dish my dad suddenly said: "Normally art is decorating the walls…" Can you imagine how good that made me feel? He liked it, he was impressed. And I felt happy.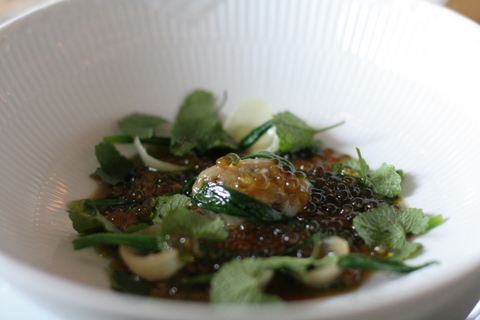 Ramson onion and onions from Læsø, onion-cress and onion bouillon
Another wonderful and new invention of René's brilliant mind and also one of the highlights that day. An onion bouillon in the centre of the plate with a creamy texture that resembled melted cheese, but without the taste. There was a nip of sweetness to it also. Small and fresh Læsø onions added spice and a crispy texture to it and gave balance to the sweet- and creamy-ness. The small, brown enjoyable balls are grains, but I forgot to note which kind.
At this point we asked for a glass of white wine and Pontus brought us a 2006 Riesling Nahe Spätlese trocken 'Winninger Uhlen' which was fantastic. It was intense as nectar, flowery, fruity, acidic, and sophisticated on both the nose and palate. But what I enjoyed the most about the wine was to see how much my parents liked it and was surprised by its excellence.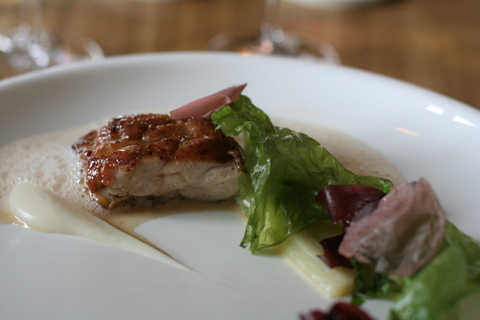 Sweetbread, cauliflower, seaweed and rose hips
I do like sweetbread a lot. It's a bit odd that I do, because I'm not too fond of fatty meat and especially not where I need to dissect the fat – because the fat is too jelly-like and gives me nausea.
This piece of sweetbread was quite big, but it was delicious and not too much. The cauliflower purée macerated the delicate meat flavour and bridged the seaweed and the astoundingly flavoured rose hips. I mean, think of a summer day as you pass by a beautiful rose bush in full bloom that emits a refined feminine perfume. Well, that was what this subtle and little leaf smelled and tasted like. The rose hips just took the dish to another level.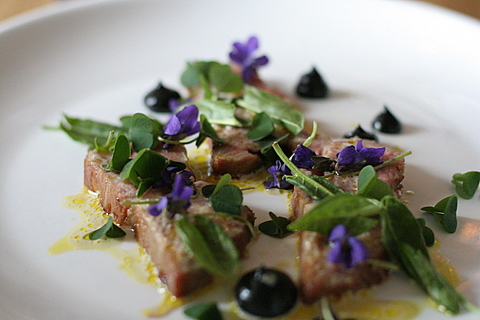 Pork and wood sorrel, ramson onion and truffle emulsion
A six years old pig, how about that? The colour is more like that of veal and the taste was like nothing I would ever had guessed of being pork. It was great. I regret not taking note of what my mum thought of this dish and how my truffle-crazed dad liked the truffle emulsion. He got a different dish by the way, for as René said: 'We didn't gather any herbs for you today'.
I know that this review is very positive. So to state two things I was less impressed by then it was the champagne and the 1999 Chateauneuf-du-Pape which I think was Le Vieux Donjon (Lucien), but I'm not sure. The red lacked personality and expression. It was either fizzling out or didn't get time enough to evolve.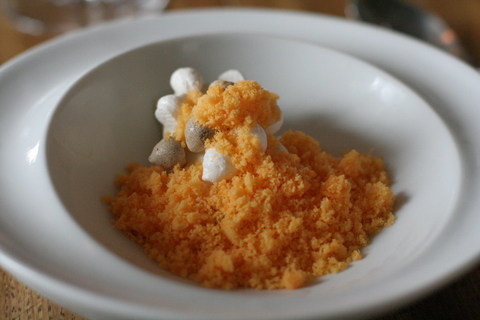 Toasted jerusalem artichokes and seabuck-thorn, malt and vinegar
This new dish presented a stunning harmonie of the Jerusalem artichokes (hidden) and the seabuck-thorn. The acidity like sprinted in my mouth and changed the taste of the Jerusalem artichokes. and the white meringue and the malt-brown ones lightly crunched and sparkles with the orange granité. Wonderful.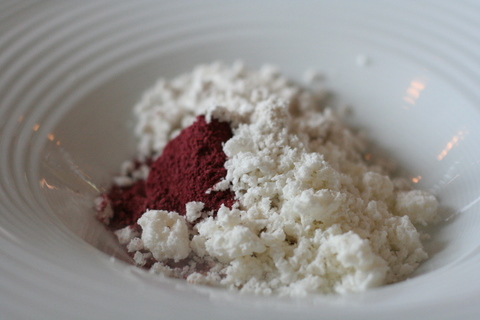 Dried berries and dried cream, walnuts and dust of walnuts
Yummy. I know this dish looks like it will give you the same dry feeling in your mouth as if you had eaten 10 biscuits with no tea or any kind of liquid. I can assure you, it was not at all like that. The taste of the walnuts was refined and delicate and the dried berries and the berries ice-cream were pure in taste.
So, was this a good day for my dad to discover noma? Yes, indeed. Both for the food and the great service from Kim, Jonas and Pontus.
Please forgive me for repeating myself, but I have to say this… again: Noma is sharp. The picturesque and pretty images which comprise only a few ingredients in a very transparent way and it still interesting and balanced in taste. The beautiful simplicity. That's remarkable and that's why I am so hopelessly in love with noma.
Thank you, guys! I can't wait till my next visit.