During my latest visit to London I had the pleasure of lunching with to new friends, Yin and her niece Ming, on the 1st of December 2007. I felt lucky to meet up with them in London, as I for some time had thought it would be good fun to eventually meet face to face. Our mutual interest and love for very good food was the agenda and the newly established restaurant Texture in a beautiful Georgian building at the corner of Portman Square and Portman Street was the venue for our first encounter.
I must confess that this review hasn't been easy for me to write for a couple of reasons. First of all time was short, our lunch was scheduled for the day of my afternoon flight back to Copenhagen, which by the way was the last one that day, so I couldn't afford to miss it. Second, meeting my new friends had my top priority, so experiencing the food wasn't in my focus the way it usually is. This doesn't mean that I didn't enjoy and think of the food, certainly not. What I mean is that this review will be slightly different from what I usually write and a bit shorter and not as detailed, which I'd like to apologize for in advance.
So then, why Texture? I had heard that the place has certain similarities with my favourite Copenhagen restaurant and that intrigued me of course. The fact of head chef Aggi Sverrisson being of Icelandic origin was also interesting to me and I kind of hoped for a Nordic touch in his food. Restaurant Texture is run by Sverrisson himself together with sommelier Xavier Rousset. Their philosophy is that light and healthy food and exquisite wines have equal importance. Ultimately, and not least, getting an opportunity to try something not many people had already tried also attracted me.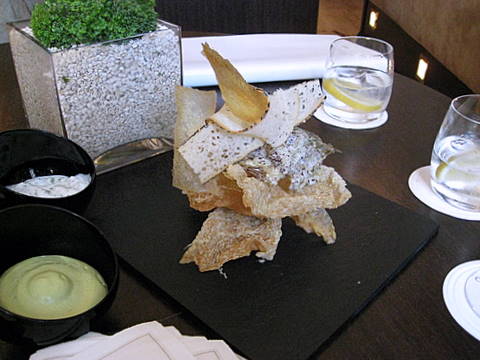 Various Snacks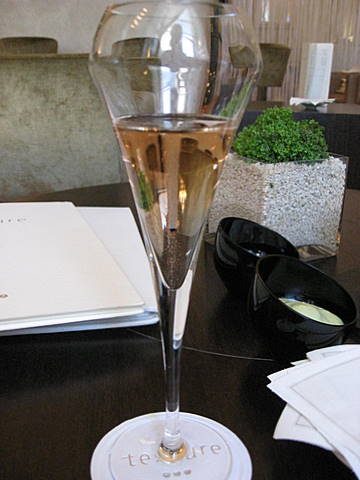 … and champagne
The restaurant is one large rectangular and beautiful room, split in two by the bar, with very high ceilings and walls decorated with pretty wainscots. We started out in the lounge area, which is at the end close to the entrance and got colourful variations of crispy and very thin snacks, which were fantastic. There is nothing worse than leathery chips from poultry and fish skins; these ones were certainly not that. The delicate snack made a good point to the naming of the restaurant. The crisps were just right, salty and delicious.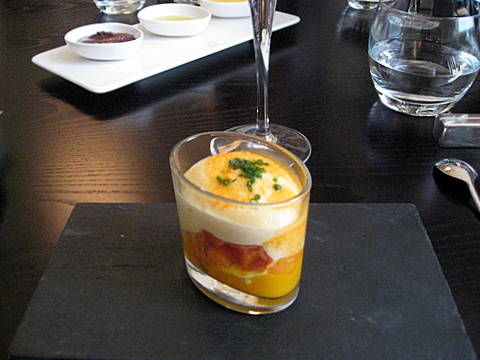 The Amuse Bouche
The appetizer's main ingredient was pumpkin in juicy and firm textures. The little glass bowl also contained chest nuts and Stilton cheese, which was only slightly pronounced and most in the after-taste. Pumpkin may be very common in Britain during winter times, and thus not as surprising to the British guests as as it was to me. But I really liked this little greeting from the chef, the sweetness from the fruit and the salt and strong flavoured English cheese.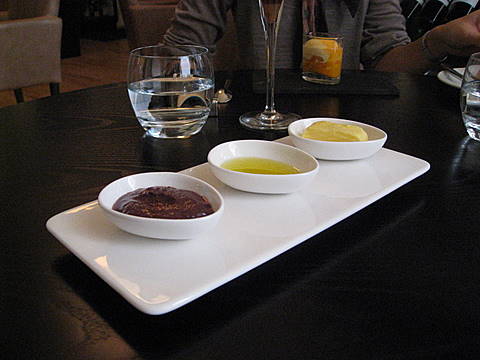 Tapenade of black olives, olive oil from Liguria and French butter
We were offered various kinds of rolls to be dipped in tapenade, delicious olive oil from the Ligurian coast and butter from France.
Texture follows a concept at lunch time I have not found elsewhere. They offer a lunch menu listing 10-11 different dishes all at the price of £ 8,50 each, and you can choose as few or as many as you'd like. I picked three that all filled my hungry tummy and covetous eyes perfectly – not too much and not too less.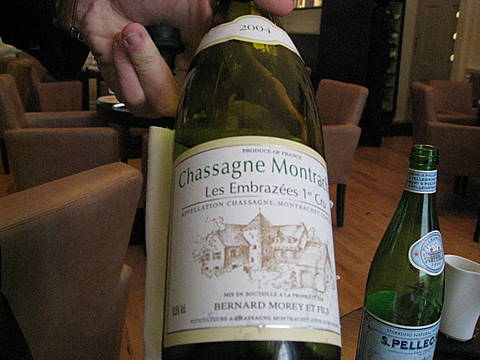 2004 Bernard Morey Et Fils, Les Embrazées 1 er Cru, Chassagne Montrachet, Burgundy
To accompany the dishes I asked for a glass of white wine and the kind waiter suggested a glass of white Chassagne Montrachet, which is a wine that I have never tried before. I hesitated a bit when I noticed it was vintage 2004, which is a very acidic vintage as far as my palate has experienced so far. I went for it, however, and contrary to other white Burgundy appellations of 2004 I actually found that this wine was nicely balanced. It was a very full bodied wine, flavours of fruit and oak, and in this picture the acidity was just right and made the wine very enjoyable. Without the huge amount of acidity the wine would have been fulsome.
Burgundy 1er Cru wines is not often served by the glass. But I see this as a proof of Texture's concept of giving good food and exquisite wine the same kind of attention, and I liked that.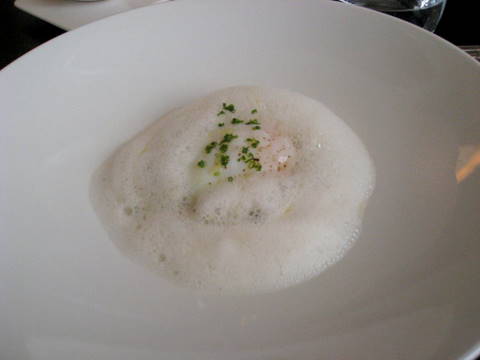 Hoads Farm Hen Egg

My first course consisted of a poached hen egg, which itself wasn't that interesting. Over it was poured 3 years old parmesan cheese, which was heavenly because of its delicate yet full taste. On the side I got some parmesan toasts that had the same nice flavour, but didn't add much to the completeness of the dish. All in all a new thing for me, but not the most impressive one.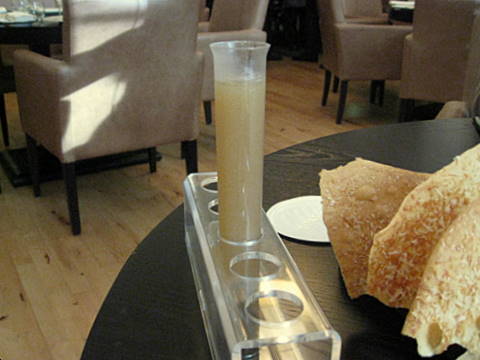 Tea of Jerusalem artichokes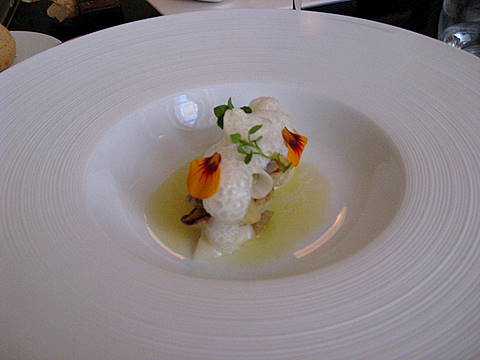 French Jerusalem artichokes and cepes
The following dish was a beauty of French Jerusalem artichokes and cepes. Those two really become each other well. I love, love them both and so the dish was a big hit for me. To prepare my palate for the perfectly cooked, firm Jerusalem artichokes still with a bite to them, I first got a test type glass with Jerusalem artichoke tea. It had a fine taste with a bit of sweetness to it but seemed to me missing finesse. Perhaps the muddy look of it also stressed that.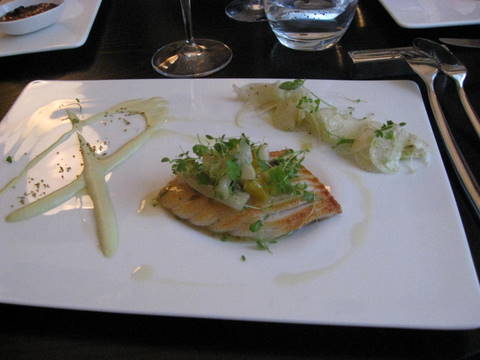 Cornish Skate Wing
The third course was indeed nice too and very satisfying. The skate wing was fresh, firm and delicate in taste. The fennels were sliced very thin and had been blanched or similar, because the liquorice flavour was not drowning the fine flavours of the artichoke cream and the fish. Very good.
I don't know whether the fact of our constant photographing dishes or our scribbling in our note books had an effect, or whether the Texture staff is like that at all times. But the fact is that we got a fine attention. As an example, I didn't know what a chest nut was and my friend asked a waiter if they perhaps had one in the kitchen, which they could show us, and he did. Ironically it didn't help me much as he presented a chopped nut, which was too granulated for me to identify. I was looking for the Danish equivalent which is "kastagne". So now everybody knows and I'll never forget that again.
Overall I enjoyed the food, the wine and the place of Texture and if I were often in London I would adore to come back again. I love the concept of many equally expensive deliciously sounding dishes and the Saturday lunch availability is perfect. Many good fine dining places are always closed on Saturday mid day. What I missed a bit that day was sharpness and confidence. Texture had been open for 10 weeks when I was visiting, and although the waiters and cooks were very competent and clearly talented, I would have liked a bit more character both in terms of food and service. I feel confident, though, that it will come with time, and this is why I call Texture upcoming gourmet, I think they can do even better. So watch out, and keep and eye on that place!
But what I most enjoyed at this lunch was the company! Imagine travelling six hours just for lunching with me…, Yin I am grateful you did that – it was a great pleasure meeting you and Ming. I look forward to seeing you in CPH sometime hopefully soon!!