I wanted to take my grandma to noma for a very special reason, and I'll tell you, but first I need you to know a little bit about her to put it all into perspective.
My grandmother grew up in a working-class Østerbro (Copenhagen) flat during the thirties and the 2. world war and she had no brothers or sisters. Both her mum and dad were working all day, my great granddad at De Danske Bomuldsspinderier (cotton spinning factory) although he really was a butcher, and my great grandmother was employed by a big department store (Wessel & Vett). My grandmother had her own key to lock herself in, when she got home from school. They were not rich, but the impression I have, from what she tells me, is that they were happy all the same. The home was rich on love. When grandma was a child, my great granddad took her out by bicycle and showed her the city of Copenhagen and its cultural life. It seems to me that the two were very close.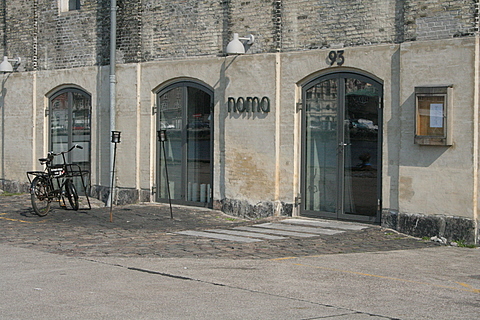 When I was a kid my grandma did the same thing to me. Every once a year we would go to the theatre and watch a musical, which she adores. She also took me to the museums like the working class museum or to the Open Air Museum with more than 50 farms, mills and houses from the period 1650-1950. I love that old place because the history is so visible to you there, the fact that you can go directly inside such an old house, see with your own eyes and very easily imagine how life was like for the Danes at that time. I don't think that I would have ever seen a cow being milked nor tasted the fresh milk if my grandmother hadn't taken me to this museum. I'm so grateful for all these experiences full of cultural impulses and history that she gave me, and I am grateful for the wonderful time we've spend together. Maybe she understood me in a way, being an only child, which I was too for the first 12 years of my life.
Grandma is also a great cook and she has always created wonderful tasty courses for me, traditional Danish dishes like "frikadeller", "krebinetter" (meat balls), delicious and tasty soups and pork roast with crispy cracklings. One of the best things about sleeping over at her place was the waking up early in the morning, the chilly room and my nose cold, and then to step into the warm living room, getting breakfast and drinking tea, warming me. It made me feel loved.
Anyway, I desired to give her something back and to give her a piece of the culture from my world, so to speak. My gastronomical interest, my kind of having a good time. She is a food lover like me, so I was certain that she would love Rene Redzepi's amazing food. I wanted her to try the absolute best for once. Best in my view, of course. So for her birthday, my present for her was a lunch at noma with me.
When the great day arose, to my great surprise Rene and his team had prepared a whole set menu just for me ensuring I would not get something I had tried before. Preparing me for this event I had in advance decided what food and wine I would have liked to order, but now not knowing what I would be eating I needed a piece of advice one the wine. I asked for White Burgundy and Frederik offered me three choices: A 2004 Remi Jobard, Bourgogne Blanc, 2002 Puligny-Montrachet by Châteaux Puligny-Montrachet and a 2000 Maison Leroy, Meursault. When I saw the combination of my favourite Burgundy area with the producer I was dying to try out, the choice was easy.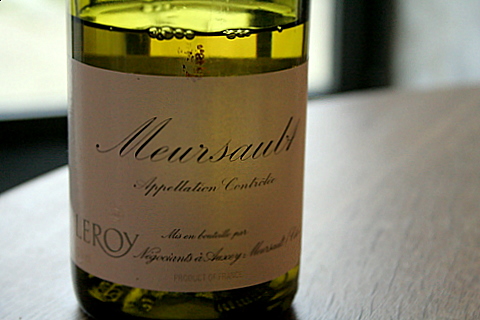 2000 Leroy, Meursault, Burgundy
I just had to try that Leroy – and what an excellent choice! If I were French, I would probably have heard the Marseillaise singing in my head – OOH MY GOD (said like Janice from Friends) what a magnificent wine. It was alive! The vivid way that it swirled around in my mouth was amazing, stunning, and made me think of champagne, but without the bubbles. The very full taste of fruit and oak, mineral, clear and powerful Chardonnay taste amazed me. At the same time it was elegant and sophisticated. I should have counted the seconds how long the finish stayed in my gums. My grandmother said that she wasn't able to gargle it the way that I did and to let the wine stay in the mouth, but that didn't matter, because the flavours were there anyway for almost minutes. It was weak on tannins and superbly balanced with acidity which made the wine appear crispy and not too acidic in the rich after-taste. Naturally, the wine matched all the dishes. The colour was dark golden And the nose – I tell you, full of fruit, very clear and pure. Trine loves Leroy. No question about that.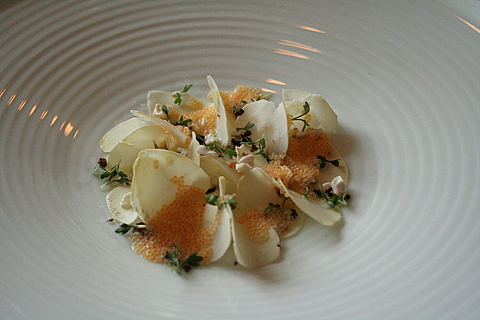 Chest nuts, walnuts, Löjrom, milk skin and cress
We were told to eat this thing in small bites, and that completely made sense. The dish was very delicate and fine in taste, like almost just hints of flavours instead of the real thing. The chest nuts were raw and crispy and mild like the milk skin and not too salty orange rows. It was only the bits of walnut and the cress that had a distinct taste. They fired up the dish and made it sophisticated. The crispiness of the nuts and the popping feeling of the Löjrom rows entertained my mouth in a funny and delighting way.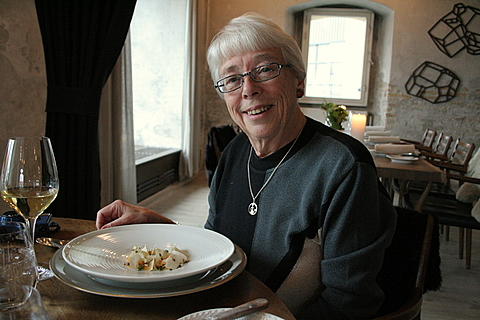 My dearest grandma "Momsemor"
A marvellous start for this lunch, which I was thrilled about. After all it was the first noma course my grandma got and I wanted her to be impressed. And luckily she was.
Before the first course she had dwelled on the fish and chicken skin snacks, the baked porridge and popped sago, and excitedly guzzled the delicious, pickled and smoked quail's egg. She marvelled at at the appetizers – as she did with the warm bread inside the felt basket I had let her open.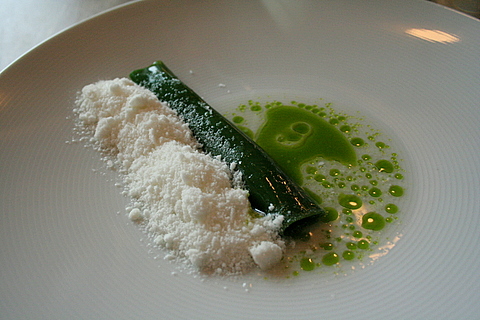 Razor clams and horseradish "snow", parsley and dill
The clams had a slight sweet taste that was kicked by the parsley jelly around it and by the dill juice as well as the spicy horseradish. I just love it when such a simple dish can appear delighting in both sight and taste. With this dish I experience something that moved me the same way I got moved, when I dined at noma the first time. It's how pure the food tastes. Untouched like if I had found the products at and in the sea by a dessert island.
Grandma's comment on this was, quote: "This is a tasting experience!"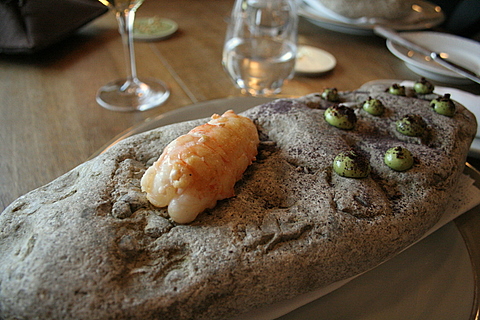 Langoustines, Oyster emulsion and sea weed
If this isn't the highlight of all that I have eaten at noma, it certainly is within top three. You know it's so hard to mark out which one of noma's dishes is the best. I have become especially keen on oysters lately, the rich and meaty ones, and the small green creamy tops on this stone had the most delicious and full oyster taste, exactly like fresh raw ones. We got no cutlery to eat with and used our fingers to suck up the most moist, delicate and huge langoustine dipped in the green oyster emulsion. Roasted sea weed had been sprinkled about and balanced the flavours. I was moved. A wonderful plate – or stone more likely.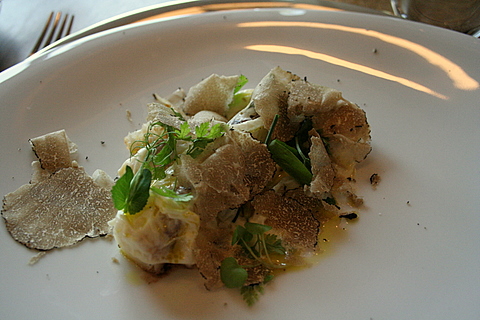 Leeks and milk skin, Rape seed oil and truffle from Gotland
I have been eating truffles for nearly twenty years, all kinds, the black Norcia ones, the white Alba diamonds and the summer truffles. Being the month of November I kinda hoped I would get the chance of tasting Gotland truffles, which would be a first time. I can honestly say that the quality of these Swedish summer truffles hit me right in my eyes, nose and palate. Many and thin slices gave evidence of a big truffle, which could impossibly be more than a couple of days old, considering the still light moist interior with the hard and rocky peel. And the smell, my goodness, so good and very powerful, much more than I had imagined. Trust me.
The leek was very delicate and tender, the croutons added salt and fatness like the rape seed oil. A flawless course.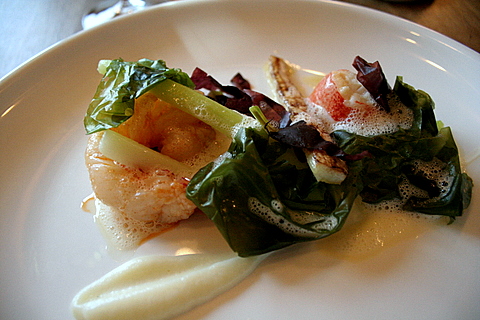 Icelandic lobster and sea weed, stems and roots of vegetables
The lobster was just lovely, and it was generously served with crispy and tasty vegetables of a head of celery, celery root and viper's grass. The lobster was cooked to perfection and was moist and delicious and enhanced the freshness in the wine. The sea weed gave a full flavour to the completeness of the dish's taste as a whole.
A few of the vegetables were a bit too crispy to my taste, especially the viper's grass, which should have been cooked a little bit more. I've been arguing with myself whether or not it's fair to judge the vegetables as being too hard in texture. I have come to the conclusion that the fact of even questioning whether the vegetables were too raw-ish and making me think that, that alone justifies my critique. If the vegetables had been perfectly cooked I would only have thought how divine this dish would be.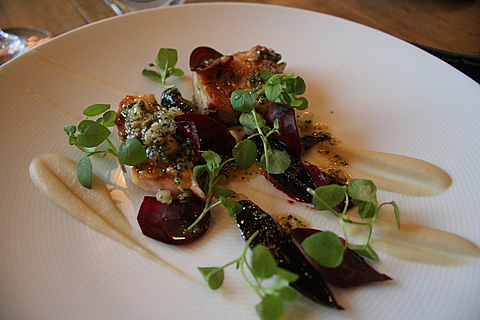 Pheasant, apples and beetroot, chickweed and capers of elderberries
The main – or last salty course comprised pheasant that was seasoned with smoked marrow, chickweed and capers made from elderberries. The beetroots were both cooked and thus soft and also raw and sliced in thin leaves, and they were both a good match for the very nice and tender peasant meat. The chickweed added bitterness to the dish and balanced the full and slight sweetness of it.
Going back to the fabulous wine, which had now aired for a couple of hours. I was amazed how even more powerful and fruity the nose was and how extremely full and oily the taste was without being fuss, or too oaked in flavour. It was really perfectly balanced with acidity and tannins, and the after-taste was deep and lasting. By all means a seducing wine.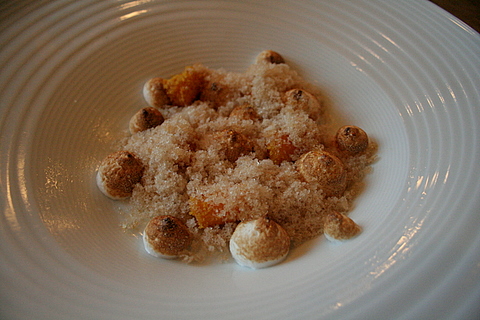 Cloud berries sorbet and meringues, carrot cake crumpling and herbs granite

This is one of the very best desserts noma has ever made me. You can almost see how well composed it is. I found myself in heaven again. What made it remarkable was the citrus taste balanced with the sweetness, and the cold granite making it fresh. The carrot's crumple and the meringues provided completeness to the flavour – a whole new tasting experience.
Grandma was a little bit sceptical, when she heard about the meringues, which she'd imagine would be crunchy and crispy. Frederik ensured her that this wasn't the case. And when she tasted the dessert she must capitulate. It was simply a divine dessert.
We finished up in the lounge with a very strong cup of coffee and a doubled set of the fantastic beetroots fødeboller and a nice chat with Lau, who started his evening shift by that time. But that coffee? I had certainly met my match there, could almost see that the black fluid was thicker than ever; it was great. I quickly ate my two flødeboller and grandma asked how on earth that was possible – after all this very good food, how could I possibly have room for even more. Well… I wouldn't know when I would another chance again. Then also she snatched the second one.
I wanted to take grandma to noma for a very special reason. First of all to please her like she had pleased me when I was a kid. Another reason was that I wanted to see the to different styles of Danish cooking meeting each other. I was brimful of curiosity to know how the master of traditional, solid Danish cuisine would find noma's new fine and sophisticated dining. What was the result? They loved each other – well grandma certainly loved noma.
I was happy to see that grandma was able to comprehend and appreciate the innovative style of Rene Redzepi's interpretation of the Nordic products and Nordic cuisine.
I felt proud, and funnily my grandma looked proud too.
Thank you Frederik for a perfect waiting, Lau for being a sweetie and to you, Rene, for the food which is making me float heavenly for days.