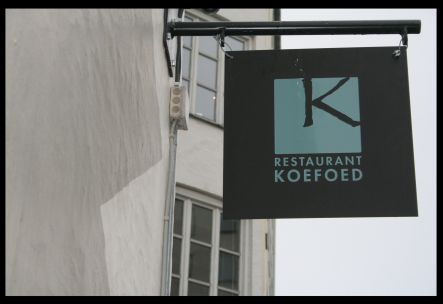 This is a post not only about good food; it's also about good service, which apparently can be hard to find in Copenhagen sometimes. A really nice experience. The occasion was a nice visit from America, and I had the business lunch with colleagues at the Restaurant Koefoed, situated in the city centre on 8 February 2007.
I had:
Smoked salmon
sour cream, horseradish and apples
Salted fried herring
mustard mulsion, pickled beetroot and onion relish
The restaurant is newly opened and, well at least that I know of, so far the only place that's devoted to the Baltic island of Bornholm in terms of goods, provisions, inspiration but also art decorations of the dining rooms.The restaurant is housed below the ground floor, lofty and have some labyrinth feeling about it, although it's quite open rooms, small sections with a few tables separated by light curtains providing a warmer sense and more cosy-ness. Pretty interior.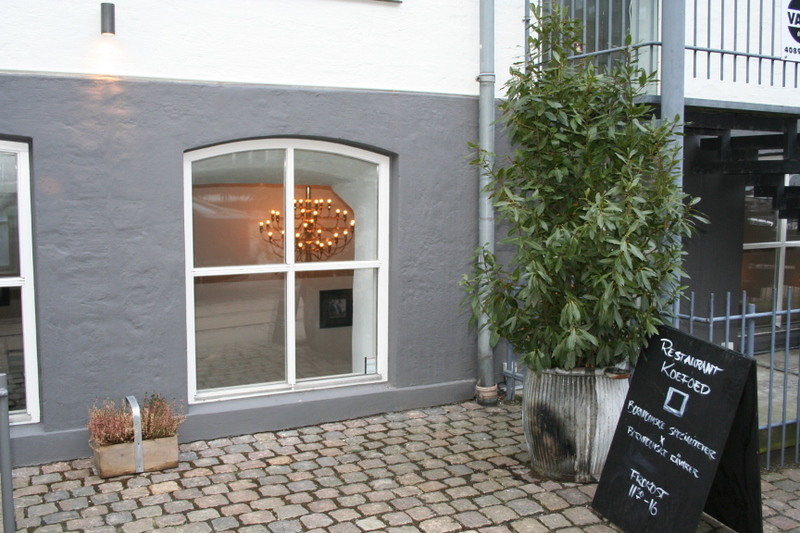 A very friendly atmosphere and this is what have really staid in my mind, very sympathetic to me. A waiter welcoming us when we entered and he knew our company name. Professionalism, too. Perfect for this occasion.
I loved the fact that the water tap at the loo was the one designed by my favourite Danish architect Arne Jacobsen (but to my knowledge he wasn't a Bornholmer – I guess no one from that island has never designed such a thing ever before). Good choice anyway.
You know, it's actually not the first time that I've eaten lunch in these rooms. By chance I was sitting at the very same table as a couple of years ago, when this place was still café Jonas. It was so nice to witness this transformation from a dark and untidy and slightly cold place to something really likeable. Made me glad and positive.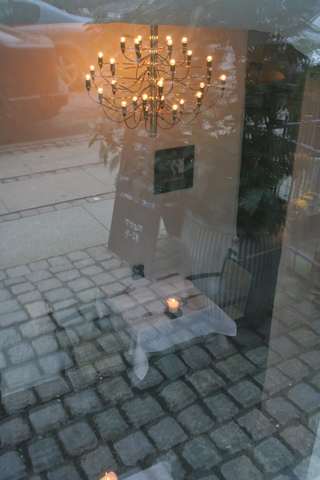 Now, the food. I had chosen two different open sandwiches, but both of them fish (I really really really love fish, but I'm not really a genius cooking fish at home, I confess that). Salted fried herring with much mustard mulsion (I assume that the 'e' was dropped, so it really is an emulsion of mustard and… what? Oil? Vinegar? Yes). The second one with slices of smoked salmon, a little perfect vinaigrette condiment poured salad, sour cream and tiny bits of apples and seemingly also pickled cucumber. Horseradish on top.
The herring was absolutely the best. Fresh firm fish meat, fabulous slight spicy flavour.
Small cubes of beetroot in a little bowl, so the pink colour didn't disrupt the look of the beautiful plate. At the bottom of the bowl was a bit of olive oil and the vegetable was seasoned with a special flavour. Still mystified what that ingredient was. The mustard mulsion and the beetroot balanced the dish with sweet and sour and bitterness. Lovely really.
I won't say much about the salmon (Baltic, probably) because that was just nice and honest with a fine smoked taste which wasn't over-done. Smoked salmon is always nice, but this very classic and characteristics flavour can be hard to form in a creative way. I mean, the taste is so strong and particular that there's no doubt what you have in your mouth when you take the first bite. It can't really surprise you. That's why I try to avoid salmon most of the time, when I dine out. Funny really that I should make this choice, then. Not sure why.
Oh, the bread, yes that was really something. Light and dark with moist tender middle and crispy crust.
If I absolutely must mention anything I didn't like, then it shall be the olive oil covering the plate of the salmon and the bottom of the beetroot bowl. Completely unnecessary. Especially the fish had a taste and a feeling that's already fat-ish enough.
No report on the wine (or beer) this time, I'm afraid, as I only drank water.
The service was personal and perfect, kind and to the point, and I was amazed at the fact that the waiter was able to call the names of who ordered what. Imagine that. Just a little bit of something extra that made this experience nicer. The uniqueness I always look for.
Everything was really nice – so nice that I now want to try their dinner and that a yearn in me is waken to go to that rocky island, again.
Table-cloth covered furniture, good comfortable chair. Good white, soft cloth serviettes, which in my opinion is always preferable to those of paper (too rough for my soft lips).
And, guess what? Cloth towels at the loo – and pleasantly enough of them!
Congratulations Koefoed!