Den lille fede restaurant, the menu on 7 February 2007:
Jerusalem artichoke soup
Smoked eel & apple
Oven baked salmon
Fingerling potatoes, pimento & olives
Fried & braised beef
Truffle risotto, mushrooms, & pearl onions
Caña de Oveja
Thyme honey, walnut bread & salad
Spice cheesecake
Carrot ice cream, preserved carrots & raisins
Wine:
Tokay Pinot Gris Reserve, Fernand Engel, 2004
Vosne-Romanée, Jacques Cacheux, 2002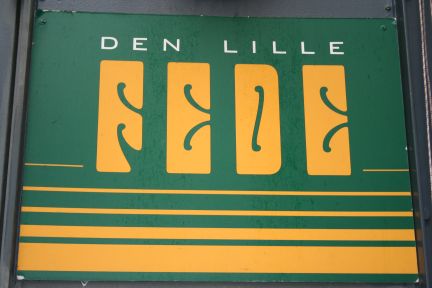 I've been dining at this restaurant a couple of times, and I really liked it. I found that the interior, the service and the food matched each other very well. It's not pretending to be something that it's not. The waiters were competent and at the same time relaxed, they made me feel comfortable there, which is absolutely important for providing a nice atmosphere, a ground for a good experience.
The concept of this place is that you get several, but small, tastings of the only one menu.
Delicious dishes forming an adventure of perception and that's the essence of what I'm looking for and enjoying about dining out. Sure, I'm greedy. Want to taste as much as possible, explore as much as possible. So, a place where you get a little bit of everything, that's just me!
I was seated with 8 work colleagues – truly excellent company. The restaurant was fully booked that evening – classical for the Fashion Week of Copenhagen.
All arrived and set to go we decided to order wine bottles instead of the offered wine menu with (almost) a new wine by glass to accompany each dish. Bad choice – not in terms of the wine we had selected, but in terms of the speed of the service, and the arrival of the first plate. And we were starving, and not offered any bread either, unfortunately.
I'm not quite sure why, but it took at least 30-45 minutes to order the wine and to get it and that's absolutely way too long. The sympathetic internationally speaking Swedish waitress was very busy and some of the listed wines were out, which she wasn't aware of.
Anyway, not too long after we had ordered the wine and got the white one, the soup arrived, and what a nice soup. I must say that artichoke soup is one of my (many) favourites. I liked this white beautiful green-coloured chives decorated one a lot, because of its thin texture, which provided some lightness to it, where the taste can be a bit sickly. The creamy taste was kicked with a little piece of eel swimming around and tiny fresh pieces of apple.
Unlike the second dish, the Tokay Pinot Gris wasn't perfect for the soup (wondering what Jerusalem means in that sense. Perhaps the artichoke came from there. If you know about this please inform me!), but very much appreciated for is good full-bodied lovely taste. Thick consistency. Sweet. I think it was the peculiar eel's taste, which by the way suited the small bacon bits, but didn't match the wine so well. However, it wasn't only that. It was also the artichoke – a combination of the two that eliminated the good taste of the wine. I think perhaps it could be something of a chemical process happening inside my mouth because the same wine with the second dish was much more appropriate.
The second dish was also smoked to some extend, so I don't think that it was the smoke of it that teased the Pinot Gris, the fish was salmon instead.
The salmon brought out the dry-ness of the white wine and that was fantastic. The first mouthful quite sweet, and then after swallowing it different flavours suddenly spread over my tongue, almost like turning into a completely new wine. And wonderfully surprising.
Some potato thing came with the salmon, which was OK but certainly not surprising. But it was a mystery why the two of them were on the same plate. Each one was good but didn't at all communicate with each other.
The third dish presented itself marvellously – positive stimulation to my eyes, nose and mouth. What absolute wonderful exquisite smell of truffles, oh yes, no doubt about that. And the taste of them too, with the risotto, which by the way wasn't really stiff enough to my taste and not near what I've had in Italy. The beef was roasted to perfection: very red, very near rareness in the centre, the way I prefer it.
It seems that I'm almost growing into a studentessa of French wines, mainly Burgundy. Me – the Italophile? The red wine to accompany the main course – and the following cheese – was magnificent. Just that, and I liked it better than the formel B Rene Engel Vosne-Romanée, I believe. What I like about this Pinot Noir was that it was served at perfect temperature, for one thing, second the taste, which was very powerful like the smell also was. Full-bodied, tannin, a must in such wines, and very very good! Really, I can recommend that one. Matched the tenderloin steak and the risotto very well.
The red wine also suited the sheep milk cheese in goat disguise, strong flavour, semi-soft texture. Nice stuff too on the side, Chardonnay vinaigrette poured salad providing sour and balanced the richness of the sheep. I liked it.
So the food was fine but the problem that evening was that there was almost an hour between each served plate, and considering the very small portions we got, we were left at the brink for the first three hours, like being the butt in some way.
A lovely dessert came at last. Carrots ice cream, which I've never had before, so good, and as carrots are kind of sweet I'm astounded that it hasn't crossed my table before. Liked the cheesecake as well and it was good together with the ice cream and the sweet raisins.
And surprisingly, my last mouthful of red Jacques Cacheux suited this sweet dish too. I would never have guessed that.
I love coffee. Did I tell you that? Absolutely warm strong short and powerful espresso. I'm addicted. An understatement. I looked forward to it because the food had been so nice, and a good cup of coffee on top would just make me happy. But what a gross disappointment. The coffee was cold. COLD – how on earth can you serve a cold espresso?
Like a spoiled child I was disappointed too that I found no chocolates with the coffee.
Despite the few mistakes, I still like this place and the friendly atmosphere and it's still good enough for a recommendation at my good food site.
Anyways, in my opinion you do get quality food and value for money at Den lille fede – but only if you have plenty of time, and like the masochistic feeling of being a little bit hungry almost throughout the entire evening. Four hours for five minor tastings? Slow food, I must say.