Right now one of the hottest names within the food and restaurant world is Magnus Nilsson, chef at restaurant Fäviken Magasinet in the north of Sweden – and that for a reason.
When I first met Magnus at the Flemish Primitives this March, I was from the first moment fascinated by what he told me about his restaurant and his philosophy. He told me how he strives for authenticity and how he applies the methods and traditions which have been in use for generations in that part of Sweden, combined with learnings and techniques from the modern, French kitchen. Or as he expresses it on the restaurant's website,
We do things as they have always been done at Jämtland's mountain farms. We follow seasonal variations and existing traditions. We live with the community. During the summer and autumn, at the peak of each ingredient's ripeness, we harvest what grows on our land and refine it using the methods that we have discovered from our rich traditions, or which we have found through our own search for quality.
Watching Magnus Nilsson with Pascal Barbot (restaurant L'Astrance, 3-stars) on stage at the Flemish Primitives convinced me that I just had to visit this new Swedish place that is mixing a modern haute cuisine approach to cooking with Swedish produce and traditions. So immediately after returning from Belgium I booked dinner and accommodation for 21st of May 2011.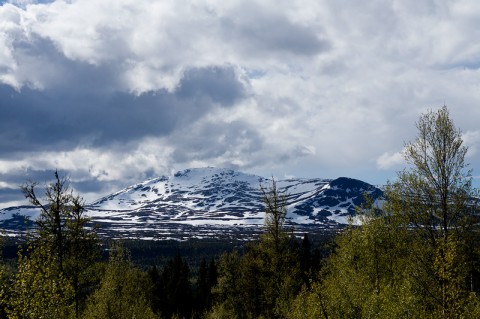 Early Saturday morning we flew to Östersund by connecting through Stockholm. When I got out of plane in Östersund the very fresh air struck me. We were about 1,000 km north from Copenhagen so the temperature was lower and it underlined the dry freshness of the air. What was almost summer in Copenhagen was only the prime of spring here.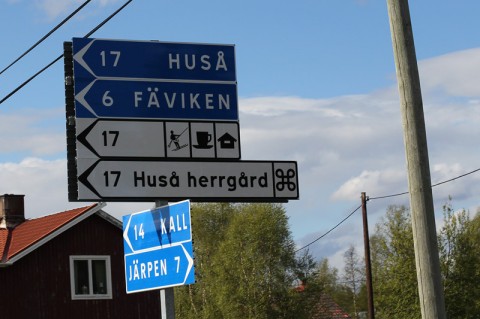 We rented a car in Östersund and drove the 90 km to the Fäviken estate outside the town of Järpen. We could have asked for Fäviken to pick us up in Trondheim in Norway instead, but I really wanted an opportunity to explore the area around Östersund and Åre. We arrived around lunch time and were greeted by Johan Agrell, restaurant manager and sommelier. Johan informed us about the estate, the history and the surroundings of Fäviken.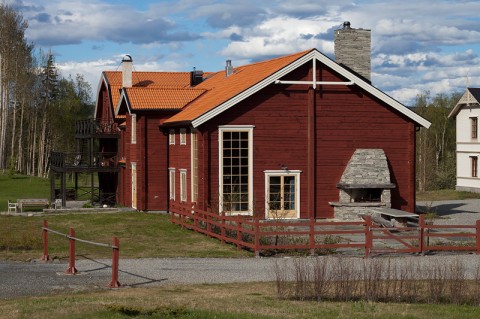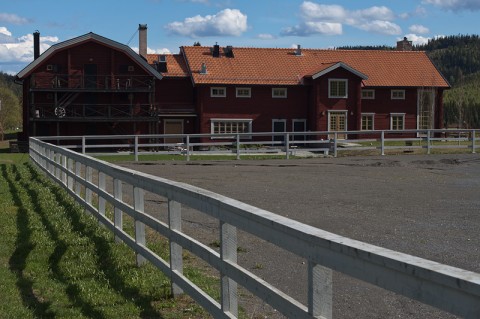 While waiting for our room to be ready Johan kindly served some incredibly tasty local ham and cheese along with some fine-cut cubes of fermented vegetables which we enjoyed in the big and peculiar living room. The peculiarity stems from the walls being decorated with trophies reflecting the estate owner Patrik Brummer's passion for hunting. You may notice they are not all from local animals, as Johan said.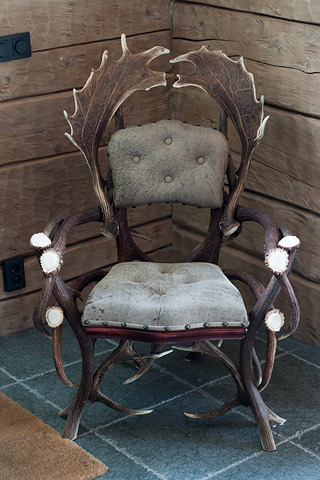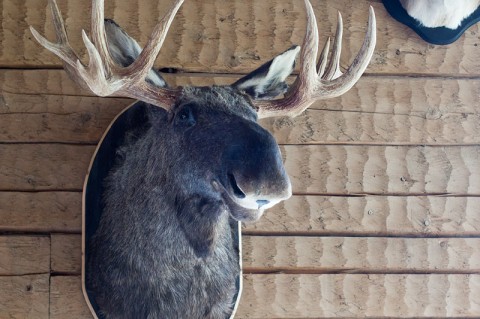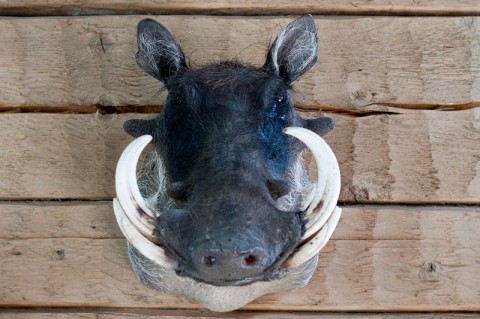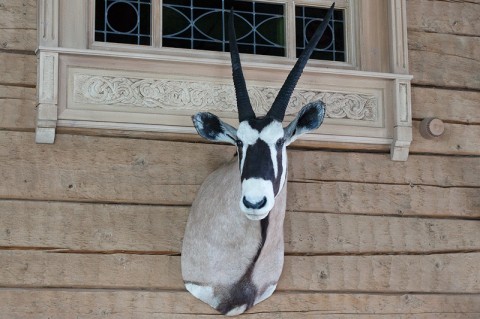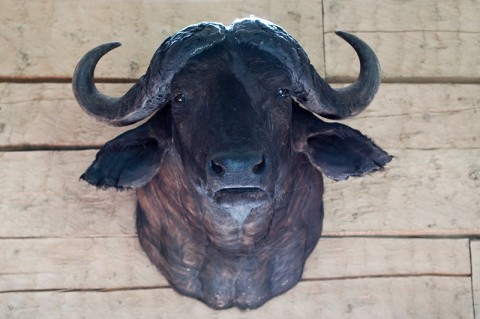 Luckily the weather was fine that day, so after the snack we took a walk around the area of the estate and after that a drive to the town of Åre situated on the other side of the mountain Åreskutan. While we settled for a relaxed stroll into the woods and back, you could do some serious hiking here. The estate is enormous – almost 10,000 ha – and the nature around Åre (a ski resort during winter) is genuinely stunning.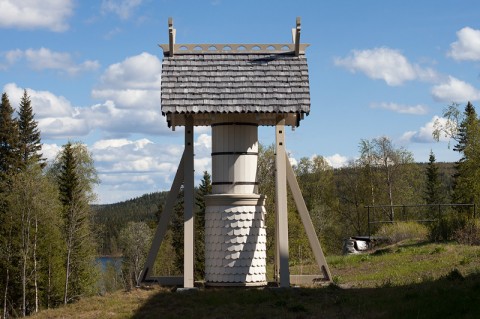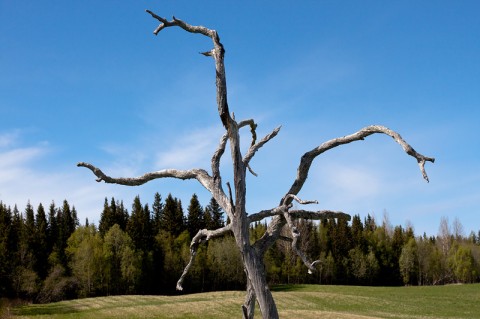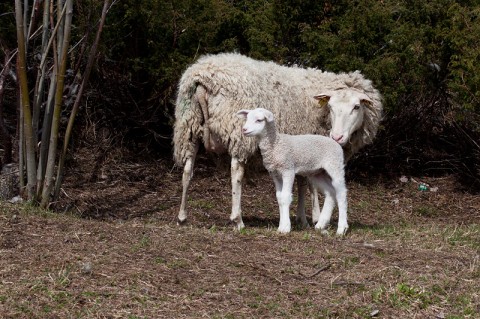 Now on to the Rektún Mat as Magnus calls it – meaning the real food.
By 7 pm Johan had lit the wood fire outside in the courtyard to announce that dinner was being served. We entered the restaurant from the back door of the old building and were led into quite a dark room that functions as the bar. Here there was a table for two prepared for us and we got seated and enjoyed the appetizers with a gin and locally fermented rhubarb juice. By the way, Food Snob was visiting the very same evening. Check-out his awesome and detailed post here.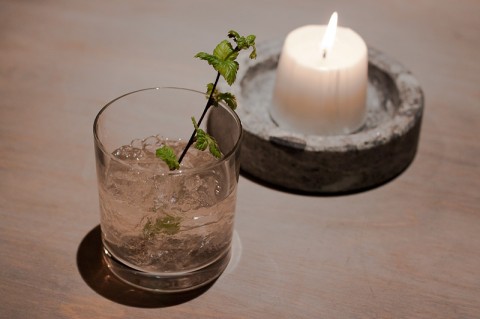 Fermented Rhubarb Juice and Gin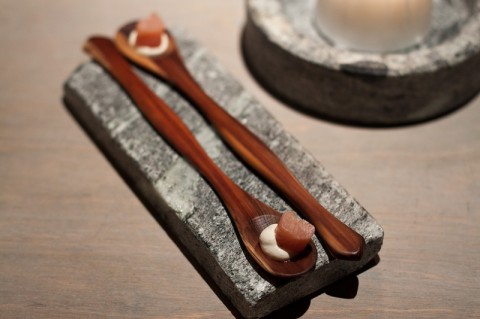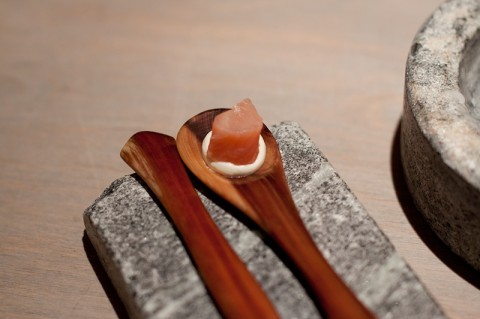 Fermented Arctic Char with sour creme
First snack of fermented char had sharp flavours of bitterness, soft and butter-like texture. The white sour creme made it delicious.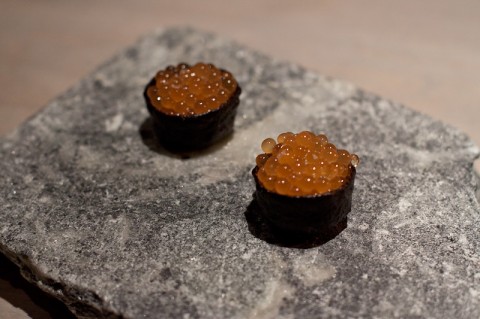 Wild trout roe served in a warm crust of dried pigs' blood
This serving was full of flavours of salt and seawater. The crust possessed a deep, full and precisely balanced flavour. A hint of iron in the aftertaste.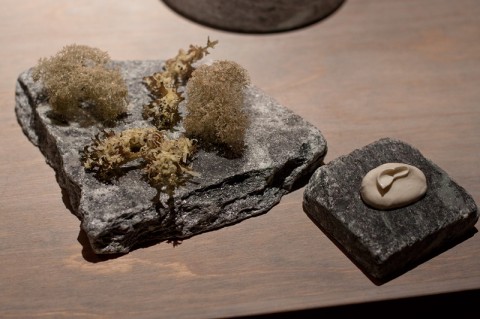 Crispy lichens with dried egg yolks and smoke-dried fish, lightly soured garlic cream
Then followed bitter, lightly salted lichens, collected in the nearby woods, were porous and crispy in a fragile way. Delicious and much better than I imagined.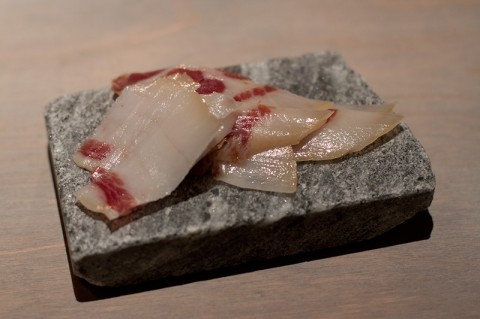 Shavings of old sow
The sow had a bit too much stingy fat to my taste, but the pork flavour was great and deep. This was when I realized that rektún mat is not for sissies. The real food of Northern Sweden is powerful and immensely Nordic. Not in a long time have I felt history and the spirit of Scandinavia so present as here, surrounded by wood dating back to 1745, nipping shavings from and old sow. And not in a theme park-way – Chef Nilsson is very much for real.
After the appetizers we were guided up the wide and steep stair case to the first floor of the old warehouse. It's (seemingly) still being used for drying fish, fish's roe, and legs of ham.
A butcher's block  was put in the middle of the room bathed in spot light to indicate something important was probably going to happen there at some stage of the dinner. Theatrical and exciting in a subdued way.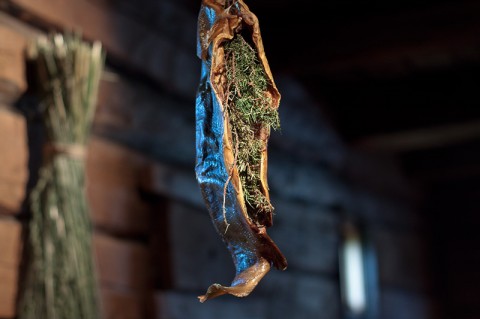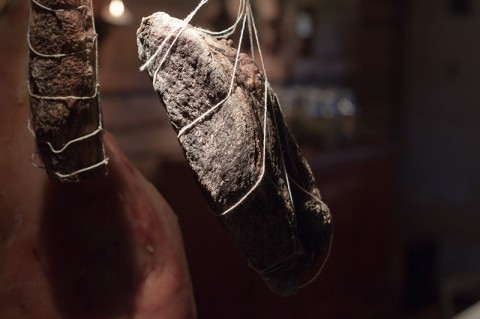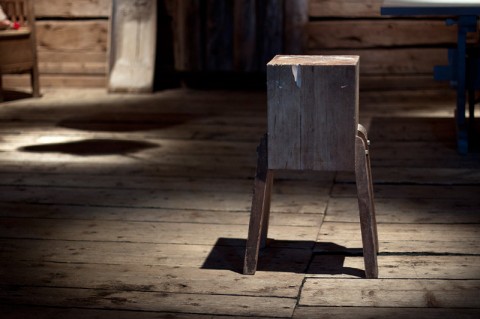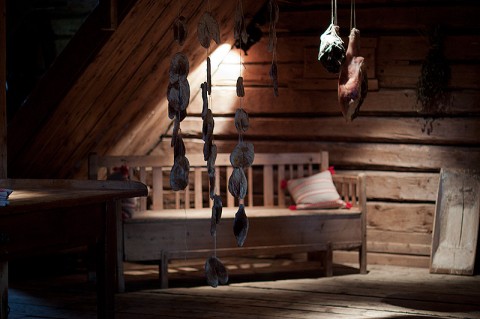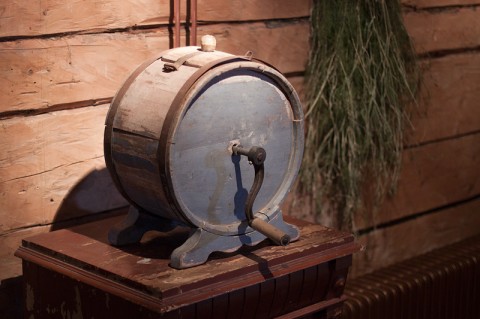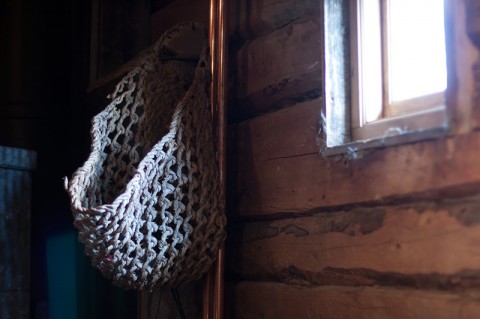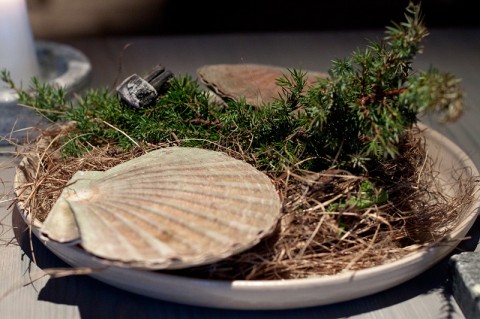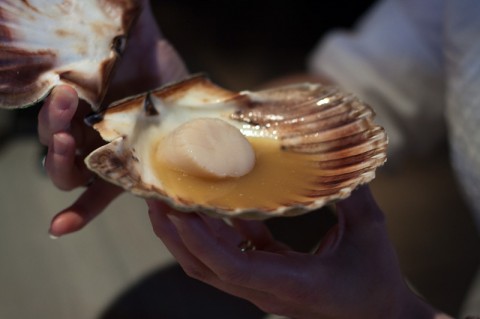 Scallop "skalet ur elden" cooked over burning juniper branches
Fäviken Pale Mead (mjöd), Bengt-Johnny & Jan Anders, Öster-Övsjo
A big, beautiful scallop cooked to perfection in its shell was served as the first course. It was very delicate, but also offered a deep and rich scallop flavour. The salty juice pulled out even more flavour from the scallop itself.
The mead we drank with it had quite a sour taste reminding me of a mix of goeze, weissbier and soda and it had clear notes of honey too.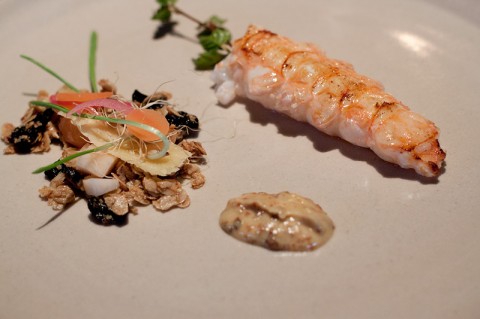 Langoustine, toasted grains, sprouting barley, mature cheese, vegetables stores in whey since last autumn and almost burned cream.
2009 Butteau, Chablis Premier Cru, Alice & Olivier de Moor, Courgis
Then followed a just as perfectly cooked langoustine full of nutty and sweet flavours. Extraordinary high quality and – we were told – just as the scallop, picked up the same day in Trondheim in Norway. It worked very well with the crunchy and fruity müsli and the almost cocoa-like burned butter cream. The cheese melted with the müsli flavours and wasn't sharp in any way.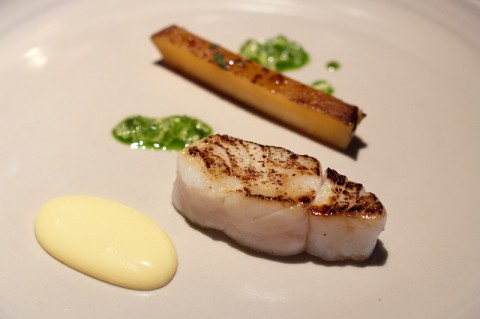 Slices of cod lightly brushed with honey and then seared in a dry pan, turnips roasted slowly in the good butter, alcoholic vinegar, green juniper berries and a cream duck eggs and gammel ost (old cheese).
I liked the cod dish as well. Perfect quality, of course, but not as powerful in taste like the previous two dishes. Any dish would have had a hard time following the scallop and langoustine, I guess. That said, the combination of the cod, the turnip and the cream of duck eggs and old cheese was very bold and worked surprisingly well.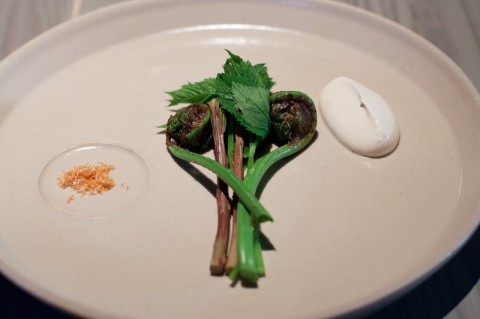 The first foraged vegetables wilting on a plate, sheep's cream whisked with a vinegar fermented beer and ground cod's roe
To me this course represented a hommage to the season's first foraged vegetables. The herbs were quite bitter in taste and I would have liked the cod's roe to be more powerful to contrast that better. This was a good dish but it simply couldn't match the level and the deliciousness of the preceding ones.
Raw mussels, very fresh cheese and very light broth of beef filtered through the spring forrest floor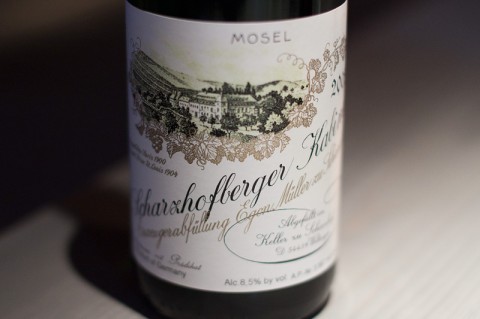 2008 Scharzhofberger Kabinett, Egon Müller, Mosel
Broth of beef filtered through forrest herbs was poured over the fresh cheese and the raw mussels. To me the cheese and the herbs supported the intense taste of mussel and sea water. I liked it after I had familiarized myself with this quite special combi.
Before the next dish landed on the table we were disturbed by a loud sound of a saw against something really hard and when I turned my head I realized what was the purpose of the butcher's block. Scent of bone and marrow infused the room. Magnus and his sous-chef were simply sawing the bone to get the marrow out as fresh as possible to serve the dish within the magical 30 seconds.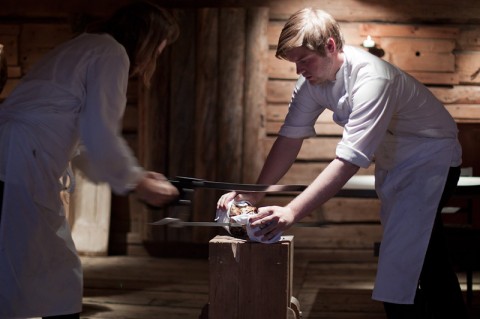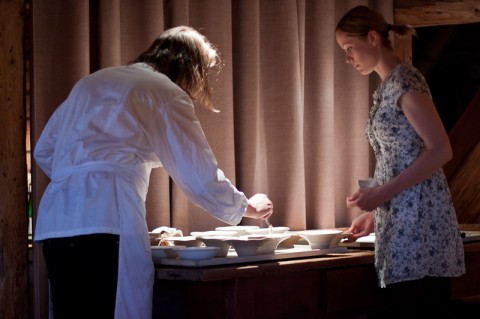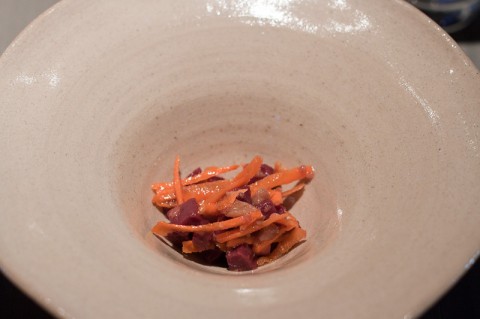 Dices of cows heart and marrow, grated carrots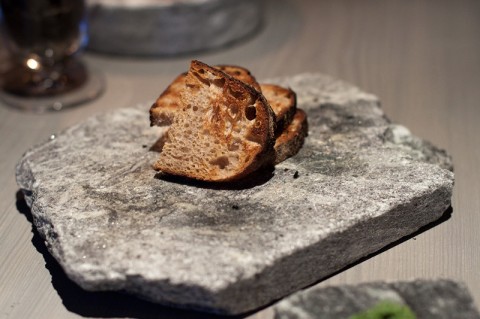 2008 Cuvée Marcel Lapierre, Marcel & Mathieu Lapierre, Morgon
We were told to make sandwiches of toasted bread, the herbs salt and the mix of the cows heart, marrow and grated carrots. I nibbled the heart mix alone and it was like it missed something in the flavour. Combining it, however, with the salt and the burnt taste of the bread, it made much more sense flavour-wise.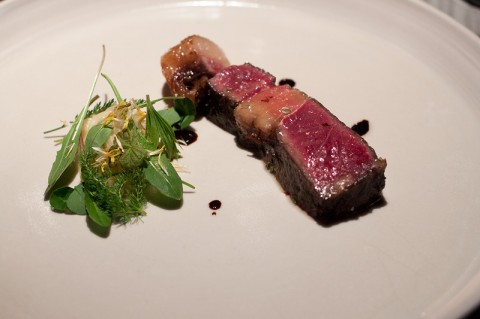 Rib eye of pensioner milking cow dry-aged since early january, hand fried and the rested on the charcoal grill, sour onions and wild herbs, fermented mushroom juices from last year
1997 Barolo Monprivato, Guiseppe Mascarello, Piemonte
Most of us are used to eating meat from young, specially raised meat cattle. However, to slaughter a young cow is both bad business and un-ethical, according to Chef Nilsson. A cow can produce milk for many years before retiring. And then you eat it. Coming from a cow which had enjoyed seven years on grass, eating all the good stuff from the Swedish nature, this meat tasted like no other meat I've ever tried.
Common belief is that old meat is stringy and tough, but that is wrong. This piece was extremely tender and the taste soooo deep and intense. It was the taste of meat in its purest form, accompanied by a wonderful, top-vintage Barolo. Only thing to do was to lean back and enjoy. The drops of fermented mushroom juice were not exactly to my liking, though. While the fermented fish and vegetables earlier on were mild-ish, I guess that you must've been exposed to fermented food from very early on in your life to fully appreciate the full force of fermentation. (Some day, I must try surströmning – the Swedish… um… delicacy of heavily fermented fish. But I feel I need to build up courage for some years still).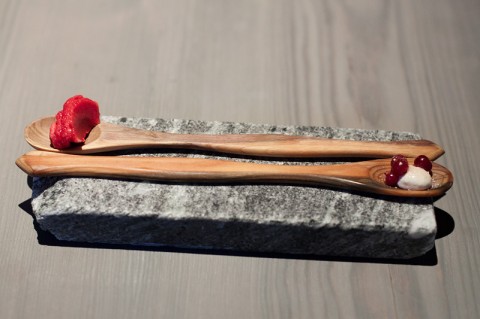 Wild raspberries ice and fermented lingon berries "vattlingon" thick cream and sugar
These two little and simple tastings were just fruity and heavenly.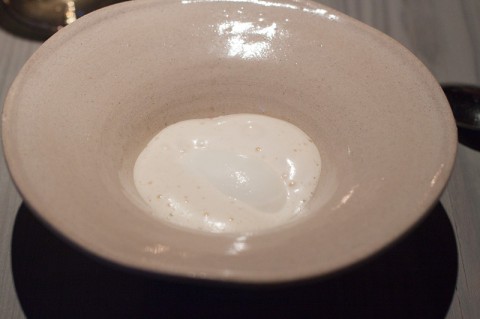 Sorbet of milk, whisked duck eggs and raspberries jam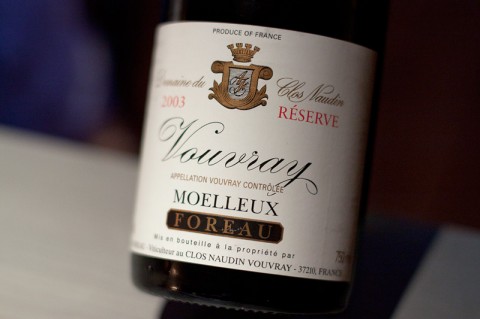 2003 Vouvray Moelleux Reserve, Phillipe Foreau, Loire
The dessert of whisked duck's egg, milk sorbet and raspberries jam underneath was refreshing and delicious but not as complex as the preceding courses. I was delighted that it comprised enough sweetness to stimulate my sweet tooth, as some Nordic kitchens tend to forget that sugar and deep sweetness are very much parts of Nordic heritage.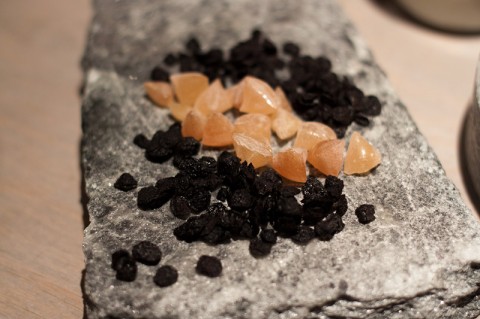 Dried berries, meadowsweet candy 
We finished downstairs with Swedish coffee (boiled in the pitcher, like you can still have it in Norway too. Tastes good, when done correctly, as in this case, and terribly when not), Pine tree barch cake and buttermilk, dried berries, meadowsweet candy and tar pastilles accompanied by three homemade liqueurs of fruit, dairies and egg nog.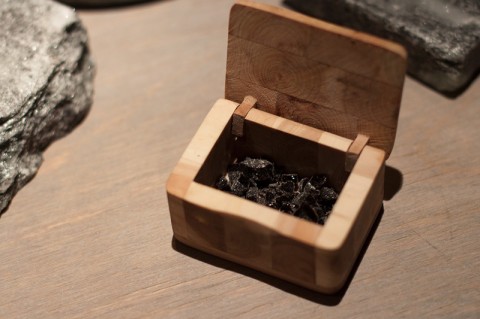 Tar pastilles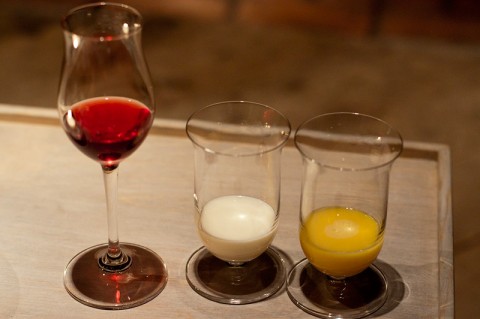 Homemade liqueurs
When getting a bit of fresh air after the dinner it was still bright outside. What an astonishing experience.
The whole atmosphere really, the nature, the scenery, the trophies on the wooden walls in the living room, the sharing of the sauna and bath with the other guests (no in-room bathroom), the coat hanging on the wall in the bar room and all the old stuff and decorations everywhere, the steep stairs up to the dining room, the food hanging from the ceiling for drying purposes, the rustic-ness mixed with the perfect timing of everything, the music played on fiddle and nyckelharpa streaming from the loudspeakers, everyone eating the same dinner in chorus, the almost midnight-sun making the day never-ending – all of it sort of made me feel that I was an extra in a play. An exciting and authentic play, taking me back to the very roots of the Nordic nature and way of life.
I really enjoyed the 24 hours I was at Fäviken, it was completely eye-opening, authentic, surprising, unique, weird and delicious. Absolutely emotional. You simply can't but admire what Magnus and Johan are doing. Next time I go, I think it might be interesting to go during the autumn or winter times to feel the full fury of the Nordic nature. And then the fermented stuff also might make sense.
 Thank you Magnus and Johan!
Fäviken Magasinet
216 83005 Järpen
Sweden
Tel: +46 647 401 77
www.favikenmagasinet.se
Other blogs on Fäviken Magasinet:
[youtube]http://www.youtube.com/watch?v=uHKkbArXZLc[/youtube]
Interview with Magnus Nilsson from Cook it Raw Lapland! Courtesy of Cook It Raw.
[youtube]http://www.youtube.com/watch?v=o_9DSSkhE_U&feature=related[/youtube]
Video by Fulgurances.
Courtesy of Hugo Hivernat and Sophie Cornibert