On the 13th of March 2011 I arrived in Ostend, Belgium, with a good handful of food bloggers and food consultants. Friends. Spring had seemed to arrive a couple of days prior. It was 12-13 degrees Celsius and 10 degrees warmer than in Copenhagen. A very special pale light decorated the beach and the sky and it was nearly impossible to point out where the sea ended and the blue sky began.
We were all walking along the beach towards the Kursaal Oostende where the event took place. As last year's happening had been such a great experience for me, I was very excited about coming back for The Flemish Primitives 2011. I fact, I felt a little tickling in my stomach just like if I was just about to enter a fine dining restaurant.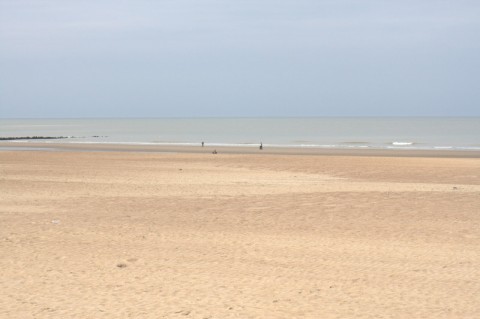 Inside the Kursaal Oostende there was a slightly chaotic feeling to it. Workers were carrying scaffolding for display booths into the big hall room. We were handed our press badges. I hello-ed Bernard Lahousse, Peter Monbailleu, organisers of the Flemish Primitives event. Jean-Pierre Gabriel, also organiser, excitedly informed us that we should hurry up to the main stage and check-out the Meat Master Class preparation. This was the sight I met: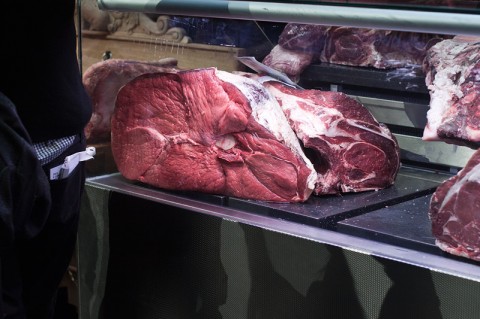 Giant meat lumps were being put into a refrigerated display case, huge ribs were being cut. A fire was lit on and the scent of smoked infused the air around the stage and my nostrils. The purpose of the Master class was to study aging, preparation and cooking techniques of meat.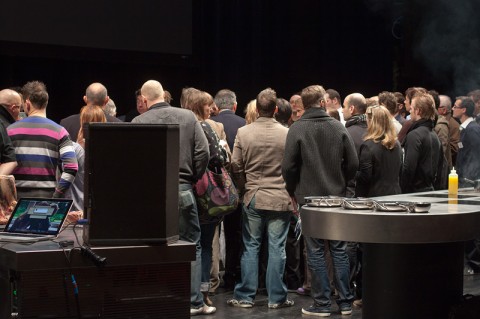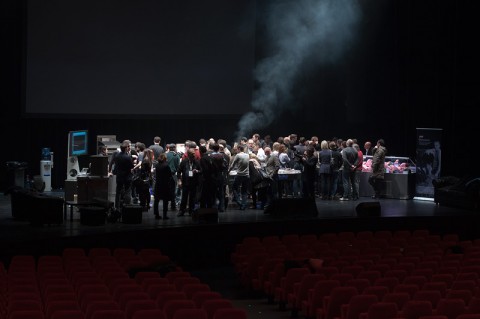 Something's Cooking: Meat master class
The master classes were 2 ½ hours of passion and insights organised into two flights. In parallel with the meat there were sessions on cheese and science: Farmer's raw milk cheeses (cheese and beer pairing), fermentation and pickling, fish from the North Sea and many more.
All sessions were run in French, Dutch or English or interpreted into one of these three languages. I ran from one session to another in order to get a glimpse of what the idea and the purpose of the session was.
Here it is Filip Claeys of De Jonkman focusing on the fish of the North Sea: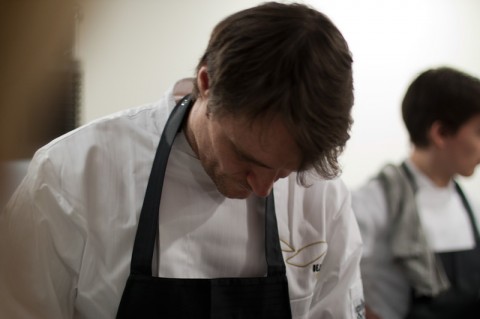 Filip Claeys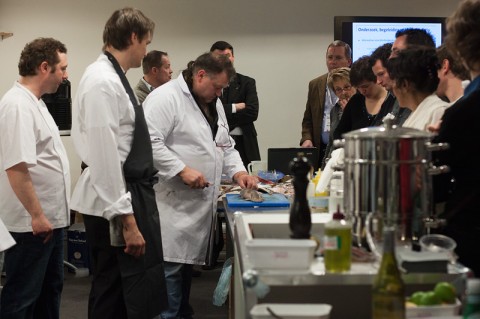 Fish Master Class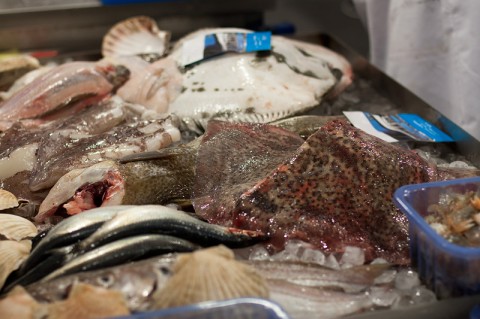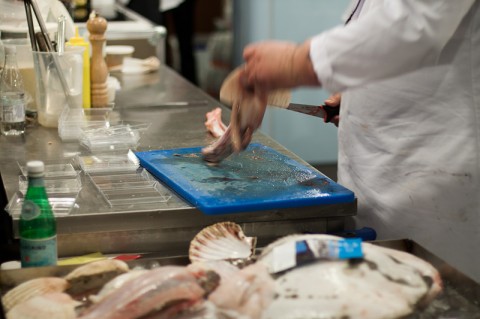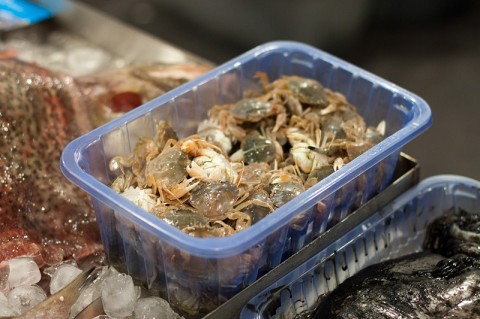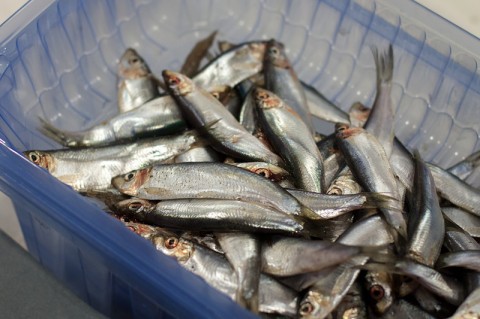 I really liked these Master Classes for their intimacy. You were close to the chef and got an opportunity to taste the food that was being cooked on display.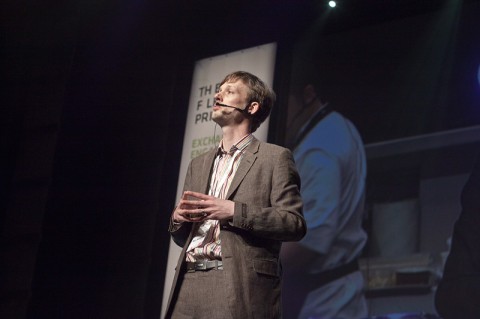 Bernard Lahousse welcomes to the show
So, Monday 14th of March was dedicated to collaborations and confrontations between chefs, presenting the results live on stage – local Flemish chefs as well as international chefs like Pascal Barbot (L'Astrance, FR), Michel Bras (Bras, FR), Alex Atala (D.O.M., BR), Massimo Buttura (La Francescana, IT), Thomas Bühner (La Vie, DE) and René Redzepi (Noma, DK) amongst others.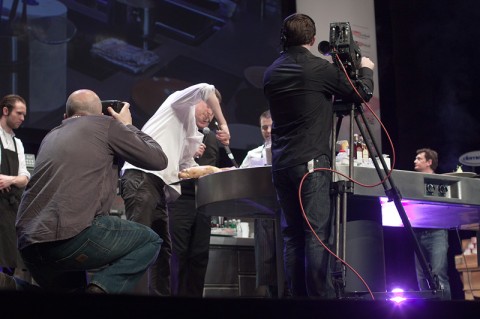 Kobe Desramault (In de Wulf, BE) and Alexandre Gauthier (La Grenouillère, FR)
I enjoyed the presentation by Pascal Barbot and Magnus  Nilsson (Fäviken, SE). Years back Magnus Nilsson worked three years under Pascal Barbot's command . You could feel that they know each other well and are used to cooking together – there was a very personal touch and relaxed feeling to it. And I liked that.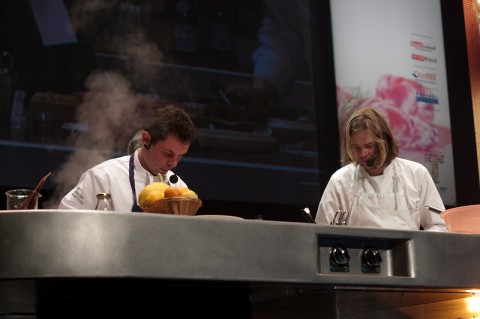 Pascal Barbot and Magnus Nilsson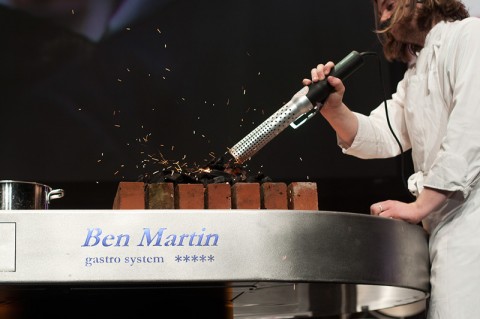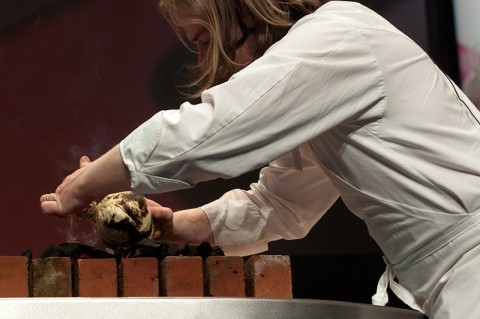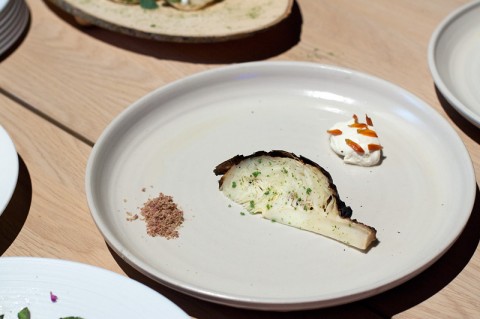 Magnus' dish of burnt cabbage
Pascal Barbot's dish of mackerel
Many of the chefs mentioned the need of respecting the nature and the produce. You could feel we're mobing from the nineties' molecular and scientific techniques towards a more natural focus in food style.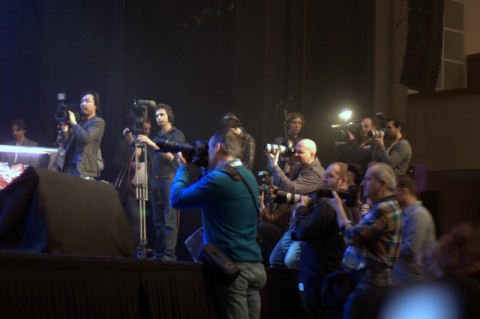 Anyway, being Danish the highlight for me was to see René Rezepi on stage. It was shocking to witness the media attention he got. René Rezepi was part of the three-in-one session and accompanied by Michel Bras of Bras in France and Sergio Herman of Oud Sluis in Holland. They were scheduled in the morning after the first coffee brake.
Thousand-something guests have been rushed back into the auditorium and I was in a front row seat. Loud music was blaring from the loudspeakers as René Redzepi, the absolute hero of the event, made his way to the stage together with Michel Bras from Bras and Sergio Herman.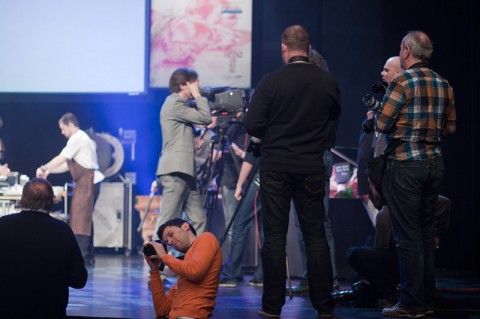 The view from my seat
All I could see from my seat were the legs and the backs of journalists, huddling around Redzepi to get their photos and their sound bites. It seems rude and pushy, and I wasn't keen on flashing my blogger's press credentials to get into that celeb-frenzy. So I stayed in my seat.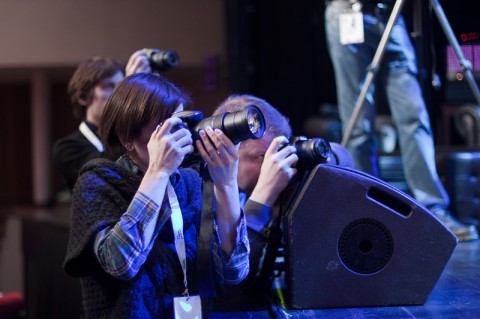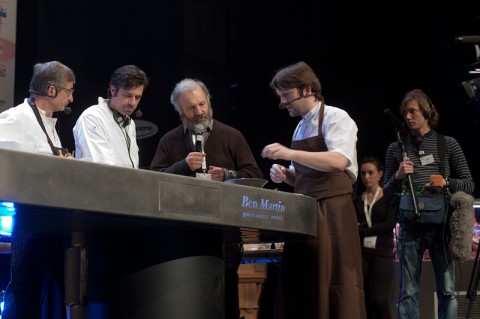 Michel Bras, Sergio Herman, Jean-Pierre Gabriel and René Redzepi
Looking down at my Mac, I saw that Twitter was still flooding with re-tweets of René quoting Coco Chanel at the press conference the day before, "I hate it when people copy me. But I hate it more when they don't."
Two hours later it is announced on the PA, "René Redzepi has left the building. René Redzepi will sign no more books."
A real rock star.
Anyways. Now, why do I go to the Flemish Primitives?
It's an opportunity to meet passionated people and great chefs. It's talking, tasting, sensing food and sharing moments, emotions and opinions with other food and restaurant lovers like me. It's meeting counterparts from other countries and picking up what the new trends are. I know, I look forward to next year's event.