In connection with a business trip to Heidelberg I fancied revisiting Schloss Berg which is managed by head chef Christian Bau and his sweet wife and hostess Yildiz Bau. It is not often that I'm in this area of Europe, so when I am, I try to make it to Schloss Berg (3 stars Michelin). It's such a wonderful place. To my big surprise Christian Bau most kindly invited me when he learned that I desired to stop by. Luckily, my friend Ingo of High-End Food was able to join me as well.
First time I visited Schloss Berg was back in August 2009. So as this is my second Schloss Berg post, this write-up is mostly a photo report. I'm not describing each dish but commenting on my overall experience as such.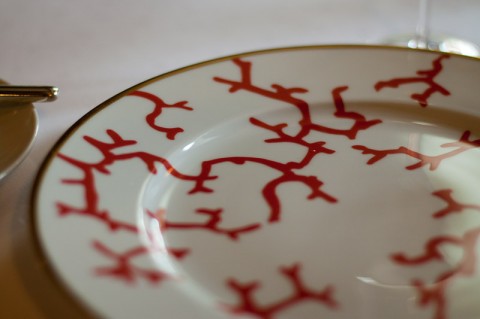 Along with the Lois Roederer Brut Premier Champagne, Reims we received some really fine nibbles. Have a look…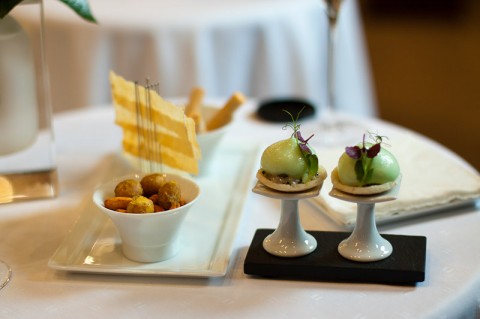 Oyster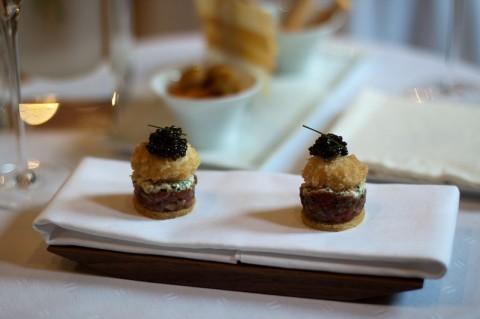 Wagu beef tartar with caviare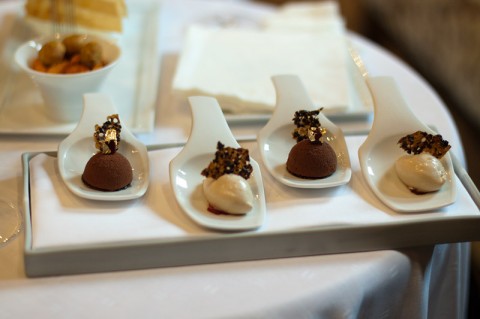 Foie gras and coffee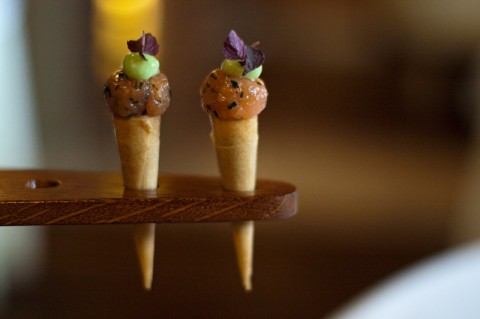 Salmon? (I think)
Since my visit last year Daniel Kiowski has replaced Britta Jäger as the sommelier. Ingo suggested that Daniel composed a wine parring of  solely German wines, which turned out to be both interesting, eye-opening as well as delighting to me. Perfectly matched, needless to say.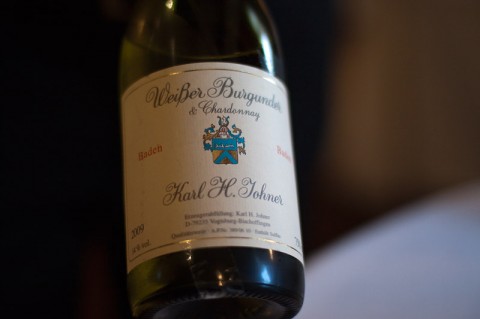 2009 Weisser Bugunder & Chardonnay, Weingut Karl-H. Johner, Baden
Carrot ingwersud with crunchy vegetables
& apple-cilantro infusion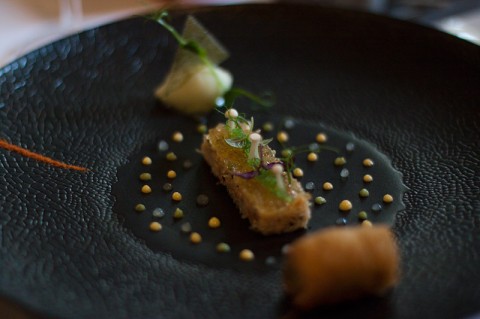 Crab, cold and warm with dashi gelée and cream of apple,
sake and wasabi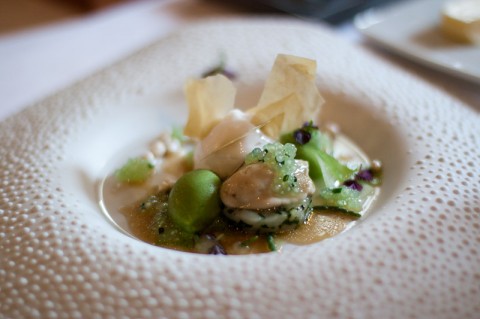 Coquille Saint-Jacques with pearls and foamfrom seawater,
vinaigrette of black rice vinegar and combawa
2009 Gelber Orleans, Weingut Knipser, Pfalz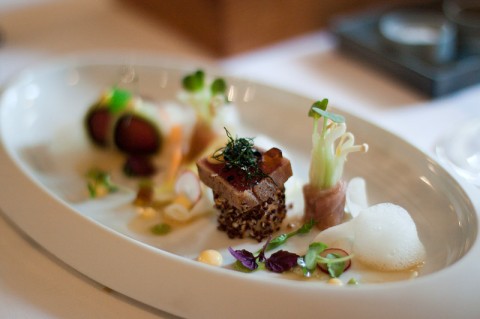 Blue Fin tuna
Back, centre-cut and toro, pickles, soy foam bread
and Japanese essence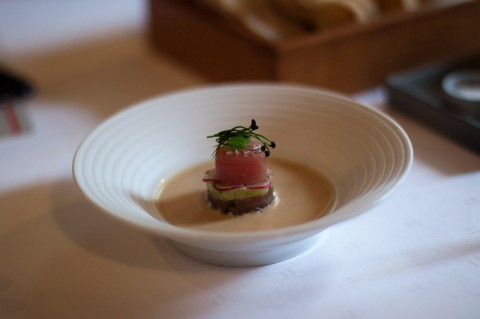 …more tuna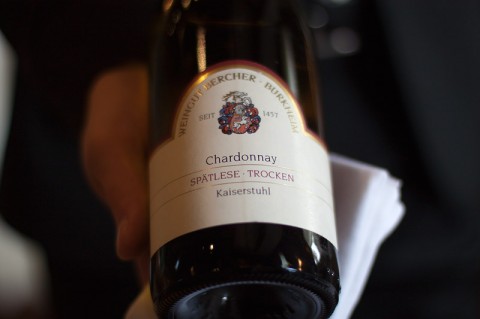 2008 Chardonnay Selection Barrique, Weingut Bercher, Baden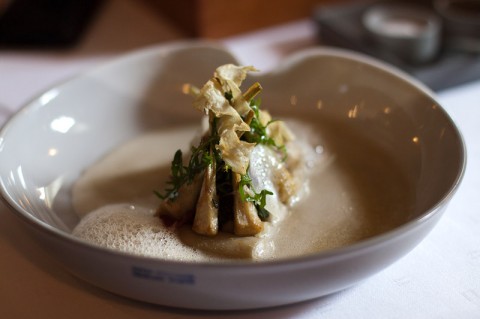 Breton Artichokes
Structures, herb salad, Jabugo Bellota, artichokes jus
with olive oil Grand Cru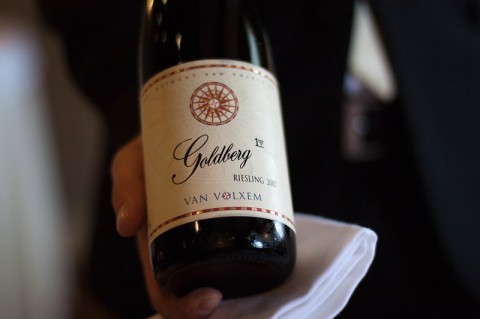 2007 Wawern Goldberg Riesling Alte Reben, Weingut Van Volxem, Saar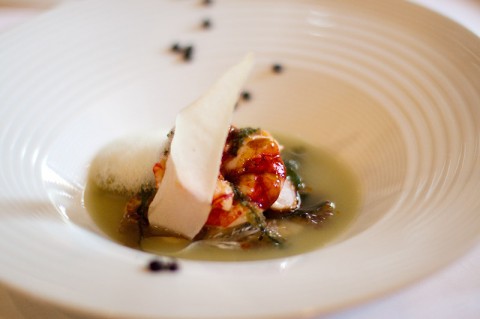 Red Gamberoni
À la plancha, cauli flower, matsubadaki, broth koshihikarreis
with infusion of sea weeds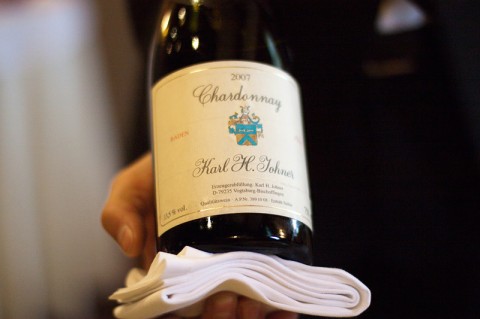 2007 Chardonnay "SJ", Weingut Karl-H. Johner, Baden
Atlantic Sole
Shellfish, young leek, different citrus fruit flavours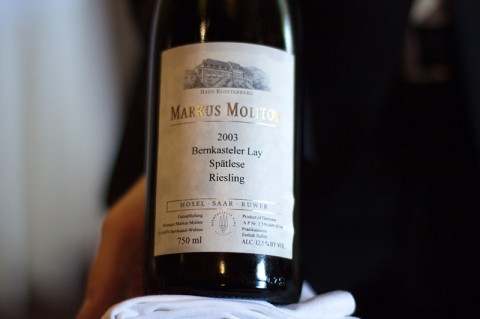 2003 Bernkasteler Lay, Riesling Spätlese, Markus Molitor, Mosel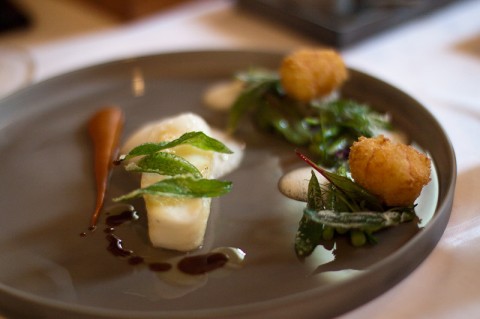 Brittany Turbot
Green asparagus, verbena, langoustine
and cream of crusticeantcorail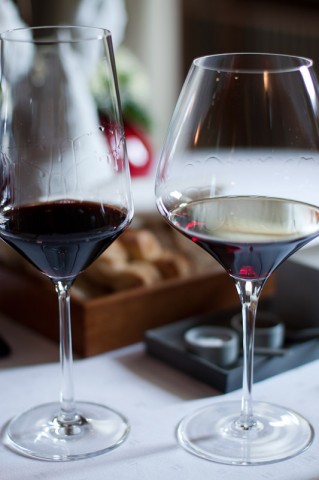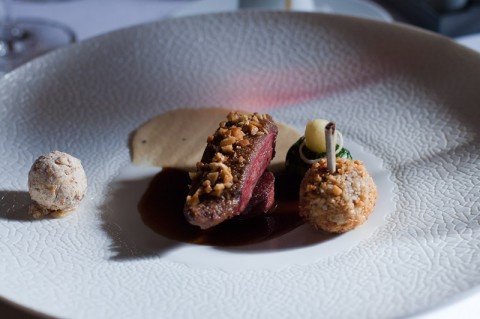 Bresse pigeon from Mièral
Boudin noir, sauerkraut cream, nuts and mole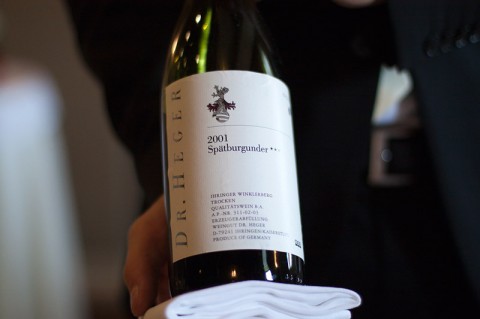 2001 Ihringer Winklerberg Spätburgunder ***,
Weingut Dr. Heger, Baden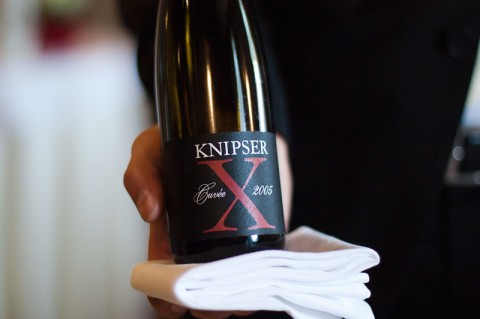 2005 Cuvee X, Weingut Knipser, Pfalz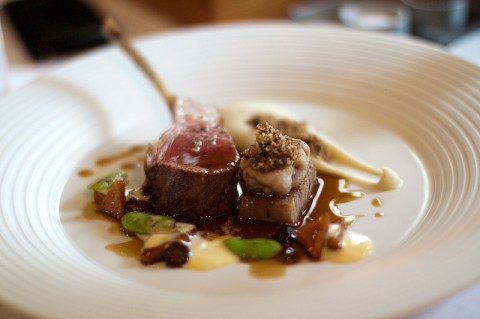 Sisteron Lamb
Saddle, belly and sweetbread. Yam,
crumbs from black garlic and miso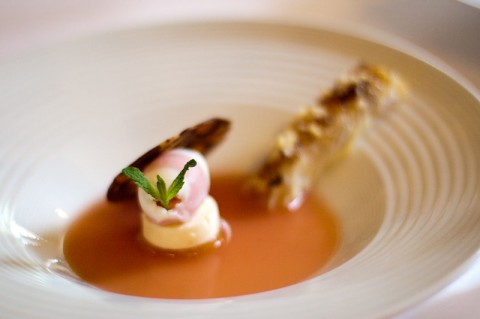 Three Sweet Thoughts
Peach and almond milk skin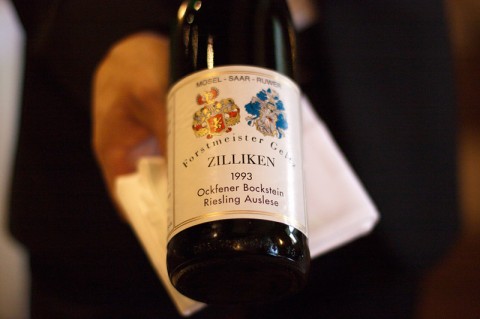 1993 Ockfener Bockstein Riesling Auslese,
Weingut Forstmeister Geltz-Ziliken, Saar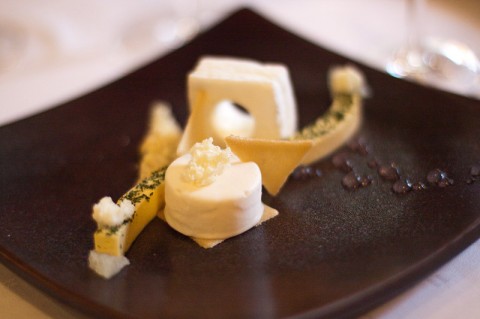 Three Sweet Thoughts
Dessert of yuzu, grapefruit and dill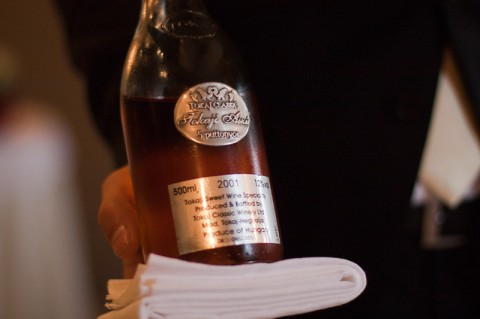 2001 Tokaji Aszu 5 Puttonyos, Tokaji Classic, Hungary
Three Sweet Thoughts
Banana split interpreted as a dessert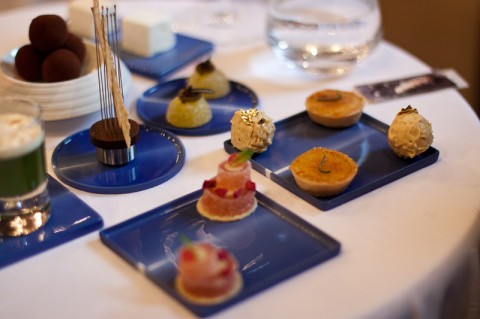 It was clear to me that Christian Bau has evolved his cuisine. The meal as a whole appeared more distinct and sharp. Only one dish (the sole) was slightly below the standard of the rest and the desserts were improved as well and turned towards a more light and delicate impression.
Where the meal of my visit last year filled with inspiration from different continents and seemed to be in search of something, then this visit's Carte Blanche appeared more confident and more independent. There were still touches of Asian cuisine and exotic produce, but now it seemed like Bau had made them his own and integrated them into his own kind of cuisine. I really enjoyed that.
It's hard for me to pick-out highlights but the Coquille Saint-Jacques with pearls and foam amuse bouche was at the top as well as the Breton Artichokes course, which was something completely new to me.
Schloss Berg is for me top class food, very complex. It's a beautiful setting and ambiance. Most importantly though, this is mixed with a warm and kind atmosphere and utmost friendly attitude from Christian and Yildiz Bau and the staff and that's what makes this place so special.
Thank you so much!