In the little Art de Vivre booklet of Germany's best places to eat I took note of the Schloss Berg castle and restaurant. It was back in 2007 and before I tried my first three star restaurant. But also, Ingo and Bo have tempted me to visit this restaurant with their inspiring reviews.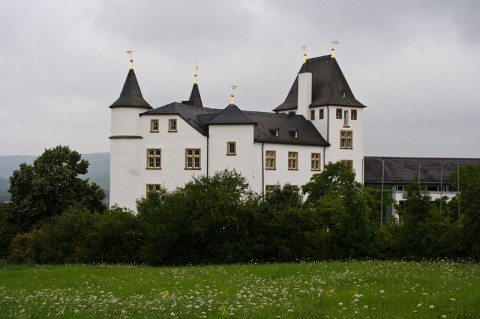 Two years later, I somehow got to friend Christian Bau on Facebook. While planning my summer trip to the south of France I was pondering about where to stop for the night on my way back home. I hadn't scheduled anything and by pure wishful thinking I wrote in my Facebook status that I would like to visit Schloss Berg this summer. Five minutes later a mail arrived in my inbox. Head chef of Schloss Berg, Christian Bau, had taken note of my new comment, and in his mail he said that he would be delighted if we would stop by and visit his restaurant. With such a nice and personal greeting I had to give in and start making Victor's Residenz a part of our summer holiday.
Christian and his wife Yildiz came to Schloss Berg in 1998 to open the new gourmet restaurant to be. After only 8 months Christian received his first Michelin star. The following year he got his second and in 2003 he was awarded with the three stars for his food which is based on the French traditions. His cuisine is evolving into something more modern, though, and also the interior of the restaurant was renovated in 2008 to present a more modern and cosmopolitan setting.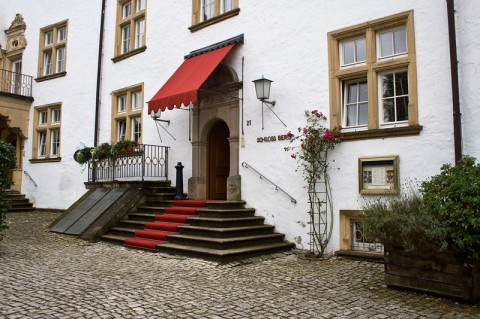 We arrived late in the afternoon on 9th of August, and after a very warm and friendly welcome by the staff we were installed in the Princess room with a view to the garden and the small town further down the hill. The room was spacious and offered Gosset champagne on ice, fresh fruit, chocolates and pastries of which I tried not to guzzle too much as I naturally wanted to save my appetite for the dinner. What I particularly liked about the room was its size and the quietness about it. It made me feel home and comfortable.
Yildiz Bau who runs the front of the house and is the restaurant hostess greeted us warmly in German which was interpreted into English by one of the servers. By the way, all the servers and the excellent sommelier, Britta Jäger, were fluent in German, English and French.  I was lucky to get a table at the back end of the room so I could overlook the entire room.
A very high number of amuse bouche arrived: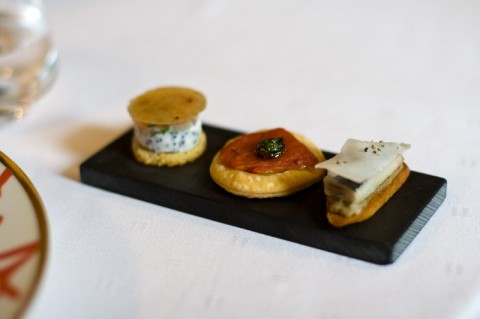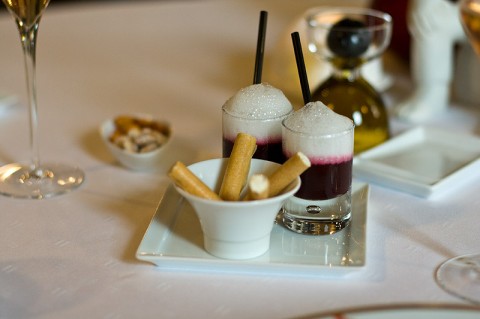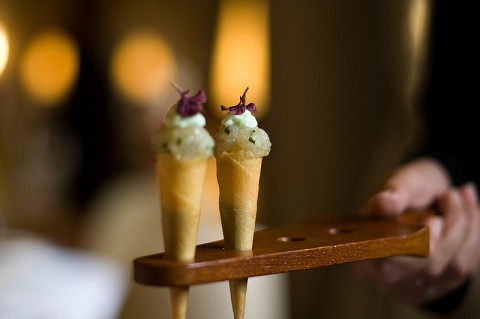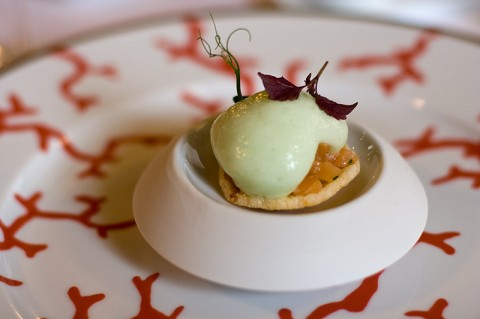 Oyster appetizer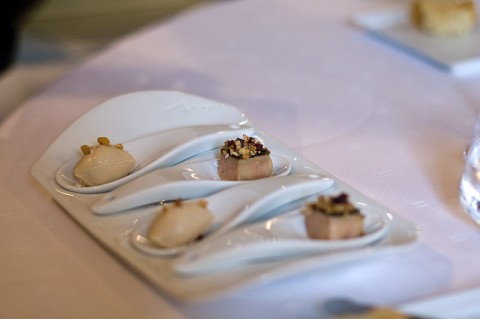 Foie Gras / Hazelnut / Café Arabica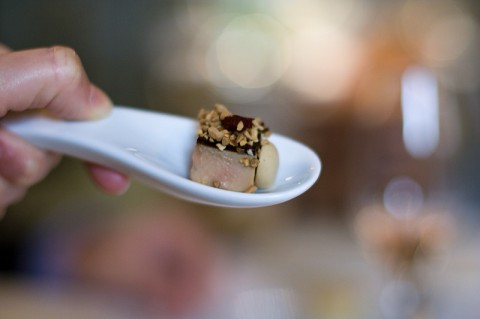 The appetizers were elicit, fresh and very distinctly flavored and the first evidence of Christian's highly complex cuisine. The final one of Foie gras and coffee was to die for.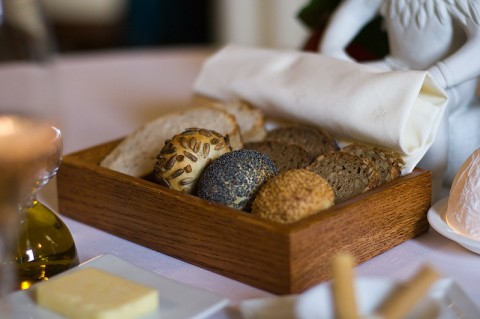 We ordered a 2005 Coche-Bizouard Meursault which had a lovely, powerful and buttery bouquet, a beautiful clear colour with a lightly green tone. The taste was full of minerality, acidity and comprised a dense and wonderful taste. The oak was subtle on the palate and more pronounced on the nose. I felt it was the right choice for the beginning of the meal.
I liked the fact that the sommelier asked us how we would preferred the temperature of the wine, cool or more warm.
We began the Voyage Culinaire that Mr. Bau had put together for us. And what a journey. To our surprise we started off in Asia – or at least with a line of dishes clearly inspired by Asian cuisine.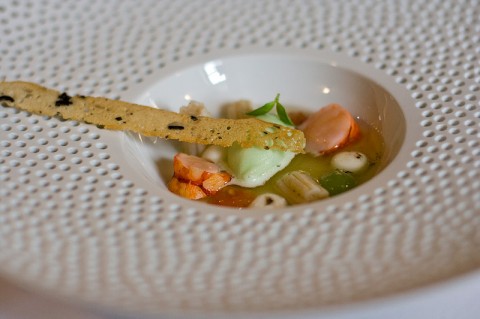 Carabiniero & Sea Cucumber
Gazpacho with olive oil 'Grand cru'/Buffalo & olive drops/ Iced cucumber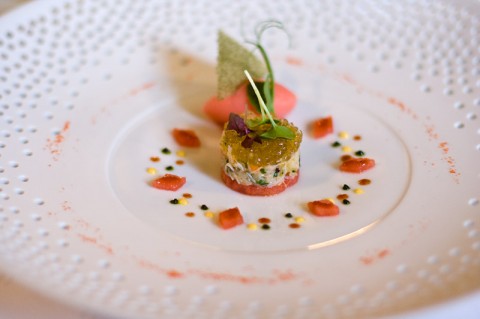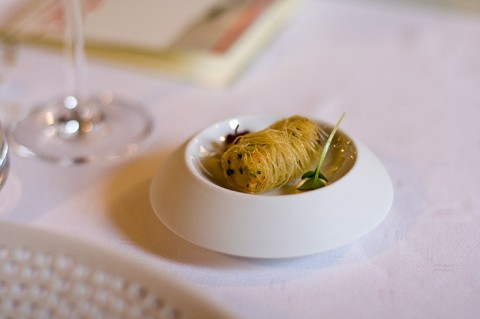 Crab
Marinated & deep fried / 2xwatermelon / Jelly of Dashi
Besides being a real looker of a dish, the watermelon and the crab came together in what could be described as a Pacific dream. The watermelon was sweet and slightly spicy in the aftertaste and it matched the crab meat elegantly. The hot, fried crab role on the side was crispy and resembled a spring roll, although a very, very good one.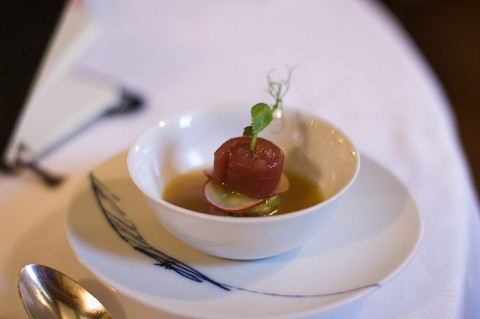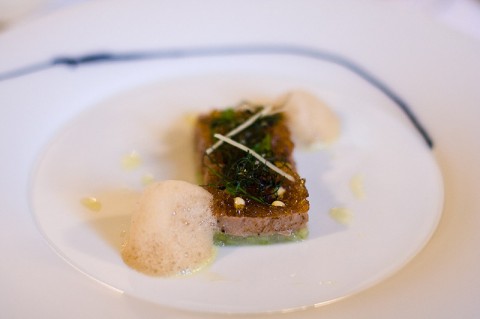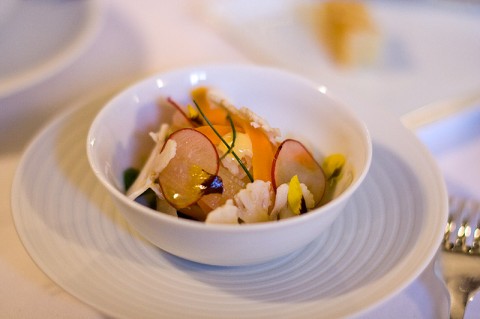 Blue Fin Tuna
Tataki / Ponzu / Crispy & sour vegetable / Japanese essence with ginger ale
The blue fin tuna was a smashing dish. Never in my life have I tasted tuna of such marvelous quality and great and delicate taste. It was the purest fish meat and it almost melted on my tongue. The brown sauce with the tuna in the bowl was a little too tweet to my taste and a little too intense for the delicate tuna. However, this sweetness was balanced by the refined taste of the crispy and sour thin-cut vegetables.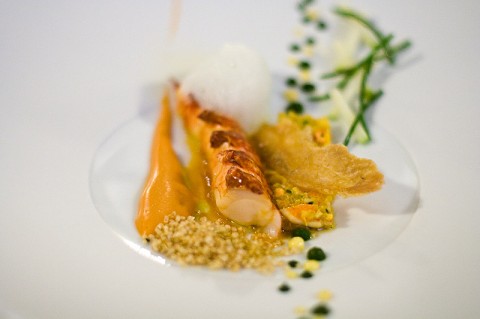 Blue Lobster
Tepid Quinoa / Passe PIerre & green apple / cream of coral / Amora & oil of curry from madras
The lobster was just as lovely as the tuna. It was perfectly cooked and had a wonderful taste. The thin apple sticks added freshness and sour and the red puree complimented the dish without stealing focus. It was a bit of a challenging dish but at the same time rewarding when I got the taste of each item on the plate.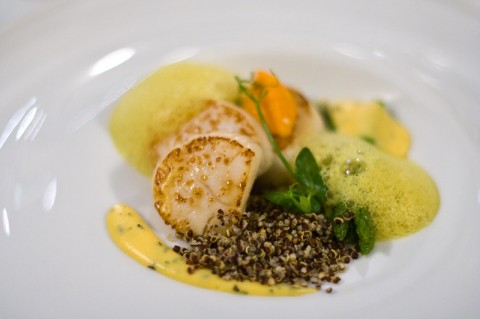 Coquille Saint-Jacques
Seawater tapioca /Chutney of carrots / foam & aroma of Raz el Hanout
The journey took us to the African continent – more precisely to Morocco. The quality and preparation of the scallops were excellent and they played well with the different textures of the soft shellfish and the crunchy Raz el Hanout. Taste-wise this dish appeared a little rough and maybe a little too heavy on the curry flavour.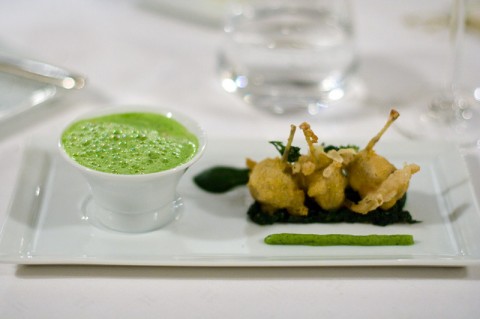 Frog Legs
Tempura / Enoki & watercress / Mild cream of wasabi
This was maybe the simplest dish of the evening but really spot on both in terms of look and taste. The wasabi cream was full of flavour and delicious as were the quite intense and salty frog legs. The spinach had a balancing effect. I really appreciated this one!
From the frog legs and onwards the dishes turned a bit more classic in expression. As our culinary journey took us from the north of Africa to the European continent, we clearly hit Christian Bau's home turf. This is where he rules absolutely. We went from excellent three star cuisine to absolute masterclass. Top quality products cooked to perfection, and intriguing taste combinations.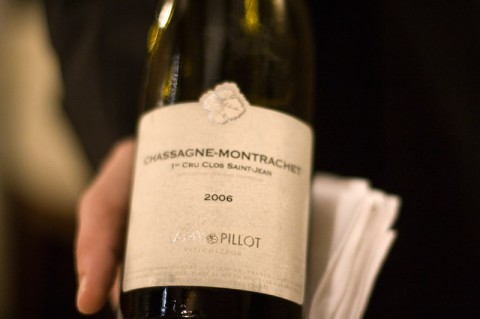 For the next two dishes we got a rich and very nice Chassagne-Montrachet Clos Saint-Jean 1er Cru. It was interesting how different is was from the Meursault. Its colour was darker and the nose had a tone of caramel to it which also touched my palate. It was more fruity and less mineral.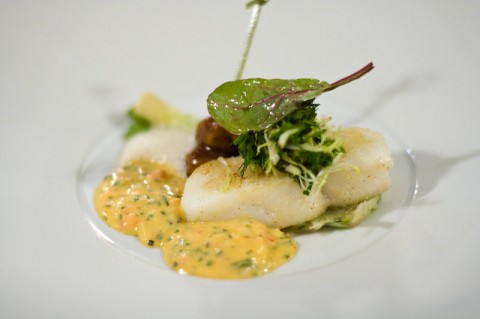 Turbot from Brittany
Sot-l 'y-laisse glazed with hoi sin / Flavour of mild anchovy / Herbage salad / Bearnaise with an infusion of crustaceans
The wine was a fine match for the turbot, which had some sweetness to it and the dish as whole had such a strong expression. It was tasteful with delicate leeks, balancing citrus and dill, and the chicken kicked the delicateness with its intense barbecue tone. A transcendent dish.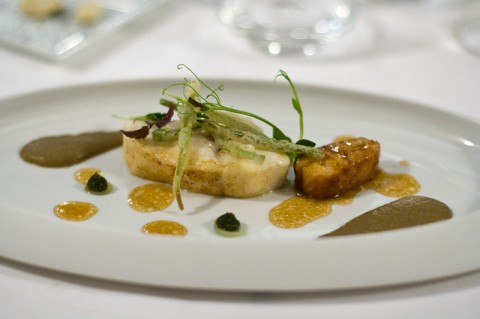 Sea Bass
Smoked eel glazed over charcoal / Eggplant-miso / Sisho-pesto / Deep fried 'Ladyfingers'
The combination of the Sea Bass and the intense, sweetish, smoky flavour of the eel was stunning. The ingredients came together in a very focused dish.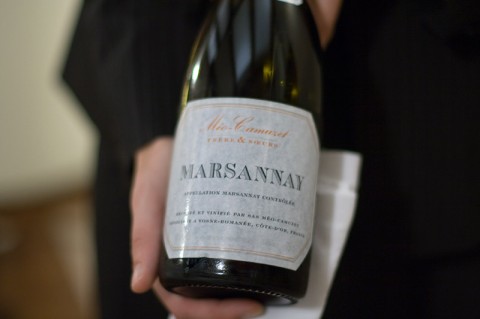 2007 Meo-Camuzet, Marsannay
Fresh fruit poured from my glass of Marsannay from Meo-Camuzet. I love this style of wine with rigid power but with lightness and elegance at the same time. I took note of blueberries and pepper and nice tannin, not much acidity but a lots of minerality and dark berries in the after-taste.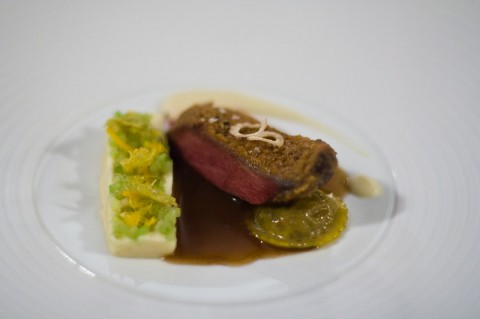 Pigeon 'Mieral'
2x celery with orange / Compote of the cudgel / Jus of pigeon á l'arabica with tamarind
This classically prepared pigeon must be the most perfectly cooked bird I've ever tasted. To do a Pigeon Mieral this balanced is pure genious. I normally find pigeon cooked this way too iron-like and too birdy. But this was heaven and the pidgeon meat was tender and without any imperfections.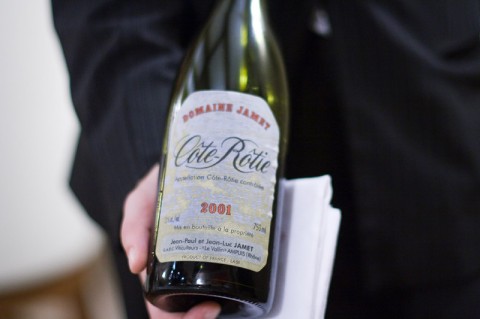 2001 Domaine Jamet, Côte-Rôtie
Gorgeous nose with earthy and animal notes, lots of fruit, power, tannin and intensity. A wonderful wine.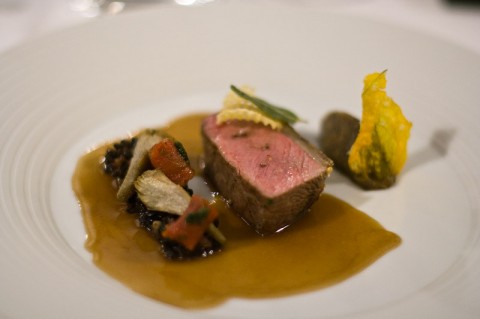 Lamb 'Müritz'
Saddle grilled over charcoal / Sugo with Garam Masala / Fine green lentils / Jus of lamb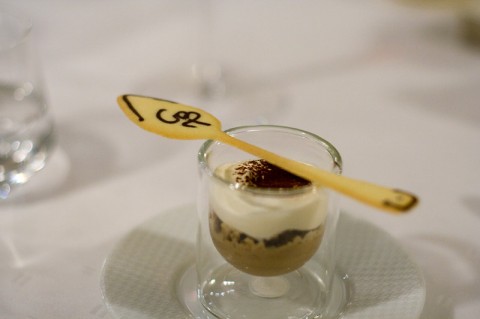 Iced Coffee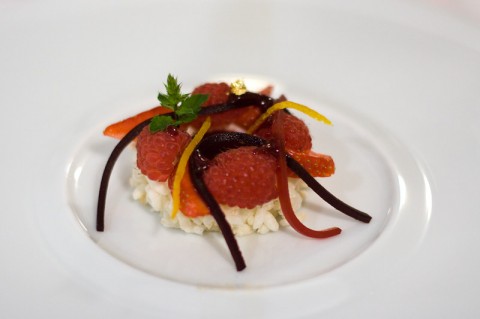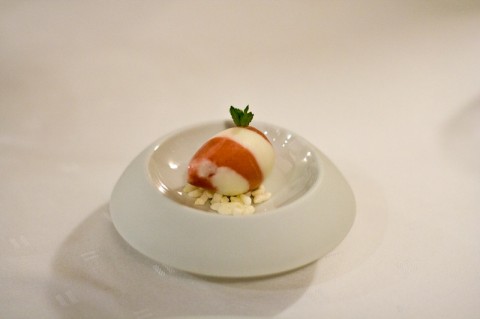 Rice Pudding
2 x Rice / Red fruits / Marbled sorbet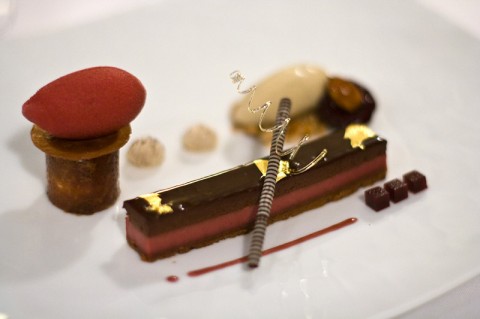 Chocolate & Cherry
Interpretation of black forrest gateau 2008 / Hommage to my homeland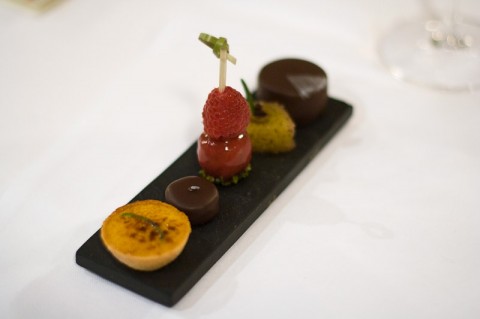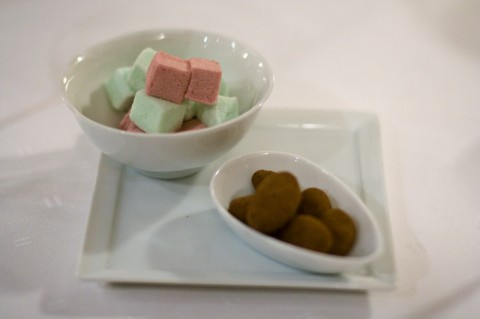 Christian Bau's cuisine is extremely complex. The look of each dish is showing that. To create a tasty, fully balanced and savory dish composed by many different products requires a great deal of skill and talent because if you cannot fully master the techniques the dish will evidently show it.
It was a stunning meal. No less. In a way Schloss Berg is the epiphany of what a three star restaurant should be like and what makes Schloss Berg my loveliest three-star experience ever is the personalities of Christian and Yildiz Bau. When we had finished our last tasty desserts, we had coffee and tea with sweets, and then Christian and Yildiz came to our table to say hello and chatted with us until I could hardly keep my eyes open any longer. The clock was almost 2 am and we'd been dining for almost seven hours.
You see, fine dining isn't only about the food, it's about experiencing something that makes your whole being feel happy, light and pleasured. I felt that way at Schloss Berg from the moment I entered the reception till we drove away from the castle. To fully experience Schloss Berg and the extremely kind and attentive service, I recommend that you stay for the night.
I also felt very full after the dinner. In fact I was not even able to have breakfast the next day – which I dreadfully regretted after about an hour on the road. But, I guess that I just have to return to Schloss Berg, and I would really love that 🙂
Christian and Yildiz, thank you so much for everything, both to you and to your kind team!