Kødbyens Fiskebar (translates directly into the strange name of The Meat Packing District's Fish Bar) opened on 17th of June 2009 and I went on their very opening night. Since that day I've eaten there a great number of times and the restaurant is on my personal top 5 of all of Copenhagen's restaurants. The fish is fresh and the dishes are creative, sharp and very tasty.
For a very long time I have wanted to create a post about Kødbyens Fiskebar to share this little pearl with you, but I continuously forgot to bring my camera. However, a few weeks ago I finally managed to remember not to forget it, so here's why you should try and have dinner at the best fish restaurant in town.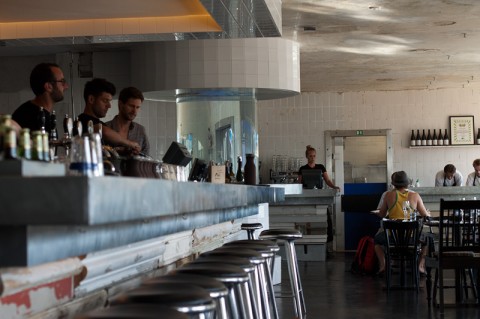 The bar
Kødbyens Fiskebar is located in the old meat packing district, hence the funny name of course, in the Vesterbro part of the city and in walking distance from the central station. The rough, worn look of the district is kept in the style and decoration of the restaurant's interior, as you can see in the pictures. Rumors will have it that this rough interior look is just as much due to tight budgets and deadlines as to a skilled interior designer – but it works. It's funky in a cool way.
There is a big bar in the centre of the room and I often like to sit and eat there as you have a view to the whole restaurant. They also don't book those seats so there might be room there if you haven't got a reservation.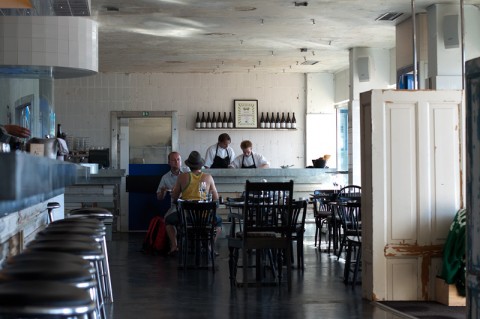 Raw food chefs
Towards the kitchen a chef is at a counter preparing all the raw fish dishes like the stunning razor clam dish and is opening oysters for example. The warm and cold kitchens are separated, so warm and cold dishes are not necessarily served in perfect sync.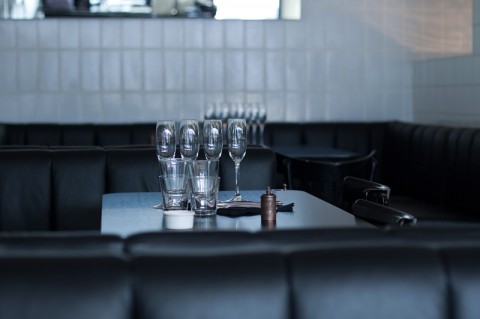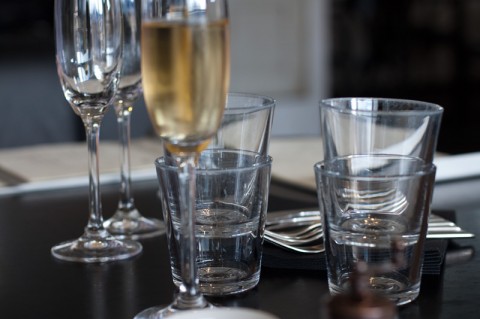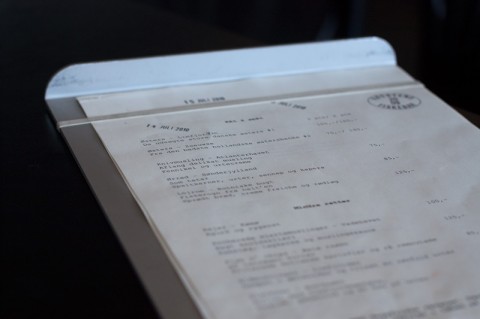 Taking the bistro style of this place into consideration the wine list is awesome and offers a nice selection of wines by the glass as well as some of the white Burgundy bottles that I'm so desperately fond of.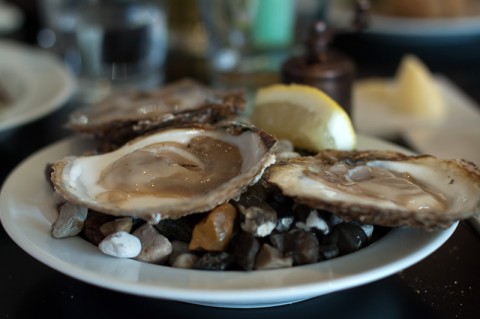 Oysters
I started out with some really nice oysters from Limfjorden as far as I recall and served on cold rocks with shallots vinaigrette and slices of lemon.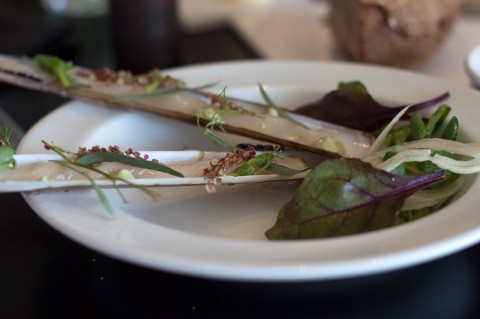 Razor clams with fennel
I absolutely adore the razor clam dish. The clams are delicate in taste and served with the very delicious herb cream, a salad and thin-cut fennel. I could easily eat a whole dozen of those.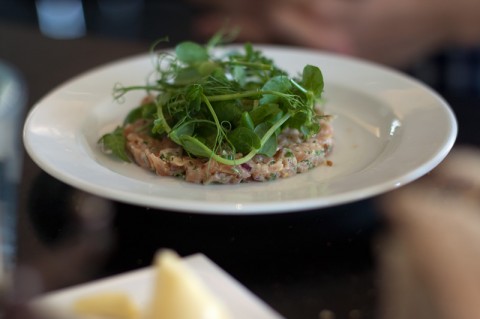 Trout tartar
The trout tartar is excellent too. It's mixed with mustard, capers, herbs and spelt seeds and is more rich in taste. Pea stems were sprinkled on top.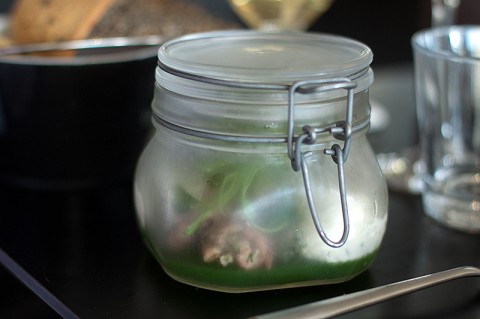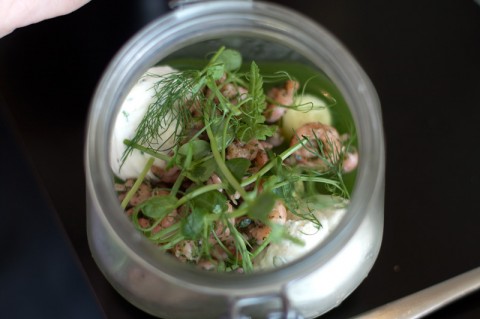 Shrimp from Rømø (friend's dish)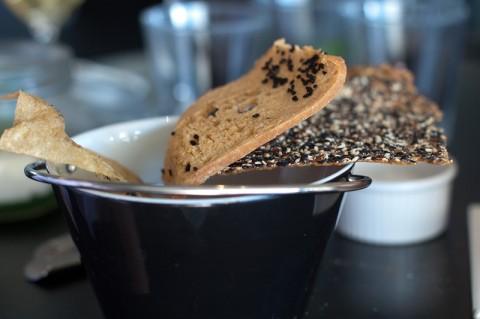 Crackers to go with the shrimp
On to the main courses…
I went with friends on this night and we all chose different courses. Mine was actually listed amongst the smaller dishes but still fulfilling enough for me. The main courses all have the same garnish of new potatoes (in season) a compote made of porcini and this evening leeks and new baby carrots.
Cod fish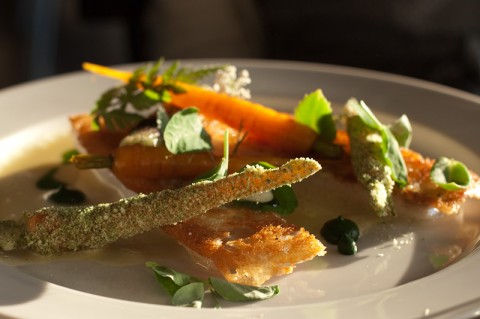 Witch fish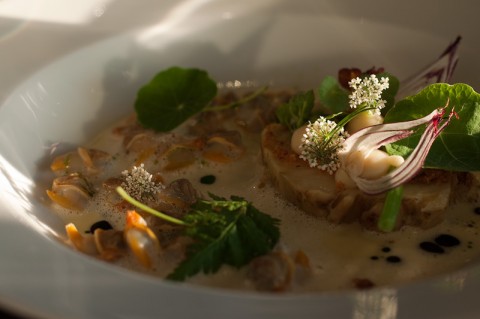 Poached cockles with baked celeriac
Poached cockles served with baked celeriac, ramson onions and mussel sauce. This is one of the very best dishes I've ever had at Kødbyens Fiskebar. The cockles were very pure and delicate in taste, the celeriac counterpart gave substance and enriched the dish.
Desserts at Kødbyens Fiskebar are awesome and I can never leave without trying at least one of them.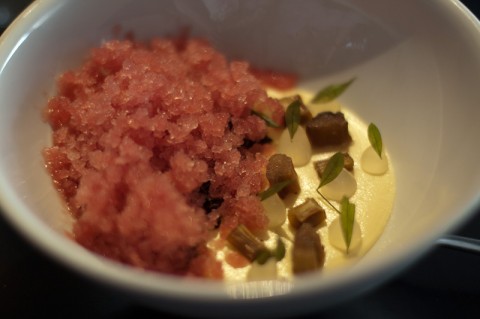 Rhubarb granite with baked rhubarbs, vanilla cream, lemon,
Tonka bean and wood ruff
This evening we all got the same dessert of rhubarbs with vanilla cream. The granite kicks the sweet and rich vanilla cream with it's acidity and freshness and the woodruff adds another dimension to it with its perfumed aroma. Yum yum!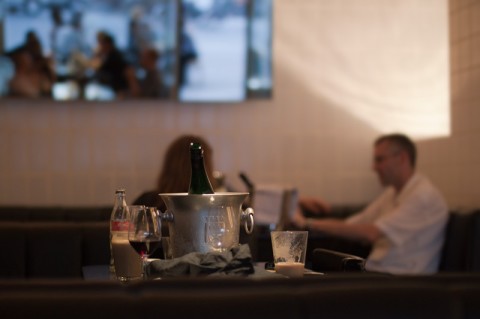 By the way, yes of course they have a big fish tank, but only with fish for display, not for dinner (actually it's visible up in the top photo). And if your in the mood for turning a nice dinner into a night out, just stick around. After dinner bar manager and owner Bagge and his tenders shake some really excellent cocktails, and the place doesn't close until 3am Friday and Saturday.
Anders, Bagge & co, thanks for all the lovely dinners – I cannot wait till my next one!