I love noma. I just do. Of all the places where I have dined until this date, noma is the best one. Noma's food is brilliant. Nothing more, nothing less. Pure and seducing. Noma's like a drug.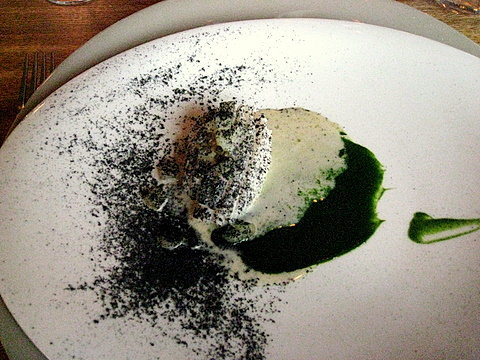 Skate wing and mussel liquor with cauliflower in different textures
I wanted to dine at noma this special day, and to ensure that, I had booked my table back in April, almost four months in advance. This time my table was along the side in the middle, still providing full view over the room of the restaurant.
All the dishes were wonderful, well-balanced, sophisticated, innovative and surprising. A bombardment of beautiful picturesque food of the freshest fish, tender and savoury meat, delicate berries, tasty vegetables and frail herbs and flowers with subtlety and elegance. The service was great – especially the service of the sommelier.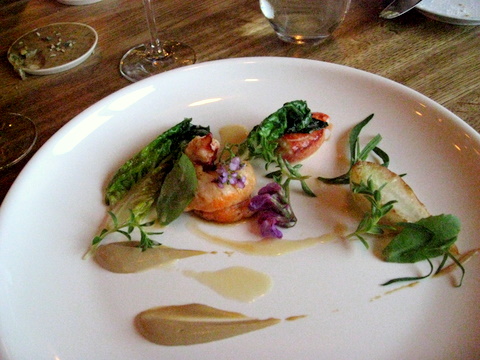 Warm lobster salad with red current wine and beach herbs
I think my favourite dish was the sweet and outstanding lobster, but maybe I am not quite within my rights saying that, because I eat lobster so rarely, and thus it might just be the scarcity of it that's flattering me.
As I have written about noma already twice, I want to focus on the elements that surprised me this particular evening.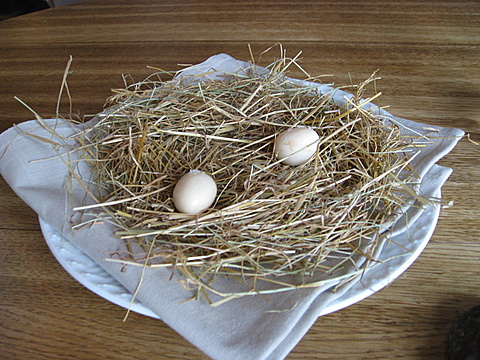 Quail's egg
One of the snacks was a bird's nest with two quail's egg, which had been smoked and brawned. The head chef, René Redzepi brought them to my table and told us to eat it all in one go. I expected the yolk to be dried because of the way that the egg looked, light brown on the outside. But the yolk was in fact liquid, the dense pulp spread around my mouth. I was astounded.
L'amuse bouche
I was completely taken aback when I first ate noma's food, and I therefore imagined that a restaurant serving such innovative and original food, would be capable of surprising me with matching wines too. So, I decided to go for the set wine menu, to see how well the ensemble would be here.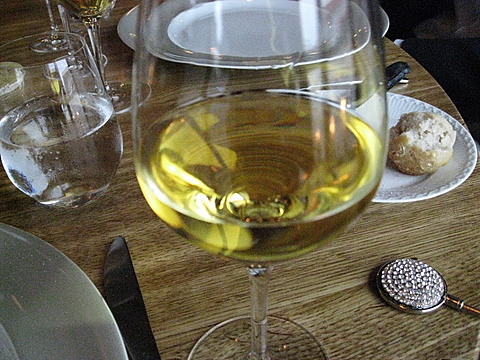 Interesting and fine wines that matched the food magnificently, I must say. For example the Muscadet that accompanied the appetizer comprising oyster and cucumber being light in colour and delicately fresh in taste. The Grüner Veltliner ice wine was the dessert almost by itself. Thick texture, full-bodied and so sweet but comprising acidity to balance the taste, a wonderful dessert wine, so intense that I could only sip it lightly.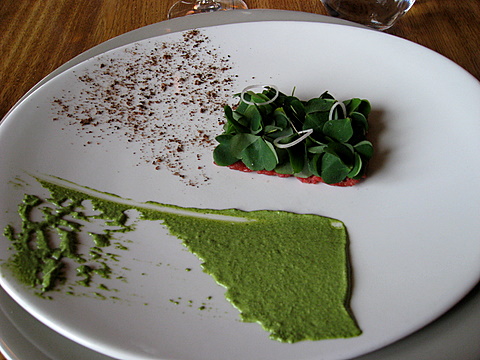 Tartar and wood sorrel with creamed tarragon and juniper
I remember as a child when walking in the woods, the grown-ups told me to pick the wood sorrel that grew in the forest floor and eat the fresh, tasty and green leaves. I would never have thought of finding this ingredient at a top-notch restaurant. In this picture the wood sorrel was brilliant. The dark and pure meat taste of the tartar combined with the dusty flavour of the leaves adding the hidden acidity and extracting taste like a salt. The intense green cream was like candy, and I could have licked the plate clean from it. The image shows how simple it the food is, and this is brilliance, the fact that a few elements can form such pleasure and perception. I wish, I could add a button right here on my blog, so you could sense and experience what I got.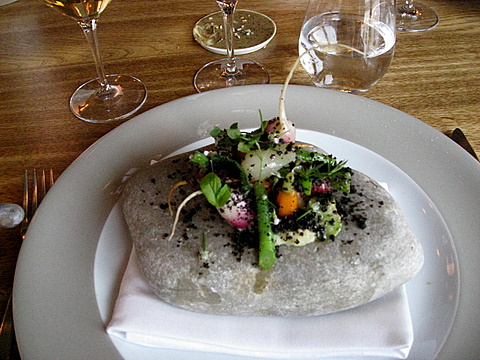 Shoots and malt and potato puré underneath
I was especially keen on the red wine, the only one, the Vosne-Romannée. It was weak on tannin and rich on fruit and fullness and very nice with the goat kid, which was a surprise too, by the way. It's only my second time that I eat that, and this meat was amongst the finest I have ever had. The texture slightly like lamb, thready and with a taste so delicate like I would never imagine possible for goat's meat. A bit like veal but finer and with a game flavour to it as well.
There wasn't really room in my stomach for the cheese, but I just couldn't say no. One of my close friends had specifically mentioned the cheese, when he dined at noma a couple of years ago. I tasted four different types, three from Sweden and a single Danish one. Wauuw, the Swedes really know how to make cheese! The first one resembled an Italian Parmigiano Reggiano and the taste was very similar. The cheese was a Kvibille Cheddar and seasoned for 24 months. The Danish cheese was a red-lead putty one as far as I remember, and there were also a goat's milk cheese and a Sødermans Ädel blue roan of cow's milk. I'm mad about blue roan cheese, all kinds, and this Sødermans was not sharp or ammoniacal in any way. All very delicious cheese.
We got another glass of the same lovely red Burgundy and I learned that you can easily drink red wine with a blue cheese, if the wine doesn't contain sulphur and thus much tannin. It was indeed gentle velour that swirled around my mouth.
If I must state the single dissonance of this gastronomical concert it has to be with the appetizer; I found the cucumber a bit too acidic and powerful for the oysters. I know it might sound ridicules.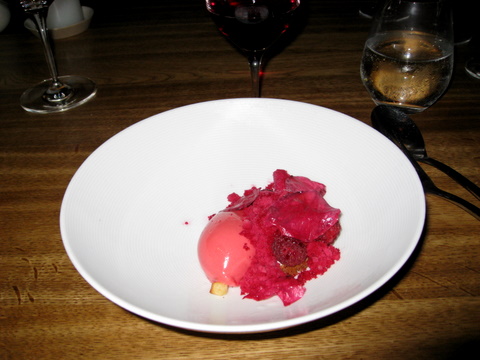 Raspberries, beetroot and marinated rose hips
You know, I don't think that I can really mark out any of the dishes to be my favourite one as they were all fabulous. I haven't described every dish, and this is not an indication of those being not as good, because they were. The Champagne with grapes from nine different vineyards. And the delectable Danish dream and the A. Rousseau's Vieux Marc de Bourgogne, which both accompanied my coffee. I even forgot to photograph the goat-kid and the delicious blueberries, I love love blueberries, which were completely covered by milk skin. A dark blue and purple course being the masculine counterpart to the pink lady of intriguing sweetness shown above.
A gala performance!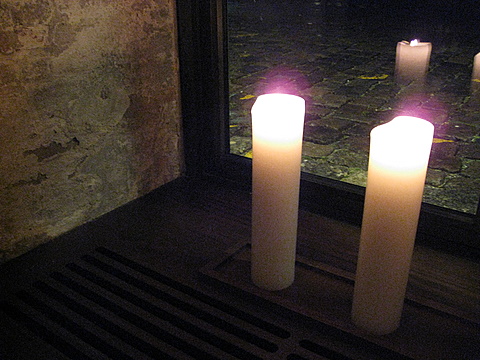 This evening it actually rained, the sun wasn't shining, but that didn't matter. Leaving the place I felt like I was shining myself. Gilded by the Northern light of glittering unique noma.
Thank you, guys – especially to Pontus!
The full menu with the wines 2 August, 2007:
Raw shrimps and green gooseberries
Fresh cream and dill
2005 Domaine l´Ecu (Guy Bossard), Muscadet Sévre & Maine sur Lie 'Granite' Magnum, Loire, France
Shoots and malt
Potato puré
2004 Domaine Valette, Pouilly-Vinzelles, Bourgogne, France
Skate wing and mussel liquor
Cauliflower in different textures
1980 Wegeler, Riesling halbtrocken 'Breg Rotland', Rheingau, Germany
Warm lobster salad
Red current wine and beach herbs
2005 Mark Angéli (Ferme de la Sansonniére), Anjou Blanc 'Les Fourchades', Loire, France
Goat-kid and "dust" of thyme
Hazelnuts and mushrooms
2002 Domaine Priuré-Roch, Vosne-Romanée 'Les Clous', Bourgogne, France
Raspberries and beet roots
Marinated rose hips
2006 Bricco Mondalino, Malvasiva di Casorzo d'Asti 'Molignano', Piemonte, Italy
Blueberries and milkskin
Pickled pine tree shoots and sweet bread
2005 Nigl, Grüner Veltliner Eiswein, Kremstal, Austria