NOTE: This restaurant has close down!
The fifth restaurant for us to visit was MR. We arrived quite late, not sure what the time was at that point. All the guests had left and we were therefore the only party in the restaurant, which was great as it gave a private and more relaxed feeling to it.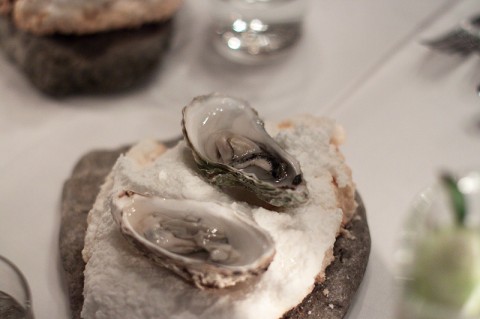 Oysters and Sake
Mads Refslund welcomed us and first served some skinny dipping oysters – oyster bathing in warm sake. I liked this marriage of first the cleansing taste of the sake with the burning sense of the alcohol, and then the after-taste full of sea-water with a slight mineral flavour to it. The experience of the two different tastes are separated, and I find that interesting.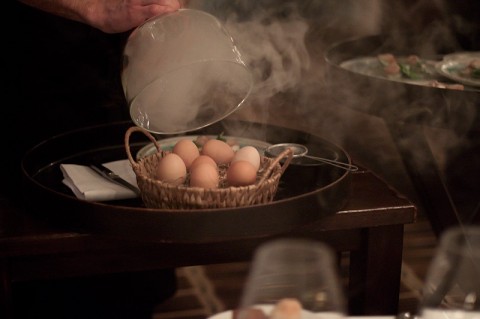 Scallops with spinach, smoked egg yolk and bone marrow
Then he brought a basket full of hens' eggs, covered by a big glass bowl. When he lifted off the cover, smoke infused the room and thrilled my nostrils and I love that, the scent of smoke. These eggs had been smoked for 48-ish hours or something like that. Mads broke the shells and poured one egg yolk on to each plate of spinach, bone marrow and scallops. It was a somewhat rich dish because of the bone marrow, but the acidity in the spinach balanced it. Very good.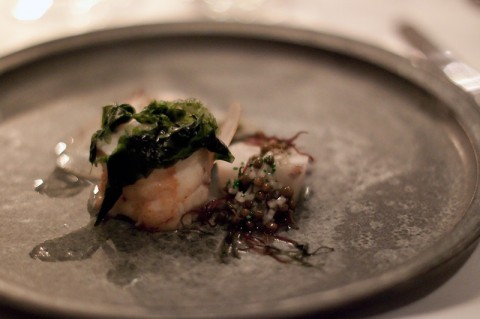 Langoustine, seaweed…
Then followed a langoustine course with seaweed which I liked a lot, but I don't remember much more about it, sorry to say.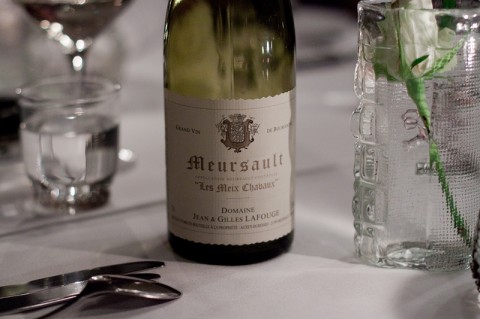 2007 Domain Jean & Gilles Lafouge, Meursault Les Meix Chabaux – Very enjoyable
Too soon the taxi driver rang me up and told me he was waiting for us ready to drive us up north to Søllerød Kro – the last stop on our tour around the Copenhagen eateries.
Dear Mads & co, thanks for your kind hospitality!